With no club or league matches, Les arranged a match at Chris Haine's pond at Clivey and I was hoping for a repeat performance of the win I had on my birthday (yeah right!). I had to pick Janders up and was most disappointed when I turned up and he didn't have a new hat for me to photograph (c'mon John, buy more hats!). We met the others at Cartgate services and off we went. I subjected Janders to the Dropkick Murphy's all the way up (sorry mate).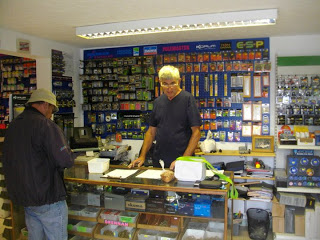 Les soon deprived us of all our money!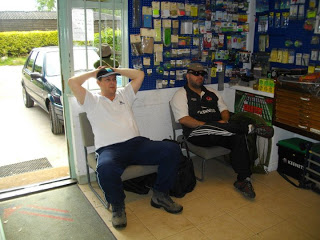 Oz and Bushy wait for the draw
After the hours drive we arrived and got some bait sorted, I just had half a kilo of worms and a pint of casters as I was going all out on the choppie. I really fancied drawing pegs 12 or 10 but pulled out 14, which was where Les won the last match so I wasn't too upset. Things got better when I had empty pegs on either side as there were only ten of us fishing. I had an island with an inviting bit of bare bank but I was determined to ignore it and just feed and fish two lines. My first line was at about 9.5 metres towards the open water in the gap between my island and the one Terry Green had to fish to on peg 12. The second line was by a lily bed on the inside to the left at the same distance.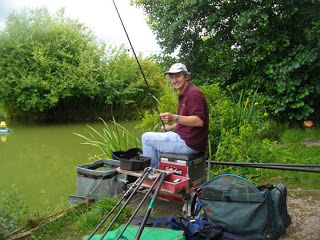 Me on peg 14
I set up a Drennan 0.6 gram carp rig with 0.12mm bottom and size 18 808 and with plenty of time before the off, I made up another similar rig but with a 4 x 14 Carpa 2 float (see photo). Both rigs had little toss pots fitted to the top threes. I chopped up some worm and caster and had time for a quick chat with Steve Chant and Janders before the start. In these six hour matches, around 30lb is normally enough to frame (or even win), so I set my sights on trying to catch 5lb an hour.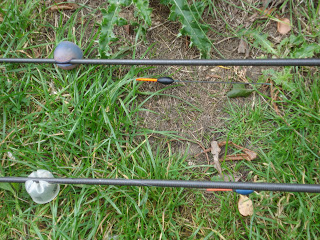 My rigs for the day
Les blew the whistle and we were off in a frenzy of shipping cup loads of bait out, I just put half a cup of choppie and some casters on each line before starting with a worm head on the hook on the open water line. I started getting bites quicker than the last time I fished but they were from small skimmers and roach, I swapped to the inside and this brought a tiny perch! I did have two good skimmers and a couple of better roach from the open water line to end the first hour with 13 fish for around 3-4lb (so not too far off my target). I could see Les in the corner netting odd fish and the banter around the pond suggested most people were getting a few fish.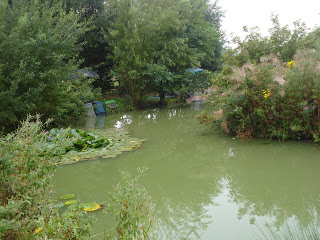 The view of the pond from the other side to me
The second hour saw me getting a few fish from by the lilies and I had a small carp plus a better one of 3lb or so. I had 9 fish in the second hour for probably 5lb so I was still on target. Terry Green on 12 was catching quite well but it seemed like most people were now struggling for odd bites. My open water line was fizzing well and I felt like there were a lot of fish there, I then lost two decent skimmers in as many put ins and things went quiet there for a bit (had those lost fish spooked the shoal?). Back by the lilies and I hooked a much better carp and gratefully netted a five pounder to keep me on target and when I hooked and landed another of a similar size I was right back in the hunt.
I only had eight fish in the third hour but with those two carp I had put 10lb+ onto my tally. Terry seemed to be the only other angler catching well and he was landing mostly carp of various sizes on paste from the island. I kept switching my lines to make sure some feed was going in both and I was catching quite a few 4oz skimmers and roach with the odd better sample thrown in. Then in hour four I hooked and after a lengthy battle landed my best fish, a carp of about 6lb and along with a couple of 'flying skimmers', probably had 9lb in that period.
Amongst the roach and skimmers I had a few small 'pastie' carp as well but Terry was really bagging on them and I felt he was a long way ahead. Dave Lawrence was the next angler along on my left and was catching roach steady and had lost a munter. In the penultimate hour I was still catching regularly but no more bonus fish and probably had 4-5lb. The last hour saw me still catching and again I probaby had about 4lb and I reckon in total I must have 25-30lb but was sure Terry had beaten me. I ended up with 71 fish (I had 50 last time but had more quality).
I packed up and hoped I'd done enough to frame, I was first to weigh and my nine or ten carp went 22lb and along with 17lb 5oz of silvers, I had a total of 39lb 5oz. Terry was next to weigh and when he only had 3lb of silvers, I thought I had a chance but his carp weighed 37lb 4oz to give him a total of 40lb 4oz to beat me by less than a pound – bugger. I'd lost fish (those two big skimmers sprung to mind) but then so had Terry, I was hoping no one else was telling porkies and I could hang on to second place.
Next up was Bushy who had 11lb 9oz and the lovely Chanter had 5lb 7oz (Steve also took some pics so as soon as he lets me have them I put them on here), Janders had 14lb 13oz and handed over a pound. Mr Consistent (Les) had 20lb 8oz to put him in third place, Oz had 16lb 7oz, Rocking didn't weigh, Butch had 11lb 6oz and Dave Lawrence had 13lb 3oz. I'd hung on to second place but Les reckoned there had been some complaints lodged due to me fishing pegs 14, 15 and 16!!!! (well there was no one in them!). At the results Terry was read out as the winner and he also gets my man of the match award, I was second and picked up £60, Les was third and Oz fourth.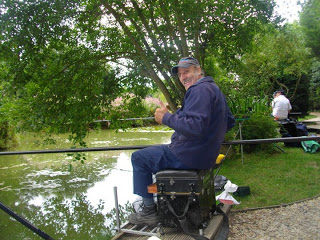 Rocking had a bad day at the office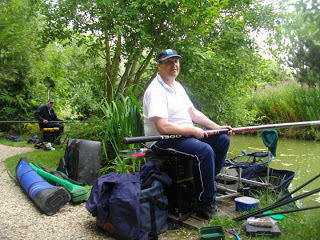 Oz sneaked into fourth place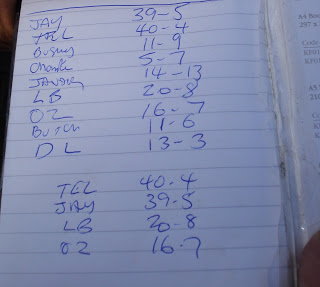 So close once again!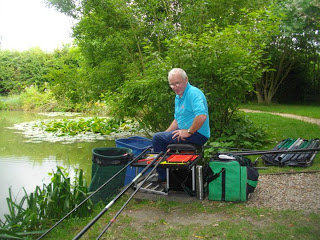 Match winner and my 'Man of the match' – Terry Green
So a really good day and hopefully we can get back here in a couple of weeks or so, I will try a fish the Thursday Summerhayes match so will let you know how I get on.
1 – Terry Green (Sillybait) – 40lb 4oz
2 – Jamie Rich (Against Men and Fish) – 39lb 5oz
3 – Les Braunton (Chard) – 20lb 8oz
4 – Steve Osborne (Chard) – 16lb 7oz