With the Dillington evening league over I decided to fish a few of the Summerhayes evening matches so I can get my twice weekly angling fix! With the forecast being for a windy night, Scotty was in two minds whether to fish or not but when I arrived he was there! Of course I was pleased to see him but it also meant I'd have some expanders for the hook (cheers buddy!). While we were waiting for the draw, he showed me his Preston Super Feeder rod, as I need a new tip rod to replace my crappy Drennan. While I was having a play, Scotty managed to break the other two tips in their (not so) protective tube – whoops! Still it's not as if he doesn't own a tackle shop!
All the usual suspects were there including Heardy, Alvin and Bruce Hunt, also it looked like it wasn't going to be as windy as forecast, which was a bonus. I pulled out peg 19, which I don't think has a lot of form, Scotty pulled out 4, which has won several recent matches. I had empty pegs either side with Adrian Bishop the next angler to my left on 23 and a Summerhayes regular two pegs to my right. I set up a little Trabucco dibber for fishing across to the island at 14.5 metres and a Carpa 2 for fishing down the track at about 9 metres. For bait I had Ringers micro pellets, corn and those expanders (4 and 6mm). Alvin wandered around and was confident of another result from his peg, he suggested it might be worth me having a go for the silvers (which reinforced my belief it wasn't a great carp peg).
There were quite a few carp moving and I was looking forward to getting started, the wind was coming over my back but was quite blustery making presentation difficult. Pete signalled the all in and I cupped in half a pot of micros and corn on the long line and micros with a few expanders at 9 metres. I started long with a grain of corn on the hook and didn't have to wait long before my first carp, a fish of about 2lb. I was feeding micros and a few grains of corn via a toss pot every put in and getting indications but it looked like that early fish was a false dawn. Adrian and the chap on my right only had a fish apiece as well.
I had a decent roach but I had a nagging doubt in the back of my mind that I should fish down the track as I'd caught really well there last match. What stopped me was that there was none of the usual fizzing you get so I carried on battling the wind, which kept buffeting the pole tip. I was looking for around 15 carp (5 an hour) which is normally there or thereabouts and with nearly an hour gone, I was way off the mark. I had a second carp which meant I was keeping up with the anglers either side but it was hard work and I decided to have a go down the track for the silvers as I was sure the anglers on the other side would have been catching more than we were. I'd seen Bruce Hunt net several fish on peg 14 (a good peg) and thought he'd be up there with the front runners.
I slipped on a 4mm expander and filled my little pole mounted pot with micros and a few expanders and shipped out to 9 metres. There was still no fizzing and apart from a few digs, this line wasn't going mad either. I eventually had a bite and netted a lovely crucian which must have been close to 3lb, that was my mind made up, I was going for silvers. Normally you don't need a big weight as most people concentrate on the carp and sometimes 3 or 4lb is enough. I had a couple of decent skimmers and a nice roach and I was on my way.
The bloke on my right was starting to catch more carp but Adrian on 23 didn't seem to be doing much. Then I had a carp, followed by another and then another, in fact I only managed one more skimmer. With an hour to go I had five carp plus that crucian and silvers, I lost a big fish (foulhooked?) that I played for ages and thought I was going to land and also another foulhooker. In the last hour I had another five but missed three good bites in the last 15 mins when the light faded and it was a real job to see the float. I ended with 10 carp, that crucian, 3 skimmers and 2 roach, I knew I had over 20lb but was only really concerned with the silvers pool, I reckoned I had about 4lb of them and I didn't think it would be enough.
The scales started round the other side, Scotty had five carp early and then suffered a nightmare losing around 30 foulhooked fish! but still weighed 25lb+, Heardy had fished for silvers but like me, could only catch carp, he had 3lb something of silvers plus carp to give him just over 30lb. Alvin had 32lb of carp and 2lb of silvers, but had he done enough to win yet another match? No, was the answer as Bruce had 37lb which included a 7lb foulhooker which clinched the deal. The young lad next peg on had just under 20lb and then the bloke next peg to me had 4lb 9oz of silvers and 20lb of carp and I didn't think my silvers would beat that.
I pulled my silvers net out and Pete called out 5lb 3oz – phew, although there was still Adrian to weigh. My carp added 20lb 9oz to give me a 25lb 12oz total and I was left wishing I'd fished down the track all night as I reckon I could have been a lot closer to the leading weights. Adrian had 3lb something of silvers and was wishing he'd fished for them all night as he'd only had a few carp.
I picked up £18 to keep my winnings ticking over and I'm already past last years total (mind you I've probably jinxed it now and won't pick up a bean between now and Xmas!). I'm determined to fish down the track for the full three hours next match, to see what I can do. I'm at Dillington on Sunday and I'm just not enjoying it out there at the moment.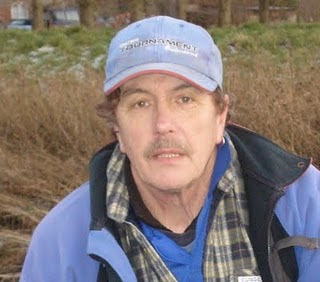 Bruce was thankful for a foulhooked 7lb fish
1 – Bruce Hunt (ALS) – 37lb
2 – Alvin Jones (Enterprise Angling) – 34lb+
3 – Martin Heard (Tiverton) – 30lb+
Silvers – Jamie Rich (Against Men and Fish) – 5lb 3oz