The last summer league match arrived and after missing two matches I wasn't in contention of a league placing so just had to try and frame today. There were only eight of us fishing and I pulled out peg 14 but would rather have had 16 or 18. Heardy drew 18 and Steve Parker drew 16, Moses was on 21 again and had loads of room. I made myself comfortable and as always, mixed my groundbait up first, this week I had some Dynamite Baits Lake and Canal.
I set up the usual 4 metre whip rig and a Drennan Roach for a chopped worm line. I just finished setting up when Rob blew for the all in, I cupped in some chopped worm and caster at 11.5 metres towards peg 16 and chucked a little nugget of groundbait on the whip line. I started with red maggot on the hook and had to wait ages for my first bite. I started getting odd roach and perch but it wasn't happening, Richy White was already ahead as was Alvin on peg 12 and I could see Martin swinging small fish in regularly. After an hour I only had 10 fish and was already thinking about trying the chopped worm line.
I struggled on for a bit and added a couple more fish including a 4oz perch and decided, as I was going nowhere, to try the choppie line. I started getting bites and had a couple of dumpy roach and some small perch but I wasn't setting the world alight off this line either. Steve on 16 lost a good fish that took him in the reeds and he was having a real problem getting his rig back! All of a sudden I had a couple of better 8oz perch and things were looking up. At this early stage my money was on Martin and Moses who had landed some nice perch as well.
I was loose feeding casters over my chopped worm line and getting bites quite regularly and doing as well as those around me. Robin across the pond on peg 4, lost two big bream in short succession and wasn't a happy bunny. I was getting odd fish but it was slowing so I put some more choppie in and went back on the whip line but it was barren and I never had a bite there again. I did lose a perch at the net and bumped one next put in, which didn't help. With the top two places already filled (Martin and Moses) I thought I had a chance of third place if I could beat Alvin who seemed to be the only other person catching consistently.
With an hour to go, my bites just stopped and I only added one more small perch and I was sure Alvin had done enough for third. I had 29 fish and thought I had between 3 and 4lb. Before the scales reached me, I watched the last couple pegs in the other section weigh in. Robin had 2lb 15oz and could have won easily if he hadn't lost three big fish, Fred had 4lb 5oz and I wasn't sure I had that, Richy had 3lb 15oz and Alvin had 5lb 8oz and I knew I didn't have enough. The scales reached me and my weight was called out at 4lb 11oz, close but no cigar! Steve had 2lb 8oz and then as I predicted Martin won with 8lb 10oz although Moses was close behind with 8lb 8oz.
As Rob was only paying three today due to the depleted turnout, I didn't even pick up my usual default section win – bad times. With his second win on the bounce, Martin secured the league title with Alvin second and Moses third. I finished up a disappointing fifth but did miss two matches.
1 – Martin Heard (Tiverton) – 8lb 10oz
2 – Moses Holbrook (Ilminster) – 8lb 8oz
3 – Alvin Jones (Enterprise Angling) – 5lb 8oz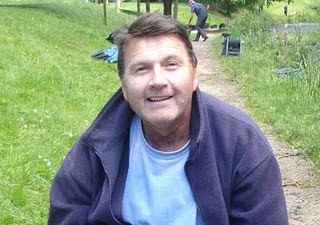 Summer League winner – Martin Heard
Final league standings
1 – Martin Heard – 14 pts
2 – Alvin Jones – 16 pts
3 – Moses Holbrook – 26 pts
Well that's that for another year and I can't say I'll miss it!, maybe the club will put some decent fish in before next year (I won't hold my breath!).
No report next week as I'll be in Thailand but on my return, hopefully I'll be able to post some exotic fish snaps!