With it being the last weekend of the river season we should have been on the Isle but with no rain all week, Robin relented and put us down the canal and I couldn't wait! The day started nicely when at the draw he presented me with my £50 winnings for the Royal Oak winter league, now I just needed a decent draw today. I pulled out peg 5 which put me close to the near end with Leighton on the end peg to my right and Richard White on my left. When we got to the canal there were fish everywhere, there were loads of carp around the 2-3lb mark and skimmers and big roach could be seen basking in the sunshine, this could be a good match.
I set up two rigs, the first a light Drennan Squatt float with 0.08mm bottom and a size 20 B511 with a number four elastic and the other was a 0.6 gram Drennan Carp with 0.12mm bottom and size 18 B611 with number 6 Preston Hollow elastic. The lighter rig was for fishing down the middle at 8.5 metres with the heavier rig for fishing across at 11.5 metres. I chopped up some worm and caster and was ready for the off.
Rob blew for the all in and I cupped in some choppie at 11.5 metres in front of me and also at the same distance to my left. I had barely finished and Rich was netting a decent perch on my left. I baited up the light rig with single red maggot and shipped out before firing half a dozen maggots over the top. I didn't have to wait long before my first bite and the strike saw loads of light elastic come streaming out and I netted a decent perch of 10oz – good start! The next two put ins saw me swing in two small roach so I decided to try a caster and was soon playing another perch around the same size as the first. More roach followed before yet another chunky perch was netted.
The others were getting odd fish but mostly small roach and perch on the maggot, things started to slow on the middle line and I was itching to go over my far line. With an hour gone and around 3lb in the net, I went across with caster on the hook and I didn't even have time to fire some bait out when the float buried and I netted a good roach. It was a bite a chuck for the next hour with good roach and perch, all on caster. The carp were still swimming about and Leighton had lost one on floating crust but things seemed to have slowed up for the others.
Going into the third hour and my bites on the longer line started to slow as well, so I went to my other 11.5 metre swim to the left and had a couple of quick roach before that died as well. I was now on about 36 fish and reckoned I had 5-6lb. Rob walked down and said he was struggling but Neil on peg 2 was catching well, although he was getting lots of small fish. I started searching all along the far bank and even stuck on another section to fish 13 metres under a far bank tree to my left, I would get a couple of fish and then have to try somewhere else for another fish or two. I was bumping and missing quite a few bites on caster but as I was still sticking the odd quality fish in the net, I stuck at it. I did hook a nice roach and as I swung it in, leant back to catch it and fell straight off my box!, much to the amusement of the others and several people walking by with dogs!
Rich came down and he said he couldn't buy a bite on caster and from what I could see Rob was struggling and Leighton was only getting odd fish although he spent quite a while trying to hook another carp on crust. My bites were becoming more and more less frequent so I cupped in some more choppie and tried maggot on the light rig at 8.5 metres again. I could get a bite a chuck but they were only small perch and a switch to caster saw me not get any bites at all. I tried the light rig across with caster but surprisingly I never had a bite. I went back to the heavier rig and kept laying it in all along the far bank. If I didn't get a bite just after the rig had settled I would move it along a bit and was still nicking the odd roach and had a couple of 4oz skimmers.
Graham Bulgin turned up to see how we were getting on and when he came back from the top end, he said Neil was still catching small fish and Steve Parker on peg 1 was getting a few as well. I missed a couple of bites while he was there and then hit a fish which pulled out a fair bit of elastic and I thought it was a small carp but it turned out to be a 1.5lb tench which was just lovely, my first tench for ages. I then had a roach next put in and things were still ticking over nicely. With about an hour to go, Rich was up talking to me when I've hooked another lumpy fish from 13 metres under the tree to my left, this one turned out to be a nice 1.5lb skimmer and it was turning into a perfect day.
With a little over half an hour to go I was on 48 fish and really wanted to get to 50 and actually landed three more roach to finish with 51. I thought I probably had 7-8lb but would it be enough to beat Neil and Steve? We started weighing in at Steve and he had some nice fish but I was surprised when he only weighed 3lb. Then Neil had loads of small fish for 5lb 7oz and I was pretty sure I'd beaten that, Rich had 2lb 7oz and Rob had struggled for 1lb 6oz. I pulled my net out and had woefully under estimated again as my fish actually went 12lb 13oz! Leighton then weighed 2lb 14oz and if he'd landed that carp early on, he would have been second. So I'd won four on the trot (which I've never done before) and picked up another £45 and had a cracking days fishing.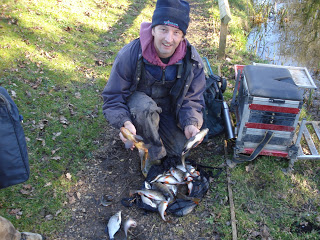 Me with my winning 12lb 13oz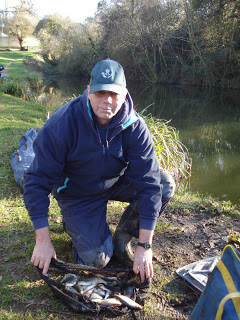 Neil had 5lb 7oz for second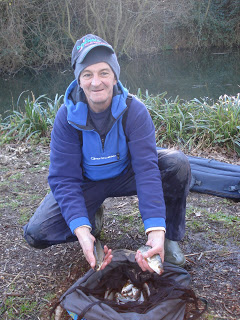 Steve Parker was third with a level 3lb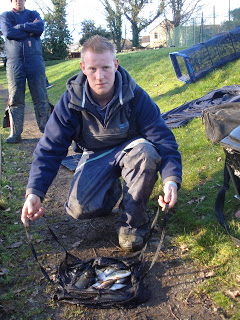 Leighton came close with 2lb 14oz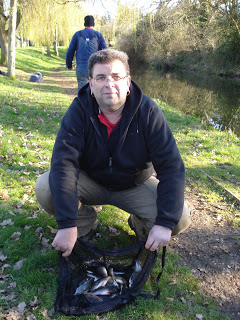 And not far behind was Richard with 2lb 7oz
1 – Jamie Rich (Against Men and Fish) – 12lb 13oz
2 – Neil Dring (Ilminster) – 5lb 7oz
3 – Steve Parker (Ilminster) – 3lb
Like I said, a cracking day, I'd fish the canal a lot more if there were more matches as it's right up my street. At the moment I've got nothing on next week so will have to see if I can find a match to fish, tune in to see where I end up!