With nothing on this weekend, I phoned Les on the off chance that he might have a space at Perry St, he said yes and that I could fish for Steve Osborne – result. This would be a good chance to get an idea of how the pond is fishing before the spring league kicks off in two weeks time. I got out the pond and it was great to see all the old faces, I predictably got loads of stick about fishing a carp puddle and they wanted to know where my jam jar was to put my minnows in! Oh they're a funny lot!!!!!
I picked up my bait from Les and arranged side bets with Picky and Janders and then it was time to draw, my luck at the draw bag hadn't changed and instead of a sexy corner peg, I pulled out peg 5 slap bang in the middle – oh well. At least I would have a good bit of banter as Janders was on peg 4 and Picky was across on peg 17 (apparently the worst peg on the pond according to him!). I set up two rigs, a Carpa float for fishing out at 11.5 metres and 8.5 metres and a Trabucco dibber for the insides and also for up in the water. Both rigs had Tubertini 808's in a size 18, 0.12mm bottoms and the long rig had a green Preston Hollow elastic and the other rig had Black Hydro. Both tops had little toss pots fitted.
My bait table was creaking under all the bait I'd brought with me, I had maggots, casters, corn, soft pellet, dampened micro pellets and 4mm sinkers – phew! Les blew for the all in and I cupped in some micros and maggots at 8.5 and 11.5 metres and the same plus some corn and casters on both inside lines (left and right). I started long with double red maggot on the hook. Mark Leahy on peg 1 was into a carp straight away as was Bish on peg 7 and there were odd carp coming out all around the pond. I didn't have to wait long for my first bite which turned out to be a small skimmer, another followed next chuck so I switched to a 4mm soft pellet.
I was feeding a pinch of micros and maggots through the toss pot every put in and missed a couple of bites, which could have been small fish. Loads of carp could be seen cruising and in the back of my mind I kept thinking I should be fishing up in the water. Picky had gotten off to a flier and had landed a couple of carp and it looked like my one of my pounds had bitten the dust already, the other was safe for now as Janders still hadn't caught. I came in on my 8.5 metre line and had a bite on soft pellet straight away, green elastic came streaming out before the fish came off (foulhooked?). A few more missed bites followed before the sight of all those carp near the surface became too much and I was shipping out my shallow rig with a banded 6mm pellet.
Picky now had five or six fish and Bishop was still bagging, the chap opposite had a couple as did the Pup. I was constantly flicking out half a dozen 4mm pellets and after about 15 mins by pole tip was dragged round and carp number one was soon netted, a good 5lb fish too. I was getting a few indications and over the next hour or so I added a couple more carp and was slowly clawing back the advantage Picky had. I got to four then suffered a run of lost foulhooked fish, that all came off. Bish was still catching, and Dave Lawrence had landed and weighed a 13lb plus fish on peg 11. I was still getting odd fish and got to eight with an hour to go, then the gentle breeze which had been creating a nice ripple died off and I couldn't buy a bite. Janders had a couple of carp on the inside so I went down to my right margin (where I had been trickling in bait all match) with double red maggot on the hook.
I missed a good bite before next put in the float buried and the strike resulted in a frog!! I then hooked two carp which I thought I had under control when the hook pulled out, I think they were foulhooked as I came back with a scale on the hook after the second one. I then had a small carp to put me on nine and it felt like there were quite a few fish there. I had another bite where I struck and a carp bow waved off before I swung in another frog! Picky lost two on the trot before catching another carp and then Les signalled the all out and it was going to be close between me and Picky for the £1.
I packed up and as I took my holdall back to the car, I asked how people had got on and most were admitting to three or four carp apart from Bish who had 14 and Mark Leahy on peg 1 had nine fish and I was starting to wish I'd fished up in the water from the start. Picky had six carp and a bream to my nine carp but he had a couple of lumps. Mark's fish went 43lb 10oz and I knew I didn't have that, Dave Abrams on peg 2 had 20lb 13oz and Janders had 16lb 5oz before my fish weighed 32lb 7oz and he handed over a £1 – cheers mate. Would I make it a double and claim one of Picky as well?
As the scales made their way round the pond they got to Bish and he took over the lead with a level 59lb, an excellent weight and he'd caught up in the water too. The young lad standing in for Chris Haines had 33lb 2oz from peg 9 (I should have weighed those frogs in!) and Dave Lawrence had 30lb 6oz from peg 11. I was hanging on in fourth place (Les pays four) until we got to Picky and his lumps went 35lb 13oz and I handed over the pound Janders had given me, easy come, easy go!
Back at the results and I won my section and picked up £20 which keeps the winnings ticking over and I was quite pleased with my first foray back on carp puddles and quite enjoyed it.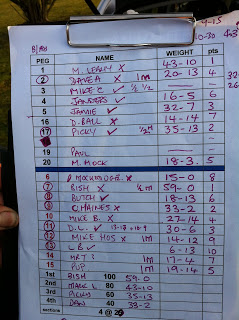 Some decent weights
1 – Steve Bishop (Chard) – 59lb
2 – Mark Leahy (Street) – 43lb 10oz
3 – Alan Gage (Chard) – 35lb 13oz
4 – Chris Haines's stand in – 33lb 2oz
Sections
A – Jamie Rich (Against Men and Fish) – 32lb 7oz
B – Mark Mockeridge (Chard) – 18lb 13oz
C – Mike Bendall (Chard) – 27lb 14oz
D – Dave Lawrence (Chard) – 30lb 6oz
Mike Hosgood did enough on the day to clinch the league followed by Bish, Picky and Chris Haines. I think we're having a knock up next week so lets see if I can keep this good run going, tune in and find out.