There was no official match this week but we all met out the pond to do some swim clearing and general tidying up. As a reward for all our hard work we had a little knock up afterwards. There were 11 of us and Les left out the corner pegs which would make things interesting although the end pegs on both banks would be good draws. Obviously I managed to avoid these and pulled out peg 16, which had done a decent weight last week so I wasn't too upset.
I had the usual side bets on with Picky and Janders although with Picky on an end peg (3) and Janders on last weeks winning peg (7), I was up against it. There was a nice ripple on the water and I really fancied fishing up in the water would work today. With this in mind I set up my usual little Trabucco dibber for up in the water and also for the inside line to my left. My other rig was a Carpa float but I never picked it up all day, so I won't go into too much detail. For bait I had maggots, corn, expanders, micro pellets and 6mm sinkers.
On the whistle I cupped in some micros and maggots on my 8.5 metre line and the same plus corn on the inside, 5 metres to my left. I put on a banded 6mm pellet, shipped out to 11 metres and started firing out half a dozen pellets every few seconds. As predicted the end pegs got off to a flying start with Les, Niblett and Picky all catching straight away. After about 20 mins I got my first carp of about 2lb and was getting regular indications. I had four carp after the first hour and was neck and neck with Picky although as he was fishing paste, he probably had bigger fish. Les had also weighed one of 8lb 9oz and was still getting odd fish, Niblett was sacking on paste and Oz next to Les was also catching well.
Steve Bush was next to me and as I hadn't seen him since the last spring league match it was nice to have a catch up, he had one carp but couldn't seem to catch up in the water. I had another three carp in the second hour and hadn't lost a fish yet, Niblett was by now miles ahead and looked to be on for a big weight. Me and Picky were still close and the pound could be headed in either direction, Jander's pound was looking a little safer as he'd only had one carp. In fact all the anglers directly opposite seemed to be struggling with just the odd carp being hooked.
Hour three was a frustrating one for me, I added two more carp but suffered a spell of foulhooking fish and lost two or three. I cupped in some more feed on my other two lines with a view to trying them if my long line died. Bushy had a fish from his inside line and had also discovered that the mice had chewed holes in his landing net (more of that later). The wind kept dying down and as the ripple disappeared, so did my bites. I had two more fish in the fourth hour, both foulhooked and I lost a couple too. Les wandered up and he had stopped catching and Oz had slowed up as well. Niblett looked like being a clear winner although for the other frame places, they were up for grabs. Me and Picky were still neck and neck and Hoff on my left was catching well now too.
With a little over an hour to go, I attached a little toss pot to my up in the water top three, put on a piece of corn and went up the edge. As I laid the rig in, it jagged under and after a lengthy battle, pulled out of another foulhooker. This happened next put in as well, next chuck I hooked one properly and netted a 6lb+ plus fish. With me not feeding the long line, Bushy started catching up in the water and I was in two minds whether to go back out but another good carp hooked under the chin from the inside line made my mind up to stick at it.
I was on 13 carp and Picky was admitting to the same, Bushy hooked a lump, only to net it and it went through one of the mouse holes in his landing net leaving his hook in the mesh as it went – whoops! I was still firing out some pellets to try and stop him nicking those fish but not feeding it all the time meant he was pulling them to his swim. I was still getting indications on the inside and lost another foulhooked fish. I had carp number fourteen and there were still 15 mins left but despite missing several bites I never added to my tally. Picky and the Hoff both didn't know how many they had with Picky admitting to 14 or 15 and Hoff said he thought he had 11, this could be close.
After packing up, the weigh in started at Picky and he had a mixed bag including a bream and a tench for 58lb 4oz and I didn't think I had anywhere near that, Butch had 22lb 11oz next door and then Mike Collins and Dave Lawrence didn't weigh. Janders weighed 16lb 11oz and handed over a nugget, which I gave straight to Picky. Niblett was admitting to 35lb (yeah right!) but actually weighed an excellent 79lb 4oz (he's worse than me!). Les had 39lb 2oz and I wasn't sure I had that and Oz had a level 35lb. Bushy weighed 29lb 9oz and then after two weighs my total was read out at 56lb 3oz, so for the second week running I was one fish short of Picky – bugger. The Hoff had 42lb 6oz which secured him fourth place. The pond had fished really well on the whole, especially after all the commotion we had caused in the morning.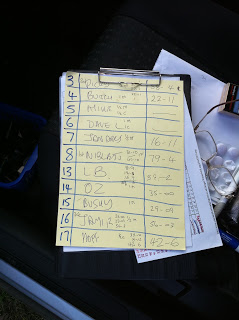 Some really good weights
I picked up £40 for third place and was quite chuffed as this is my best weight at Perry St. My winnings for the year are still ticking along nicely and currently stand at £422 (shh – don't tell the tax man!). I've probably jinxed it now and will go on a long lean spell.
1 – Terry Green (Chard) – 79lb 4oz
2 – Alan Gage (Chard) – 58lb 4oz
3 – Jamie Rich (Against Men and Fish) – 56lb 3oz
4 – Mark Hollister (Chard) – 42lb 6oz
Next week the spring league starts, so tune in to see if I can carry on catching carp.