I can't believe the Spring League is here again, it doesn't seem like a year ago! Anyway I got out the pond and most people were already there and it was great to see Chris Haines again, along with all the usual suspects. After sorting out some bait it was time for Les to read out the rules and then the draw was made for the first round of the pairs knockout (well two pairs were to fish against each other to make the numbers right!). I got a bye so was through to the next round by default and then it was time for the draw for today. As always people wanted the corners but my crap drawing continued and I pulled out peg 17, the infamous 'worst peg on the pond' – great!
Although there wasn't much ripple on the pond, I still fancied I could get a few up in the water so got my little Trabucco dibber rig out, which would also double up as my inside rig. I also set up a Carpa 2 float for my eight metre line. Janders was opposite so I'd be able to keep an eye on how one of my £1's was doing, Picky was on peg 12 and I think he quite fancied it so it could end up 3-0 to the Pickmeister. Les put the start time back a little bit as some people weren't quite ready so I used the extra time to make up a duplicate shallow rig, in case of tangles/breakages.
On the whistle I cupped in some maggots and micros on my eight metre line and then the same plus some corn on both the insides. I put on a 6mm banded pellet before shipping out to 11.5 metres and then constantly firing out a few pellets and lifting and dropping the rig. I didn't have to wait long before hooking my first carp but it came off and I suspect it may have been foulhooked. Next put in, I didn't have time to feed before the pole was ripped round and this one I netted safely. By the end of the first hour I had three (including one foulhooker I got in) and was ahead of the people around me. Janders and Dino opposite were yet to get of the mark, Hoff had landed an 8lb+ carp and Bish on 20 and Niblett on 19 had both had a couple but Oz on peg 1 seemed to be struggling.
During the second hour I landed two more carp and lost one and felt I was on for a good weight. Niblett 'the Paste King' was still catching and all of a sudden I couldn't buy a bite! I wanted to leave my other lines for as long as possible before trying them so I cupped some more grub in and carried on with the shallow rig. Janders finally landed a carp although Dino was becoming disillusioned after losing two foulhookers. The Hoff had now caught up and overtaken me and after hour three, it was time to try my other lines.
Plan B was to try the eight metre line with a 4mm expander but no bites after 15 mins saw me ship out to 11.5 metres and see if there were any fish over all the pellets I had been firing out – nope, no bites here either. Les was now starting to get a few from peg 6 and I was getting left behind and then it started raining! Apparently Bushy in peg 10 was sacking and Paul Blake was also catching well in 7. I tried both insides with corn on the hook and expected an instant response but didn't get one. Niblett was now miles ahead and looking good for a frame place, I was now worried for my £1 as Janders was slowly but surely catching me up and I couldn't buy a bite.
Eventually I had a sailaway bite from the left hand inside line and promptly missed it! and next put in I hooked a good fish which led me a merry dance before coming off and things were going from bad to worse even though I was sure it was foulhooked. I was getting quite a few liners but with Janders now on five fish and time running out, I desperately needed another. With 10 minutes to go I had a decent bite and fish number six was on, I netted a good fish of 5-6lb with two minutes to go and that was it.
I was packing up my sodden gear when Picky came past and said he'd had six carp as well so both the £1's were in the balance. The weigh in started with Oz and he had 17lb 11oz, Mike Hosgood had 7lb 6oz, Dino hadn't caught and then Janders five carp went 25lb 13oz and I really wasn't sure my fish would top that. Hoff then put an excellent 41lb 12oz on the scales to set the bar. Les had 25lb 3oz and then Blaker took the lead with 50lb 12oz. Hainsey had 34lb 3oz and Mike T came close with 46lb 10oz. Then we got to Bushy and with 31 carp, everybody was wondering if he'd broken the 100lb barrier and three weighs later he had with a new pond match record of 115lb 15oz – well done Steve, a stunning weight.
Butch Baker had 19lb 4oz from peg 15 but should have actually had more as he netted a carp and then proceeded to miss the keepnet with it! – whoops!!! Picky had 22lb 13oz and I thought it would be close between us, my fish actually went 26lb 12oz which meant I'd done the double and pocketed £1's off Janders and Picky (2-1 now). Then my thoughts turned to the section, if Niblett framed (even though he was admitting to five carp! – lying git), it would be close between me and Bish who also had six carp. Niblett did enough for second place with 51lb 7oz but Bish denied me a brown envelope when his six carp went 31lb 3oz.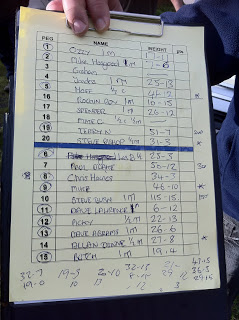 New match record for Perry St Pond
So I wasn't too far off and have scored decent section points in the league, lets see if I can get back to winning ways next week.
1 – Steve Bush (Chard) – 115lb 15oz (New match record)
2 – Terry Green (Sillybait) – 51lb 7oz
3 – Paul Blake (Chard) – 50lb 12oz
Sections
A – Mark Hollister (Chard) – 41lb 12oz
B – Mike Thomas (Chard) – 46lb 10oz
C – Alan Dunn (Chard) – 27lb 8oz
D – Steve Bishop (Chard) – 31lb 3oz
I can't go without saying congrats to Scotty Russell who won at Todber today with 202lb – well done matey.