Round two arrived and it was a glorious sunny day, I sorted out some bait and paid my pools and the first job was draw pegs out of the bucket to see who we had in the drawn pairs. I got paired with Steve Bishop and was well pleased with that, our opponents for the day were Chris Haines and Graham 'Dino' Pepper and we would have our work cut out trying to beat two class anglers. Then it was time for the draw to see which pegs we had, Bish drew 19 (which did well last match) and I got peg 6, which I had three times last year and only did well once. The peg has a tree in the water which holds loads of carp but they know exactly where that bloody tree is! Hainsey got peg 7 next to me, a really good peg and everyone expected him to do well off it, Dino drew 16 which is a mediocre peg.
As for my £1 sidebets, Janders drew a corner, although peg 20 isn't the best of the four and Picky had peg 9 which did well last week. On arriving at my peg, carp could be seen cruising everywhere and although there wasn't much ripple I fancied I could catch up in the water. I hadn't bothered with expander pellets this week and was pinning my faith in 6mm sinking pellets, micros, maggots and corn. I set up the usual Carpa 2 rig for fishing at 8 metres plus a Trabucco dibber for fishing up in the water and another for fishing down the margins. I decided I would start up in the water but in front of me and only fish towards the tree if I couldn't catch.
On the whistle I cupped in micros, maggots and corn at 8 metres and on both inside lines before slipping on a 6mm banded pellet and shipping out to 11.5 metres and constantly firing out 5 or 6 pellets. My partner Bish and 'Paste King' Terry Green both caught nearly straight away as did the Hoff on peg 14. I had to wait quite a while but after about 30 mins I had my first carp and thought if I could catch two an hour, I'd be there or thereabouts. The only other action I had in the first hour was a lost carp. Les next to me had a couple as did Oz next to him but apart from Bish, Terry and the Hoff nobody was setting the world alight.
The second hour was slow for me as well with only another lost carp to show for my efforts. I refed my insides and thought I might be trying them sooner than I'd hoped. Hainsey had landed a couple and Dino got off the mark as well, so at this early stage there wasn't a lot between our two pairs. I then landed carp number two and was getting a few more indications and I think the fact Les had stopped fishing long was helping my cause. I got to four carp and was playing number five when I heard Chris say he'd had four and Hoff said he had nine. I couldn't see me catching Hoff but if I could stay in touch with Chris, we would stand a chance in the pairs.
It was blazing hot and from what I could gather the pegs past Chris weren't bagging and opposite only Butch Baker and Hoff were catching. I had one good fish which must have been around 8lb and I went to weigh it but the digital scales were playing up so Les said to stick it in my net. Next fish was another of a similar size and all of a sudden I was catching Hoff up, although he had some lumps as well. With about an hour to go I was on ten fish and closing in on my target of twelve. In fact I ended up with thirteen landing the last one, five minutes from the end. I was quite pleased that after losing those two early fish I never lost another. Despite feeding my margin lines all day, I ended up not trying them once.
As people started packing up they were shouting across the pond asking how everyone had got on and when Hoff said he'd had twelve fish and Hainsey said he'd had eight carp and two tench, I started to think I might stand a chance of framing. As the weigh in started, Paul Blake set the bar with 37lb, although I thought I had more than that, then there were a couple of 20lb+ weights before my fish went 48lb 12oz, but would it be enough? Hainsey fell one fish short with 44lb 12oz and I was well chuffed to beat him. Picky weighed 19lb 4oz and paid me a nugget (2-2 now!), Mike Hosgood was in peg 10 and had 43lb 6oz and opposite Dave Abrams had 35lb 10oz and I thought they'd been struggling!
Butch did well with a level 36lb from peg 13, I asked Hoff if he thought he'd done me and he said he reckoned he had. His twelve fish went 54lb 12oz and I needed a couple more fish – bugger. Dino came back from last weeks DNW to weigh 29lb 2oz and if Bish could beat him we'd be through to the next round of the pairs. Bish's ten fish went 44lb 4oz so we were through – phew. Janders had suffered a nightmare in peg 20 and been beaten up all over the place, he weighed 21lb 4oz and I took a squid off him as well.
At the results Hoff won and I was second and picked up £75, followed by Hainsey who was third. I finished up with two section points to keep me up there in the league. At this early stage, Hoff leads with three points followed by Blaker and Bish on four.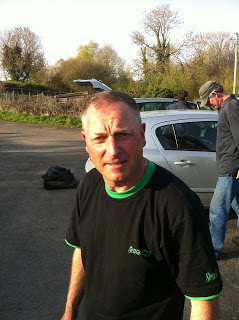 The Hoff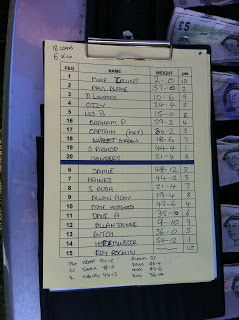 Pretty good weights all around
1 – Mark Hollister (Chard) – 54lb 12oz
2 – Jamie Rich (Against Men and Fish) – 48lb 12oz
3 – Chris Haines (Haines Angling) – 44lb 12oz
Sections
A – Paul Blake (Chard) – 37lb
B – Mike Hosgood (Exeter) – 43lb 6oz
C – Butch Baker (Chard) – 36lb
D – Steve Bishop (Chard) – 44lb 4oz
With nothing on next week, I might see if there's a match at Summerhayes, tune in to see if I make the trip to Bridgwater!!!