I got to the pub for the draw and there was a decent turnout of ten for the first Summer League match, which was good to see. Along with the usual Wednesday night crowd there was also Rich White, Heardy, Leighton and Steve Parker. I drew peg 2 which is on a point and quite a deep peg and I had Leighton for company on peg 4. Across from me I could see Alvin and Steve although they were in a different section from me.
I set up the usual whip rig but as I was anticipating sport to be harder than Weds night I also set up a chopped worm rig to give me another option if the bites tailed off on the whip. I mixed up some groundbait (50:50 Sensas Matchblend and Roach) and also put some worms, casters and maggots in a pot before chopping them all up – yummy! I also intended to set up an up in the water rig but ran out of time, still I could always do it later if I was really struggling.
Rob blew for the all in and I cupped in some choppie along with casters at 10 metres before starting on the whip. I started catching small perch and roach but they were a smaller stamp than normal. After the first hour I had around 30 fish which confirmed my suspicions that it was going to be harder than the evening matches. Steve shouted across to ask what I'd had when I was on 20 fish and I asked what he'd had to which he replied 11, so I was doing ok at this early stage. I also heard Martin on 17 ask what Alvin had on the next peg and Alvin said about 15.
After the first hour I cupped in some more choppie and continued with the whip, the second hour was slower and I only had around 20 fish, I flirted with caster but had to wait ages for a bite and the fish weren't much bigger so it was back to single red maggot. Leighton walked up and said he'd had a big perch along with some small fish so he was probably ahead of me at this stage. I struggled on into hour three but bites were becoming few and far between, I got to 64 fish and thought I had around 3-4lb and it was time to try the chopped worm line.
I went out with a worm head on the size 18 hook and was loose feeding casters over the top, I started getting bites but they were only tiny perch but as everyone I could see looked to be struggling, I stuck with it. I bumped what felt like a slightly better perch before catching an eel of about 6oz. Another four eels of a similar size followed along with a perch and a roach, which were both about 8oz. I was still getting small perch as well and missing a few bites which I suspect were small fish. I was feeding caster quite heavily and also cupped in some more choppie mix before going back on the whip for a bit.
I had been feeding the whip line with hemp and caster but it was hard going and I added another ten small fish in half an hour before deciding to spend the remainder of the match on the chopped worm line. First put in I missed a good bite before hooking and landing a good perch of about a pound and a half, which really boosted my weight. Three more eels along with some more small perch saw me finish on 98 fish and I had no clue what weight I had because although the whip fish were smaller I'd had some bonus fish as well. I thought I'd done ok because I hadn't seen people catch much but it's always deceiving out here.
Leighton turned up with the scales and my fish went 9lb 2oz and I was well chuffed with that and felt I'd fished a good match. Leighton's perch weighed an impressive 3lb 2oz and along with some small fish he weighed 4lb 4oz. Then the rest of the weights in my section were close with Neil weighing 2lb 11oz, Rob had 3lb 6oz and Rich had 2lb 8oz. So I'd won my section at least, we caught up with the scales in the other section and the top weight was Martin with 6lb 11oz, so I'd won my first match for a while – get in!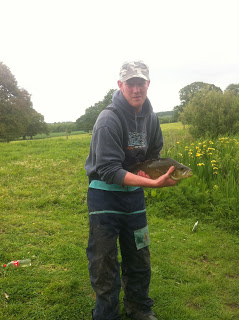 Leighton with his cracking perch of 3lb 2oz
1 – Jamie Rich (Against Men and Fish) – 9lb 2oz
2 – Martin Heard (Tiverton) – 6lb 11oz
3 – Graham Field (Taunton) – 6lb 4oz
Sections
A – Leighton Cox (Ilminster) – 4lb 4oz
B – Alvin Jones (Enterprise Angling) – 5lb 3oz
I was quite impressed with the number of bites I had over the worm and caster so I will definitely make sure I've got some worms with me for the next match. Next week it's back to the Spring League out Perry St and I'll be in one of the corners (number 10 please but that won't happen!), so tune if to see if I can keep this run good run going.