With a corner peg to come this week, I was hoping I could draw one of the top corners, 10 or 11. I really fancied 10 as it's the more consistent peg although 11 wins it's fair share of money too. Luck was with me today (or was it?) and I pulled out 11. I got there and there was floating crap all over the place and I was hoping it would stay quite windy as it might help to blow it all into one place. Picky had drawn it a couple of matches back and it had proved to be a nightmare for him. Dino had drawn peg 10 and I had Les next to me on peg 12 and where he wanted to fish on the inside was a mass of fluff! Les also snapped a pole section setting up and wasn't having the best of starts!
I set up a dibber to fish up in the water and another to fish under the tree to my right (if the fluff would allow it!). I had the usual bait of corn, maggots, micros and 6mm sinkers. Les blew for the all in and I cupped in some feed under the tree before starting at 11.5 metres in open water with my shallow rig with banded pellet on the hook. Even at this early stage the floating debris was being a pain, Blaker on peg 9 got off to a flying start with an early carp and I was confident of catching a few. I had a few indications and dropped off a rudd at the net but wasn't too worried at this early stage.
After 2 hours and nothing in the net I was starting to get worried!, the wind was right in my face and we'd had a few showers of cold rain too – lovely. The fluff was hideous and I was finding it hard to find anywhere to drop the rig in! Blaker hadn't added to his early carp and from what I could see, most people at our end were struggling apart from Bushy on peg 13 who was getting a few. Dino finally got off the mark after losing a couple of foulhookers but it really wasn't happening at all. Carp could be seen cruising but they just weren't interested, I got my first carp after about 3 hours and followed it up with a second not long after. Les had landed one as well.
I kept trying under the tree but the fluff kept swirling around and there was nowhere to lay the rig in. I was by now fishing at 13 metres in open water where it was marginally better with less fluff around. I hooked another carp and thought it was under control when it kited towards the lilies and I felt a bump and the fish was off and I was attached to some line and a branch. I started pulling the line in and this was followed by a rod and reel!, was this to be the best catch of my day? I then lost another where I was down to the top three when it shot off and rather than add sections I hung on and the inevitable happened and it snapped me (will I ever learn?), this was turning into a nightmare.
Dino then had his second and Les added another as well, from doing ok in my section I was now in danger of falling behind. When Les had another which we weighed at 8lb 13oz, I was definitely lagging behind. Dino was hooking fish but the majority were coming off. I was still firing some pellets under the tree and with an hour and a half to go I spotted a gap in the fluff and quickly laid the rig in. The float went straight away and I netted carp number three and I was back in the hunt. Next put in I lost one when the hook pulled and it felt like there were quite a few fish there. I then suffered a run of bites where I'd strike and come back with a stick on!
I hooked another carp but this one did me in the lilies, I tied another hook on and then had carp number four, the trouble was, after every fish I had to de-fluff the line as it looked like a load of washing! I then had a nice tench and with 5 mins to go I hooked another carp but the bloody hook pulled on that one too! Les was into a good fish on the whistle and netted it after and at about 9lb, I knew he would beat me but then he missed the net with it! – whoops. The banter going round the pond suggested that Hainsey had won it and Bushy and Terry Green wouldn't be too far off. When Picky said he'd only had three carp although one was a good one, I thought I might win the section if Bushy framed. Picky even handed over the £1 side bet, he was that confident I'd beaten him.
The scales started at peg 1 and Roy had 15lb 3oz, Pup didn't weigh on peg 2 which shows how hard it had fished, Mike T had a solitary carp of 3lb and then Hainsey showed his class to plonk 59lb 1oz on the scales which everyone knew would be enough to win. This would be Chris's third victory for the week so plenty of burger money then! Butch then pipped Roy by an ounce on peg 5. Then the top weight in the next five pegs was Blaker with 16lb 14oz in peg 9, Dino had three carp and had lost 10 for a level 10lb in peg 10 (so all the 10's then!). My four carp, a tench and a roach went 21lb 7oz and when Les weighed 16lb 15oz, that last carp could have been costly. Bushy weighed 39lb 6oz to go into second place and Janders weighed 9lb and handed over a £1. Then Picky's three carp weighed 23lb 2oz!!!!! and I had to hand back his pound plus one of mine (and yes it's 5-4 to you now).
Picky lost the battle of the paste kings though when Terry had 46lb 15oz next to him and that was enough for second place. I was left really cussing the five fish I'd lost especially as I shouldn't have lost one of them and that would have got me two section points instead of the three I ended up with. The league is still really tight and Bushy has now gone top with 12 points followed by Terry and me on 14, Hoff on 15 and Bish and Hainsey on 16.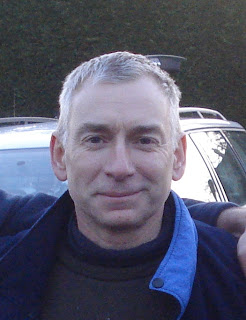 Hainsey won his third match in a week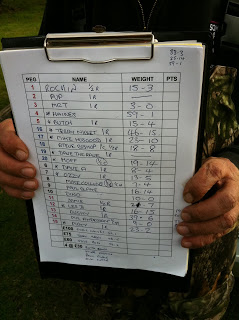 The pond fished a lot harder this week
1 – Chris Haines (Haines Angling) – 59lb 1oz
2 – Terry Green (Sillybait) – 46lb 15oz
3 – Steve Bush (Chard) – 39lb 6oz
Sections
A – Butch Baker (Chard) – 15lb 4oz
B – Paul Blake (Chard) – 16lb 14oz
C – Alan Gage (Chard) – 23lb 2oz
D – Mike Hosgood (Chard Raiders) – 23lb 10oz
The next match for me is an evening fixture at Dillington on Wednesday so lets see if I can get back to collecting brown envelopes then!