Round four and the pairs knockout final arrived, Les did the draw for the pairs and me and the Hoff got drawn together again. Three of the finalists (me included) were in with a chance of a corner. Bish was the only one who'd already had a corner so he went in the bucket and pulled out peg 14 which is a very good peg. We all piled in and I was disappointed to pull out peg 2, Hoff got 18 where he was last match and then Bish's partner, Mike Thomas pulled out 10 and we were up against it. Points wise me and Hoff were in the same section as were the other two, so we just needed to do well in our section.
I decided to stick with the up in the water approach which has served me well so far, as I was getting my top kits out, the zip on my holdall finally gave up the ghost – good start!, was this an omen? I set up two identical Trabucco dibbers, one to fish up in the water and the other to fish my margins. Bait was the usual micros, corn, maggots and 6mm sinkers. Hoff was nearly opposite me so at least we would have an idea how we were getting on in the section. As for my sidebets, Picky had drawn corner peg 11 so I could pretty much write that one off and Janders had peg 13 but would it prove unlucky for him! The wind was blowing up towards 10 and 11 and everyone expected those pegs to fly.
The whistle went and I cupped in some grub on my two inside lines before starting at 11.5 metres with banded pellet on the size 16 808. Steve Bush on 19 got off to a great start and landed two carp in as many chucks, he was fishing up in the water too, so surely it was only a matter of time? I started getting the odd indication before landing a good one of 6lb+ followed by a smaller one. After an hour Bushy was on four, I had two and the Hoff had landed one but other than that nobody was really catching much at our end despite loads of carp cruising about.
I had an early fish in the second hour but then it went really quiet, Bushy was now on five and Hoff was on two and Dave Abrams had a fish as well. The third hour saw me try the inside to my left and I missed a few good bites on corn but didn't add any more fish. By now Hainsey in peg 20 and Blaker in peg 1 had got off the mark as well, so it was back out to 11.5 metres. I had three fish quite quickly, including one carp foulhooked in the tail! but was still a fish behind Bushy but we were pulling away from the anglers around us.
I got to eight carp and was feeling really pleased with myself that I hadn't lost any yet when I promptly lost the next one and came back with a big scale on the hook. Going into the last hour I had my ninth carp and Bushy was on nine as well, the carp had started to feed a bit better and Dave Abrams and Hoff were catching up in the water too. With 10 minutes to go I hooked carp number 10 and it was under control and I decided to take my time and try and make it count, the carp had other ideas and kited round to my right and snagged me and I had to pull for a break. While I was faffing around, Bushy netted two more to finish with 11 carp to my 9.
The scales started, as always, with peg 1 and Blaker had struggled for 20lb 4oz, my fish went 36lb 1oz and both Picky and Janders said it would be close. Mike Collins didn't weigh on my left and Mike Hosgood (from somewhere near Exeter) had 9lb 15oz and Dunner had 16lb so at least I'd won my five peg section. Les had 14 carp for 54lb 5oz and lead the way until we got to Mike T who had 15 carp for 66lb 10oz from peg 10. It looked like Mike had won his section (and the match) so now it was down to how Bish had got on, he said he had nine carp so I was hoping there might be a few section places between him and Mike T to give us a chance in the pairs.
Picky's eight carp went 41lb 12oz and he took a £1 off me to make it 4-4 (I should think so off peg 11!), Dino had 34lb 8oz from peg 12 and then Janders had seven fish for 39lb 7oz and took another £1 off me, this wasn't going to plan! Bish's nine carp went 51lb 5oz to give him and Mike four points and I knew we weren't going to beat them. Terry Green had 35lb 15oz (phew, that was close!) but as he'd broken one of his butt sections for his Spectron, his day was probably worse than mine. Dave Abrams had 25lb 5oz to Hoff's 24lb 11oz and nicked a point off him. I thought it might be close between Bushy and me but his eleven carp went 50lb 5oz and Hainsey had struggled in 20 for 19lb 14oz.
I ended with two section points and Hoff had five so Bish and Mike T were crowned pairs champions – well done lads. I did have the consolation of my £30 section winnings. The league had now tightened right up and there are five of us on 11 pts, Hoff, Bish, Mike T, Bushy and yours truly.
1 – Mike Thomas (Chard) – 66lb 10oz
2 – Les Braunton (Haines Angling) – 54lb 5oz
3 – Steve Bishop (Chard) – 51lb 5oz
Sections
A – Jamie Rich (Against Men and Fish) – 36lb 1oz
B – Dave Lawrence (Windwhistle Inn) – 14lb 8oz
C – Alan Gage (Chard) – 41lb 12oz
D – Steve Bush (Chard) – 50lb 5oz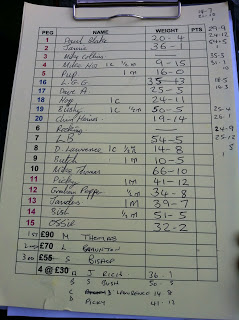 Good weights (mainly from the opposite end to me!)
Round five is in two weeks time and I'm guaranteed a corner, the trouble is the only two corners worth having are 10 and 11, the other two are currently two of the worst pegs on the pond. Which one will I get, you'll have to tune in to find out. Next up is an evening match on Dillington on Wednesday, will anyone stop Moses from winning again?