First stop of the day was the Cotley Inn for an excellent breakfast, it was too much for me and I had to admit defeat (I'm only a little lad!). Then to the pond and the draw was a little delayed due to Steve Bishop having a bit of a heavy night! Steve received a huge round of applause when he finally arrived. Les drew for the pairs knockout semi finals and I got paired with the Hoff and we were up against Butch Baker and Steve Bush. Then the anglers who had already drawn a corner went in the bucket before the rest of us delved in. I pulled out peg 9 and it's been a decent peg, Hoff had 18 and it's not been a good peg, Bushy had 14 which can be good and Butch had a corner peg 20 which isn't one of the two fliers (10 or 11), so this could be tight.
As usual there were loads of carp showing and I decided on my usual up in the water approach while also feeding an inside line by the cormorant roost. Janders was on my right so I could keep an eye on my pound and I had Dunner on my left in peg 10. My other sidebet, Picky, was in 19 and that hasn't been a brilliant peg but I couldn't really see him so would have to wait until the end for the result of that one. My bait table was a pretty simple one, just maggots, corn, micro pellets and 6mm sinkers.
On the whistle I cupped in some micros, corn and maggots on the inside before starting at 11.5 metres up in the water. My first bite resulted in a small roach but at least I'd avoided the blank! Terry 'The Paste King' Green was into fish straight away in peg 11 as was Bushy on peg 14, they both had two or three fish before I got my first carp of about 2lb. I then had a good one around 6lb and after half an hour I'd already had three carp! Then I was getting indications but never had another fish in the first hour. I put some more grub on the inside line and added six inches to the depth of my rig and this seemed to do the trick and I had two more carp in hour two and was happy with the way things were progressing.
Dunner had only had a couple of fish and Janders had yet to catch a carp, Bushy had slowed up a bit and I was starting to make inroads into his lead. The same couldn't be said for Terry though and he was landing carp like a man possessed including a couple round the 8lb mark. I had three more carp in the third hour to put me on eight before suffering a run of foulhooked fish, all of which I lost. I started playing around with my feeding and altering the depths and netted a couple more fish including a good fish foulhooked in the fin. I also kept some feed going in on my inside line every hour or so.
Janders had a couple of fish up in the water as did Dino and Oz opposite but Bushy was now fishing his inside line and I felt I'd caught him up. With two hours to go it was obvious Terry was going to win and he'd taken a fish down to Les to be weighed which turned out to be over 14lb, which helps! I caught a couple more fish in hour five and was hoping for a grandstand finish. This didn't really happen and I only had two more fish and over the last two hours Bushy had landed several more and I thought he'd done me. Maybe I should have tried my inside line but nobody else seemed to have caught much on their inside lines. I felt I'd fished a tidy match and ended with 14 carp which I thought must average 4lb apiece.
I packed up and as I was walking back to the car with half my kit I stopped to ask how everyone had got on and on our bank the most carp was Chris Haines and Mike T with 11, Bushy said he'd had 12 as did Picky but as he caught on paste I thought he'd probably done me (he fishes the paste nearly as much as Terry, I reckon he's his bastard lovechild!!!!). As for the pairs, the Hoff had seven carp and three bream and Butch had nine carp and one bream, this was going to be close.
The scales started with Les on peg 1 and he'd done well to weigh 27lb 4oz from a fluff infested swim (he's my joint man of the match along with Terry), Dave Lawrence didn't weigh and Mike Collins had 17lb odd from peg 3. Chris Haines then had loads of silvers plus a tench and his 11 carp for 53lb 7oz and went into the lead. Dave Abrams had 20lb 12oz and Mike Hosgood (not from Exeter, although he lives quite near) didn't weigh from peg 6. Mike T continued his good form with 46lb 4oz and then Janders had 17lb 2oz and handed over another nugget. I still thought I had 50lb+ but my carp went 48lb 3oz and I've discovered I'm rubbish at estimating carp weights.
Dunner had 31lb 1oz before Terry came close to the record with a stunning 111lb 5oz, Dino had struggled for 5lb 8oz and Oz had caught quite well up in the water later on to weigh 36lb 14oz. Then when Bushy's 12 carp went 51lb 3oz I thought that was it for the pairs. Dave Ball (standing in for Rocking) had 29lb 10oz and Blaker had 30lb 10oz. Bish had recovered from his hangover to weigh 35lb 9oz and then my partner for the day, the Hoff, had 45lb 1oz and Butch said he didn't have that, it was going to the wire. When Picky pulled his nets out, the pound sidebet was going to be close as well, Les finally called his weight out at 48lb 1oz and I'd done him by 2oz – phew! (4-3 now Picky!). That just left Butch and his fish weighed 31lb 14oz but we still didn't know who was through to the final as Bushy had beaten me in my section and Hoff had beaten Butch.
At the results, after much deliberation, Les read out that we had scored 6 points to their 7 and we were through by a solitary point – double phew! In the other semi Bish and Mike T went through. I picked up my section and £30 and my three section points meant I'm lying in fourth place in the league with me and Terry Green on nine points behind Bish and Hainsey on eight and the Hoff is leading with six, early days though.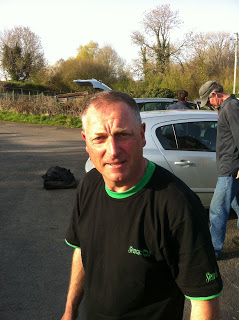 Mr Consistent (Mark 'The Hoff' Hollister)
1 – Terry Green (Sillybait) – 111lb 5oz
2 – Chris Haines (Haines Angling) – 53lb 7oz
3 – Steve Bush (Chard) – 51lb 3oz
Sections
A – Les Braunton (Chard) – 27lb 4oz
B – Jamie Rich (Against Men and Fish) – 48lb 3oz
C – Steve Osborne (Chard) – 36lb 14oz
D – Alan Gage (Chard) – 48lb 1oz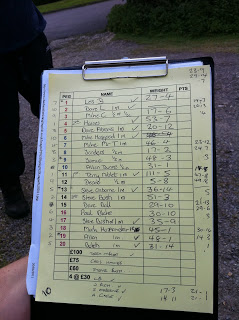 Another good day for most
Tune in for round four next week to see how I get on in the pairs final (I'll probably fall at the final hurdle).