Rather than sit in front of the telly all day watching the privileged get married, Les arranged a match at Clivey Fisheries in Wiltshire. I picked up Janders at ten to seven (ouch!) and after meeting the others we set off for hopefully a good days fishing. We made good time and met a couple of anglers making their virgin visit at the pond, namely Mike Hosgood (not from Exeter) and Paul Blake. Also two venue regulars, Dave and Dan Ball were fishing. Les did his usual good job of depriving everyone of all the cash they had and a couple of people had to get their credit cards out!
Hainsey oversaw the draw and I pulled out peg 11 which I hoped was near where I was on my last visit, in fact it was in a corner which we don't normally peg and is home to a big bed of lilies right in front of you. It was obviously home to lots of carp as well but the problem would be getting them out. Terry 'Niblett' Green was in the same peg as he won off last time (just pipping me into second in the process) and I was hoping I could return the favour today. I had the usual £1 sidebets on with Picky and Janders and Picky had drawn one of the first pegs inside the gate and they're not normally that good so maybe I could make it 3-3!
I had Les (or Oliver as Janders calls him because he's not a Royalist!) on the next peg yet again. Despite all the resident carp I was determined to fish all out for silvers and hopefully land the odd bonus carp along the way. Targeting the carp seems too hit and miss to me and the silvers are normally a much safer bet. Last year it was possible to do over 20lb of silvers from most pegs. I set up a Carpa 2 with 0.12mm bottom and size 16 808 and also a similar rig using a Drennan Carp float in case of tangles/breakages. Both rigs had toss pots fitted so I could feed a pinch of worm and caster every chuck. After chopping up some worm and casters I was ready for the off.
Janders had a little surprise for Oliver (sorry Les!) in the shape of a Union Jack with Kate and William on it. Les took it well and had it flying behind him all day, hoping it might change his luck.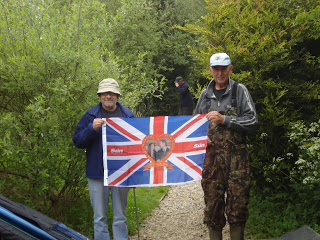 Les looking quite patriotic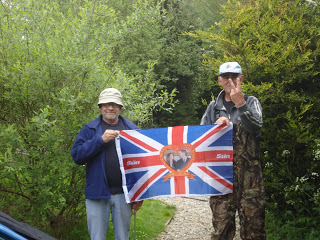 Or maybe not!
Les blew for the all in and we were off, I cupped in half a pot of choppie past the lily bed and some more up towards Les by some more lilies to give me a second line. I started on the second line with a worm head as bait and was soon getting indications but I was missing most and I bumped off a couple of roach, not the start I was hoping for. Les was fishing to hand and targeting the silvers as well, he had a few fish but even at this early stage he reckoned it was going to be hard. Dave Ball in the opposite corner was getting the odd carp and took an early lead. I finally got off the mark with a roach and after an hour had added two more roach and two skimmers.
Nobody seemed to be bagging and Les seemed to be right about it being hard, hour two was even worse for me and I only had two more fish and then lost a carp that smashed me in the lilies followed by a skimmer that came off – great! Terry was getting the odd good skimmer and I could see Butch Baker (next to Janders) netting fish too. After an early flurry, Les was struggling for odd roach but Dave was still getting carp and had five or six after two hours.
Hour three was really good for me and I had three good skimmers, a small carp and some smaller skimmers and roach and a rudd. Most of these fish coming from my main line past the lilies in front of me. Just when I thought I was getting somewhere I lifted into a bite and a big carp swirled and I had it in open water briefly before the hook pulled out and I was sure it was foulhooked. I would get fish in ones and twos but I was still missing loads of bites (small fish?) and this seemed to be the pattern for most people.
I kept swapping lines and managed to keep odd fish going in the net (all on worm) and I added three or four small carp and even a couple of little crucians plus a good skimmer. I also got smashed by a couple more carp and they really seemed to want the cover of the lilies. Anglers on open pegs (including Janders) really struggled. With an hour to go it was obvious Dave Ball would run out an easy winner as he'd caught small carp quite steadily all match.
My main worries from the anglers I could see were Terry and Butch who seemed to be netting fish quite regularly and my last hour was awful with only a couple of roach and a lost carp to show for my efforts. I ended with 33 fish and thought I had around 10lb but Les called me some rude names and said I had more than that. Terry also reckoned I'd beaten him but I thought it would be close. Les was paying the top six and I hoped I'd done enough to pick up a brown envelope of some sort.
The weigh in started at Picky on peg 16 and it became apparent how hard it had fished when he weighed 5lb 2oz and handed over a £1 (3-3 now Picky!), Dan Ball had 3lb 12oz and Oz 5lb 5oz before we got to Terry, he had 10lb 12oz and I thought I might pip him. My silvers went 9lb 10oz and my carp a level 6lb to give me a 15lb 10oz total. Les had struggled (and his flag hadn't helped him) and weighed 6lb 1oz, Janders didn't weigh and handed over a squid. Then Butch just pipped Terry with 10lb 14oz and I was still hanging on in first place. This lasted to the next peg where Dave Ball plonked 27lb 1oz of mainly carp on the scales to top the leader board.
Alan Dunn had a nice net of silvers weighing 13lb 2oz followed by Mike (not from Exeter) who had 7lb 6oz. With three anglers to weigh I was still in second place, Blaker and Bushy didn't trouble the scalesman and the ever consistent Hoff had 10lb 9oz to take the last frame place. I picked up £60 to end my bad run for now and had quite an enjoyable day.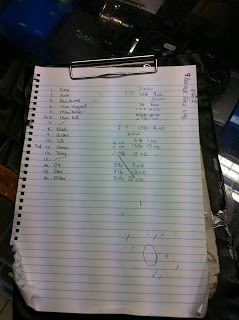 Not the usual big weights but some good nets of fish were caught
1 – Dave Ball (Haines Angling) – 27lb 1oz
2 – Jamie Rich (Against Men and Fish) – 15lb 10oz
3 – Alan Dunn (Chard) – 13lb 2oz
4 – Butch Baker (Chard) – 10lb 14oz
5 – Terry Green (Sillybait) – 10lb 12oz
6 – Mark Hollister (Chard) – 10lb 9oz
Round three of the Spring League is next up at Perry St on Sunday so tune in to see if Picky makes it 4-3 or if I can sneak into the lead for the first time this year!