Well we reached the penultimate round and we were greeted by glorious sunshine, another bonus was my mate Andy Langdon was standing in for Terry Green who had pulled out of the league. Les announced the draw, I pulled out peg 19 which did well in the early matches but it's form has dipped of late. Andy pulled out peg 7 and it's been a pretty consistent peg so God knows why I suggested a side bet! Bushy drew and gave me his peg to open, I asked what he fancied and he said peg 6, I opened it and it was indeed peg 6, why can't I draw like that!
The good thing about the side of the pond I was on is that it's quite shaded so I'd be out of the sun which was already getting bloody hot. For company I had Dino on 20 and Blaker on 18 with Hainsey next to him so a pretty hard section. There were loads of carp basking and most people seemed to fancy they'd have a go up in the water. The early entertainment was provided by the Hoff asking if anybody had picked up his rodbag because it had gone missing, it turned out Les had picked it up by mistake.
I set up three rigs, a dibber (dibbler as people have now taken to calling it!) for up in the water with a hair rigged band, another for fishing the margin and a Carpa 2 for fishing at 4 metres. I had micros, 4 and 6 mm pellets, corn and maggots for bait. Les called the all in and I potted bait on my two inside lines before starting up in the water. I fully expected to catch quite quickly but didn't have my first carp until after 20 mins, by which time Bushy on peg 6 had four or five, Oz on peg 4 had also netted a couple and from all the splashing Hainsey was catching on 17 too, Blaker also got off the mark with an early carp. Andy shouted down to say he'd had one and lost one so there were quite a few being hooked.
I carried on feeding 6mm pellets and lifting and dropping the rig but couldn't buy a bite, I changed the depth but it made no difference at all. I couldn't understand it Oz, Bushy and Hainsey were all catching up in the water, why couldn't I? Hoff opposite was really struggling and had only caught a roach and a perch, Mike Collins next to him had an early carp but like me and Blaker, was now struggling. Dave Lawrence on the unfancied peg 1 had already lost two carp and wasn't a happy bunny.
We were already two hours into the match and even at this relatively early stage it looked like Bushy and Hainsey would be framing. I tried my 4 metre line which I'd been feeding since the start but after missing two quick bites on corn, it wasn't really happening there either. I had been feeding the 11.5 metre line constantly while fishing short and odd carp could be seen taking pellet so back out I went. I did manage a carp by plonking the pellet on it's nose and after leading me a merry dance I slipped the net under a carp approaching 8lb. Shortly after I 'mugged' another of similar size and when I added a fourth one of about 3lb I thought I might get back into the hunt.
Andy shouted down that he had five and lost a couple (which I'd guessed from all the swearing!), Dave had landed a couple including a good one, Hoff had got off the mark with a couple and Dino was starting to catch as well. My good spell died off as quickly as it had arrived although I did lose three more carp by trying to mug them but I'm pretty sure they were foulhooked. With an hour to go all I had added to my meagre tally was a roach that had taken 6mm pellet.
Then there was an almighty commotion from up the pond and it transpired that Janders had hooked a duck which kept trying to take off and after much quacking, splashing and cries of 'Freedom' from Andy, it was safely netted and returned with only it's pride dented. I was running out of time and ideas so tried my margin line for the first time but one missed bite saw me spend the last ten minutes fishing at 4 metres but I didn't catch anything else. I knew that alongside not picking up a brown envelope today it could be potentially expensive as Andy had five carp and Picky had six plus a big eel. The only saving grace was that Janders had endured a 'ducking' (sorry John, couldn't resist it!) nightmare and wasn't weighing in.
The scales started at Dave who'd done well to weigh 26lb 14oz from peg 1, Hoff had 20lb 2oz next door and Mike 'Feeder' Collins had 14lb 5oz before Oz set the early pace with 42lb 10oz. His lead lasted two pegs before the league's most consistent performer, Bushy, put 84lb 12oz on the scales to take the lead. Andy had 26lb 5oz and I was pretty sure he'd just pipped me so handed over a £1. Mike T had struggled in peg 10 so Andy actually won his section (see you never lose it mate). Les did well and went into second place with 68lb 9oz from peg 11 before there were several 30lb+ weights, including Picky so I handed over another nugget and the day was just getting worse.
Quacker (sorry John) didn't weigh and I recouped a £1, Dave A didn't weigh before Hainsey put an excellent 98lb 6oz in the weigh sling for another victory. Chris caught on meat up in the water and his weight only comprised of 15 carp. Blaker didn't weigh before my four carp and a roach went 23lb 15oz confirming I needed another carp to beat Andy before Dino weighed over 40lb to win my section.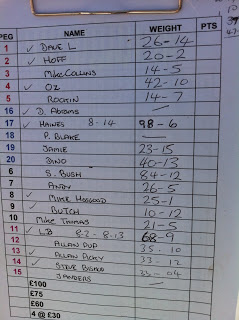 Chris needed one more fish to do the ton
1 – Chris Haines (Haines Angling) – 98lb 6oz
2 – Steve Bush (Chard) – 84lb 12oz
3 – Les Braunton (Haines Angling) – 68lb 9oz
Sections
A – Steve Osborne (Chard) – 42lb 10oz
B – Andy Langdon (Chard) – 26lb 5oz
C – Alan Dunn (Chard) – 35lb 10oz
D – Graham Pepper (Taunton) – 40lb 13oz
Bushy and Bish are through to the final of the individual knockout next week and it should be a good battle. After a good start my league tailed off rather so lets see if I can finish with a flourish next week. Also I'm not sure if there's a match on Wednesday but if there is you'll be the first to know.
Finally I can't sign off without giving a big shout out to Ben Bradford and Ben Evans who both said they read this tripe and enjoyed it, cheers guys.