After weeks of pretty crap weather we were due a scorcher today. There were nine of us today as Robin had some work to do and Leighton was suffering a hangover (perhaps they knew something I didn't!). Pegs 1 and 16 were in today for the first time in ages and everyone fancied a chance of some chub. Of course I managed to avoid both and pulled out 11 but I wasn't too disappointed as they can be shit or bust pegs. I had worm with me again and I was determined to fish for the eels like I did last time as I was convinced the whip line would die after a couple of hours.
I made my self comfortable and mixed some Sensas Lake groundbait before setting up a 4 metre whip rig and a chopped worm rig for 10 metres. I had Richy White on my right and venue expert Moses Holbrook on my left. It was already looking like a very hot day although luckily my peg was quite sheltered by some trees. I chopped up some worms and casters and was ready for the off. On the whistle I cupped in some choppie at 10 metres before starting on the whip. I missed three bites on maggot before catching a small roach so I soon switched to caster. I was getting odd roach but it was really hard going and after an hour me and Richy were neck and neck on around a dozen fish.
I was missing quite a few bites on caster but switching to maggot saw me catch very tiny roach so I stuck at it. I also cupped in some more chopped worm and was itching to try over it. I could see Martin on 2 and Fieldy on 20 catching their usual 'pairs of eyes' but nobody else seemed to be catching that well. I did have a 6oz perch on caster but after two hours I was only on 24 fish and although I had pulled away from Richy I was going nowhere fast, it was time for the chopped worm.
I nipped off a worm head and put it on the hook and shipped out and started feeding casters quite heavily, I had bites straight away from small perch with the odd better one of 4oz or so and had 12 quite quickly. I then had my first eel of 6oz and thought 'here we go', but it was short lived and I only added the odd small perch. Some big bream could be seen cruising between me and Rich but they weren't interested in feeding. I cupped in some more worm and tried the whip again but never had a bite on it.
To be honest the rest of the match was a real struggle and I only added a few more small perch to end with 43 fish and I thought I'd struggle to do 2lb. I was sure Martin and Fieldy would be first and second as they both had over 100 fish and it looked like my duff run was set to continue. I quickly packed up and to be honest I'll be glad to see the back of the pond for a few weeks. The scales started at Steve Parker in peg 1 and he hadn't found the chub and weighed a lowly 9oz and to top things off he'd been eaten by red ants all day. Martin weighed 7lb 8oz and I thought he'd win with that, Neil Dring had 1lb 13oz, Richy had 1lb 4oz and then I weighed 2lb 13oz so as long as Martin framed I'd pick up the section by default. Richy paid me our £1 side bet but I gave it straight to Martin (easy come, easy go!).
Back at the results I was amazed when Moses had 7lb, Alvin had 7lb 4oz and Fieldy only won his section with 6lb 8oz, I hadn't seen those two catch much all day! Bob Hammond had a chubless day like Steve and weighed 1lb 8oz. I picked up £10 for the section which at least stopped the rot for now. After four matches and dropping the worst result Martin leads with a perfect 3 point score, followed by Fieldy on 4 and Alvin on 6. I'm out of it as I've already missed two matches and will miss two more.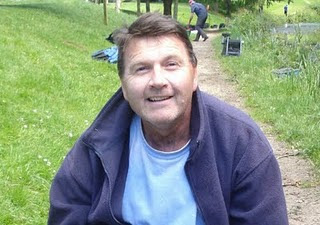 Martin marches on
1 – Martin Heard (Tiverton) – 7lb 8oz
2 – Alvin Jones (Enterprise Angling) – 7lb 4oz
3 – Moses Holbrook (Ilminster) – 7lb
Sections
A – Jamie Rich (Against Men and Fish) – 2lb 13oz
B – Graham Field (Taunton) – 6lb 8oz
I can't believe how the fishing has changed at Dillington over the last couple of years, it used to be all quality fish with double figures needed to win and now it's all whip fishing for bits with 10lb a rarity. I really think the club needs to move lots of small fish down the river and stock the pond with skimmers and some more chub and tench would be nice too! Never going to happen. I think they need to do something as my blogs are getting shorter and shorter (thank God I hear you cry!).
I'm back at Perry St next week so tune in to see if I can end my bad run out there.