It had been a beautiful day and looked like being a nice evening too, there were five of us tonight although Justin wouldn't be joining us (late) this week. I drew peg 17 and was well pleased as I've always done well off it. For some reason I was struggling to get ready in time so quickly mixed up some Sensas Lake groundbait and set up the usual 4 metre whip.
Rob signalled the start with a single toot of his whistle (oo-er missus) and we were off. I flicked the rig out followed by a small nugget of groundbait and soon had a small roach so a switch to caster was in order. I was catching chunky roach and the odd small perch and had 20 in the first half an hour and thought if I could keep this up I would do a good weight. Then it slowed and I couldn't work out why, by the end of the first hour I was on 29 fish but with most of them being 2-3oz I still thought I'd done 2-3lb.
The second hour was much the same and they continued to be a decent stamp of fish. I had pretty much cut out the groundbait as just loosefeeding seemed to be better. Fieldy was on my right and fishing the pole and seemed to be struggling as was Alvin across on peg 10 but then it always seems to be that way and the weigh in normally tells a different story. I was getting some biteless spells but found that by burying the hook inside a caster instead of hooking it like a maggot would result in more bites, I just couldn't hit them!
My mate Arf turned up and going into the third hour I was still catching quite well but the fish would come in spells of two or three before backing off. I did swing a nice roach only to miss the bloody keepnet with it! and I had three or four drop off. I also netted a corking roach of 8-10oz and had some perch around the 4oz mark. Arf left with about half an hour to go and was replaced by Bob Hammond, who had come for a look. I caught really well while Bob was there and ended with 92 fish although I had no clue what they would weigh. In my mind I really thought I'd be close to double figures as most of the fish had been just about swingable.
After packing up I was walking round to watch the weigh in and met Alvin who reckoned he had double figures too! Fieldy said he had around 80 fish and was sure I'd beaten him (I've been had like that before too!). We would find out soon enough as the scales were on there way to Robin. Moses had already weighed 8lb 11oz and he'd been bagging quietly as I couldn't see him at all from my peg. Rob had a level 2lb but had lost a big chub at the net, Alvin's double figures turned out to be 6lb 11oz and all of a sudden I wasn't so sure of my weight.
Fieldy had 5lb 10oz and then it was my turn, the needle stopped at a level 8lb and I was a little disappointed. Still I was second and picked up £20 although I had to give a £1 to the venue expert, Moses. My section one pointer meant that me and Moses are still locked level on 10.5 points in our race for second place in the league, behind Alvin who leads the league with 8 points.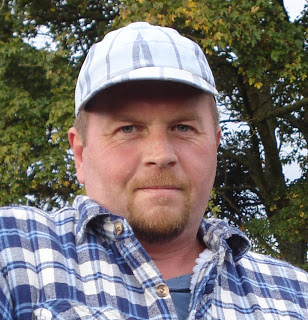 Venue expert, Moses Holbrook, got back to winning ways
1 – Moses Holbrook (Ilminster) – 8lb 11oz
2 – Jamie Rich (Against Men and Fish) – 8lb
3 – Alvin Jones (Paul Church Motors) – 6lb 11oz
Well I'm back here on Sunday so lets see if I can go one better then!
Also I've heard rumours that the club might be looking to put some F1's in the pond to improve the fishing – wrong choice! All that would do is turn it into yet another carp puddle, lets keep it carp free and offer something unique. There are already loads of carp puddles around and to stock enough to compete with those venues would take a huge expenditure. People have also said that F1's don't grow very big but it's still an unknown quantity and some venues are already producing them to 7lb+. As I've said many times before, all thats required is to thin out the small fish and put them down the river and stock some skimmers and maybe some more chub around the 12oz mark as they would improve sport no end.
I was hoping we'd end up with a nice mixed fishery like the canal (which we don't fish nearly enough) which has loads of quality roach, rudd and perch along with the odd decent skimmer and tench plus eels and the occasional small carp.