The day didn't start too well when I overslept but I phoned Robin and said to draw for me and I'd meet him out the pond. After rushing around I arrived out the pond and paid Rob my pools and he said I had peg 7. The pond's level was back up to normal and although the forecast for the day was awful, it was actually bright and sunny albeit a bit windy. There were only six of us fishing today, a rather poor turnout. Rob was the next peg to my left on 11 and Richy White was on 4 to my right so I had plenty of room.
I set up the usual 4 metre whip rig and also a chopped worm rig for 10 metres as I expected the whip line to die after a couple of hours. With my late start I just about had time to mix a little groundbait (Sensas Lake) and chop up some worms and casters before the off. I cupped in some chopped worm and casters at 10 metres before tossing in a small ball of groundbait at 4 metres and flicking the rig in with single red maggot on the hook. I caught a couple of small roach on maggot before switching to caster, it was hard going on the caster (it never seems to work like it does in the evening matches!) and I was having to wait ages for the bites and the fish weren't much bigger than the maggot fish.
After an hour I had 23 fish (mostly on the maggot) and although it was slow I was ahead of Rob and Fieldy who was next to him as they were really struggling, in fact Fieldy only had 5 fish! Richy was doing better and at this early stage he was already ahead of me by 10 fish or so. Along with feeding my 4 metre line I was also regularly feeding down by the reeds to my left. Hour two was better and by swapping between my two whip lines I got up to 50 fish and I'd had a couple of better roach and rudd although the overall stamp was quite small.
I fed some more choppie on the long line and was looking forward to trying it, I was still getting odd fish and when I had a 6oz eel on the whip I was sure I'd get a few on the worm. As the halfway point arrived I couldn't wait any longer and put a worm head on my choppie rig and went out to the long line. I was loosefeeding casters over the top and making sure I didn't neglect my two whip lines as I might have to come back to them later if I couldn't catch long. My first bite resulted in a decent roach and I followed this up with a small eel of 4oz or so. I then had a run of small perch but at least I was putting fish in the net. I added two more eels and I was chugging along nicely. The sun also disappeared and we had some pretty heavy downpours – lovely!
Richy was still ahead of me on numbers of fish but I was closing in on him with those eels bumping up my weight. I could see Martin catching steadily across from me on peg 18 so I decided to put some more worm out and go back on the whip to let it settle. Rob and Fieldy were catching a few now but I had quite a head start on them. Both the whip lines produced a few more fish including the odd better roach and chunky perch and as the last hour arrived I was on 100 fish so decided to spend the last hour in search of some more eels.
Richy was only a few fish ahead of me now and a couple of times he had to see to his brolly which the wind had turned into a satellite dish, we all reckoned he was trying to tune into some porn! I had to wait quite a while before I had my next bite on the worm and I was just thinking about going back on the whip when the float buried and I had my best eel of between 12oz and a 1lb. I then missed a couple of bites before catching a couple of nice roach. With only a few minutes left I landed eel number six and thinking the whistle was about to blow I quickly slipped a caster on and shipped back out and had another decent roach to end with 105 fish.
Richy asked how many fish I had and said he'd had 115 so I was pretty confident I'd beaten him with the help of those eels. Martin said he'd had 160 fish and reckoned I'd won it but he always says that! I packed up and the scales started at Richy who had 5lb 6oz, I thought I had 6 or 7lb and was pleasantly surprised to weigh a level 9lb, but would it be enough? Rob weighed 3lb and Fieldy had 4lb 5oz but they'd both really struggled for the first two hours. Then we got to Heardy and he said he'd had loads of tiny fish but when he pulled his net out I knew it was going to be close. The needle stopped at 9lb 8oz – bugger! That just left Steve Parker who had some nice rudd but hadn't found any chub by the bush on peg 24 and weighed 2lb 12oz.
So I finished second and picked up £22 but I couldn't help wondering if I'd have had more on the whip in the last hour. I don't think so as I'd had probably 2lb on the worm and I don't think I'd have done that on the whip and one more eel would have done it, oh well.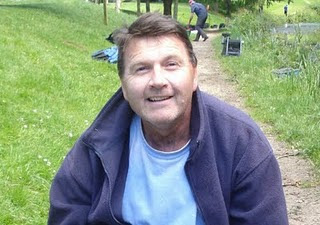 Heardy seems to be unstoppable
1 – Martin Heard (Tiverton) – 9lb 8oz
2 – Jamie Rich (Against Men and Fish) – 9lb
3 – Richard White (Ilminster) – 5lb 6oz
Next week I'm back at Summerhayes again and it's Long's again, so tune in to to see if I can finally break my duck.
Also spoke to Pete (from Summerhayes) today and he was very complimentary about this blog and it's lovely to hear from people who enjoy reading it. Please feel free to leave feedback and let me know what I'm doing right or even let me know if I can improve it at all. I know it could do with more photos so I'll try and improve that side of it over the next few matches.
Check out the Summerhayes website at http://www.summerhayesfisheries.com/