This week it was back to the V.E.S. Precision league and I needed a good result or my league would be over for another year. With two hard frosts on Friday and Saturday, this match was always going to be hard and I was praying I'd get a decent peg. Rob had put in lower Coxes for the first time and I really fancied peg 27, failing that 14 or 126 would do. I paid Martin the pound I owed him from last week and said I'd be having it back this week (wishful thinking!). Rob announced the draw and I hung back a little bit, there were the usual mixed reactions as people drew although Pete was happy at drawing 126. I opened my sticky mitt to reveal peg 14 and I was well pleased with that although with the river being so low and clear, it might still be a struggle.
I got to my peg and the river was gin clear although it wasn't as cold as it had been the previous two days but had the damage already been done? I set up a 1.5 gram Drennan Trio but it just sat in the minimal flow so I also set up a 1 gram version and this was much better and picked up the flow. I plumbed up by the tank traps and also just off the edge of the flow where it comes down from the weir as these had been the two main catching areas when I fished it last. After a quick coffee it was time for the off and I started with double red maggot to try and catch a minnow and avoid the blank. I was loose feeding just a few casters and maggots with the odd pinch of hemp and also flicking some bait up towards the weir.
I soon started getting bites in the flow towards the traps and dropped off a minnow so switched to single maggot and my next bite resulted in a nice dace so I was off the mark. I was getting regular bites on caster and catching dace and even had a small trout. The bites were pretty finicky and sometimes the float would just hold up in the flow and a strike would see a dace on. After an hour I had ten fish and was enjoying myself. Rob walked up from peg 17 and said he'd only had minnows and Justin was struggling in 15 so I was doing ok in my section. While he was with me I started catching roach with the odd better one and I was ticking along nicely. Then Heardy phoned Rob and both him in 28 (I'd have fished 27) and Steve Parker in 29 were also struggling but it was early days.
I had another ten fish in hour two with most being small roach and another small spotty. Then Justin turned up and was joined by Graham Bulgin who had come for a look round. With all the bankside activity my bites slowed up but I carried on putting the odd fish in the net and had a better trout of 10oz or so. When my spectators left I had a quick burst of fish and I finished hour three with nine fish to take my total to 29. With things slowing up I tried up towards the weir but was surprised when I had no indications at all.
Back by the traps and I just couldn't buy a bite, I added another section and went further over and had a small roach but bites were now at a premium. With an hour to go Rob turned up again and he still only had minnows. He reported that Pete in 126 was catching but nobody in my section had much at all. I was now on 31 fish and just as I was moaning to Rob that I couldn't get a bite now, the float slid under and I had my first chublet but at only half an ounce it was my smallest fish so far. Rob said he'd caught up towards the weir when he fished it last so I thought I'd try it again. I shipped out and added the 13 metre section and when I lifted up there was a small trout on but it came off on the way in – bugger.
Holding back in the flow it was a bit boily but the float went and I had another small trout before missing the next two bites, Rob left to go and pack up! With half an hour to go I fancied I might get a couple more, I had another spotty quite quickly but then had a biteless ten minutes. Another try by the traps saw no more bites at all so I spent the final few minutes up towards the weir. I was just thinking that was my lot when right on time I had another small trout, as I was netting it Rob and his boy Leighton turned up behind me with the scales. Rob said he'd weighed 2oz and Leighton had an ounce, my 35 fish weighed 5lb 9oz which I was a little disappointed with. I finished packing up and they went off to weigh Justin in.
As I was loading my car up, they turned up and Justin had weighed 4oz so at least I'd won my section. I was hoping that I might sneak into the frame and when the results board came back from pegs 28 and 29 I was still leading as Martin had 12oz and Steve Parker had 1oz, so with only two pegs to come back I was guarenteed third place. I didn't think I would beat Pete in 126 but thought there was a chance of beating Neil in 124. They arrived back and I asked Pete what he'd had and he replied 5lb 12oz – bugger!, things got worse when he said Neil had 6lb 2oz – double bugger!! Still I finished third and picked up £15 plus I won a £1 back from Martin (he's only about ten up now!).
The league has tightened right up now with Heardy and Justin leading with seven points followed by Pete, me and Rob all on eight. With two matches to go it's all to play for, I just need two good results now.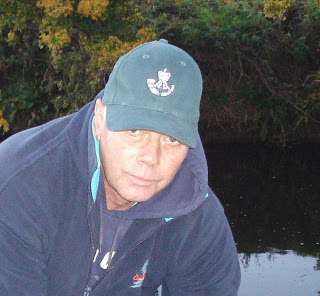 Neil Dring won with two good chub for 6lb 2oz
1 – Neil Dring (Ilminster) – 6lb 2oz
2 – Pete Lonton (Ilminster) – 5lb 12oz
3 – Jamie Rich (Against Men and Fish) – 5lb 9oz
Sections
A – Justin Charles (Ilminster) – 4oz
B – Martin Heard (Tiverton) – 12oz
So that's three pick ups in three matches, tune in to see if it all goes pear shaped next week.