Strong winds were forecast for this one and probably contributed to only five anglers fishing this week. Rob had put in the bottom end and everyone fancied pegs 120 or 126. My day started nicely when Martin handed over his pound from last week and got even better when I pulled 126 out of the draw bag! My only concern was how the peg would be affected by the wind but as it's been really consistent over the last few weeks, I was sure I would get some fish (surely even I couldn't cock up this flier!). Heardy had the choice of 124 or 125 and elected to fish the former as it has some chub form and won last weeks match.
I got to the river and the peg looked nice but the river looked even lower then normal (if that's possible!). I set up a 1 gram Drennan Trio and plumbed up around the swim. The peg is known as 'Barney's Bend' and the flow comes in from the right and there is a branch hanging in the water and a raft of rubbish on the far bank. If Barney was looking down I hoped he'd help me catch some fish today. With the wind being really gusty I decided to try and fish quite short where I could present the bait in a half decent manner. I had some shelter from the wind but I was guessing Martin, Rob on 106 and Steve Parker on 108 would have it full force. Neil Dring had 120 and would also be quite sheltered.
I started at 8.5 metres, inching the float through towards the overhanging branch, I was getting loads of minnow bites and after catching one on caster I switched my attention to the middle of the peg and a small chublet settled the nerves a little bit. Then the minnows arrived here as well so next stop was 11.5 metres towards the far bank rubbish. A nice dace and a chunky roach led me to believe I'd found the fish but once again this proved to be a false dawn and it was back to catching minnows. I tried shallowing up and fishing to my right where the flow comes in but after a couple of small chublets the minnows were back and I was starting to get frustrated. Double caster was no better and I was even catching the little blighters on that. I tried upping the feed but this didn't really work either. After an hour I had ten fish plus (plus probably the same number of minnows) and didn't have a pound yet.
This was a little worrying as the lowest weight off this peg this league was Pete's 5lb 12oz and at this rate I wasn't going to be anywhere near that. I tried 13 metres by the raft of rubbish and had a couple of small roach and chublets before it was back to minnows and this set the scene for the day really and I had to keep chasing the fish around. The other thing that was worrying me was that I just couldn't get any quality at all. Bob Tolman turned up for a chat and while he was there I only added a couple more small chublets. Trying to fish 13 metres in the wind was really hard work and I wasn't enjoying myself at all.
My next visitor was Heardy who said he just couldn't fish his peg with the wind and had only caught minnows, he'd also heard from Rob who was in a similar boat as was Steve. The only one we didn't know about was Neil but I was sure he'd be catching in the weirpool but as Rob was paying two today I felt I was in with a chance of a brown envelope, even with my meagre catch rate, after hearing from Martin. I had another chublet of an ounce or so and Martin wandered back to his peg. With about an hour and a half left I was on around 30 fish (plus minnows) and thought I might have 2lb.
I was getting really fed up with the minnows when out of the blue I had an 8oz chublet on single caster so at least there were some better fish about. I tried half a lobby and after missing a couple of bites I had another chublet of a similar size. I thought I'd cracked it again but my next three fish on worm were gudgeon! Double caster held back in the flow resulted in a nice dace but then it was back to minnows and I was all out of ideas. Another try all round the swim with caster resulted in some tiny roach, chublets and of course minnows. I spent the last half hour on worm again and had two more chublets but as they probably didn't go 4oz between them, they weren't going to bolster my weight much.
I ended with 40 fish (and probably about 40 minnows) and thought I'd be lucky to do two and a half pounds! I quickly packed up and walked up to weigh Martin in, he'd had a really bad day at the office and weighed 3oz. He did say that Rob had only caught minnows although Steve had started catching roach in 108. My fish went 3lb 4oz, which was slightly better than I thought but would it be enough to sneak into the top two?
Back at the results and Neil had won his second match on the trot with a lovely net of dace and roach weighing 8lb 9oz. Steve Parker weighed 3lb 5oz and pipped me for second by an ounce! – bugger it. Rob had a really bad day, he weighed an ounce, snapped his number four section and the wind ruined his brolley with the fabric coming away from the frame and taking off!!!! The only good thing about today for me was taking another £1 off Martin and gaining a point on him in the league. Deep down I knew I missed a really good chance to do well today and in hindsight I should have sat further up the peg.
Martin still leads the league with seven points followed by me on ten and Rob and Steve on thirteen. There are still two matches left in this league but it's a big ask to pull three more points on Martin but I'll try my best.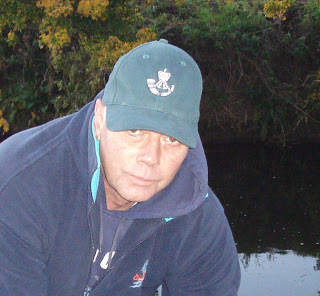 Neil won his second match on the bounce
1 – Neil Dring (Ilminster) – 8lb 9oz
2 – Steve Parker (Ilton) – 3lb 5oz
Next week it's the V.E.S. again and I really need a good result to keep me in the hunt so tune in to see if I get it. Oh, and some rain would be nice but I say that every week.