With another frost and possible snow forecast this match was going to be more like an endurance test with putting something in the net vital to gain valuable section points. Although I had to clear the car of ice it didn't feel too bad and I've certainly been colder. At the pub Rob had once again put us at the bottom end of the river and had given a choice for most pegs but most people wanted to draw 120 as it's been really consistent. Heardy drew 126 and would probably do a better job than I did last week. I drew but refrained from looking and as other anglers pulled their pegs out, nobody was admitting to 120 but then Rob spoiled things by opening his hand to reveal it. That left me with the choice of 128 or 129, both pegs had done 5lb+ earlier in the year so I decided to go to 128 as it's a shorter walk!
I hadn't fished 128 for a few years and on arrival it still looked quite fishy, a massive bend that is really deep. The first rig out of the bag was nowhere deep enough but would do for the shallower water at the top of the peg, I had to butcher another rig to get the right depth and was just about ready in time. First run down, holding the float back in the flow with double red maggot on, the float buried and I had a small roach. Maybe this was going to be better than I first thought. Next put in I dropped off a small roach and thought if there were a lot of small fish about, maybe I could catch shorter. Four sections to hand saw me catch three small roach and a dace before the minnows moved in. Back to 11.5 metres saw more small roach and after an hour I had ten fish (plus minnows) but the trouble was I didn't have a pound yet!
I tried double caster but it was a waste of time, I was getting a bite every run through but they were mainly small roach and I was missing/bumping quite a few. I switched to a number three elastic and this helped to a certain degree but after two hours I was only on twenty fish so my catch rate hadn't really improved. I was still feeding the inside line and trying it every now and again but I only had one gudgeon and a few minnows off it so won't mention it again. Three hours in and the size hadn't improved but I was now on thirty fish. I was now fishing thirteen metres which put me just past the middle of the peg but it was hard work when most of the fish I was catching weren't even an ounce apiece. All these small fish bode well for the future (the dry Summer and lack of floods has helped there I think) but it wasn't really helping me much right now!
I picked up my shallower rig and tried by the far bank near the top of the swim and had a flurry of small roach and dace plus my best fish, a chublet of 6oz or so, this was more like it. Justin turned up from peg 122 and he was really struggling, he reported that most people were finding fish hard to come by although Heardy was getting a few. I had a dace and a few minnows while he was there and he said I'd be up round there if I carried on like this. Then Sod's Law struck and after he left I couldn't get a bite. Back to 11.5 and 13 metres and it was back to catching small roachies, I did manage one of about 4oz but was frustrated I couldn't catch more of a similar size. I ended with 60 fish and thought I must have around 4lb.
I packed up and went to watch Martin weigh in our section, Justin had struggled for 1lb 5oz and Pete just had 1oz from peg 124a before Heardy had 7lb 15oz and I knew he'd win with that. He caught most of his fish at seven metres to hand and had sat further up the peg than I had which confirmed I'd got it badly wrong last week. My fish only weighed a level 3lb and were a lot smaller than I'd thought, still I'd got two section points to keep me in the hunt although I did lose a £1 to Heardy. Back at the results and Rob had tried sitting in a different place in 120 and it hadn't paid off as he weighed 1lb 12oz, Steve Parker had a nice day in 108 and weighed 4lb 14oz to take second place again. I sneaked into third and picked up £12 which puts me on £62 for January (£7 up on last year!).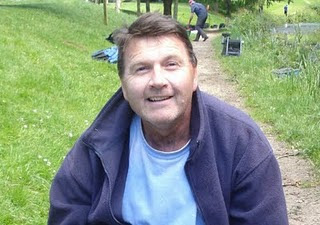 Heardy got back to winning ways
1 – Martin Heard (Tiverton) – 7lb 15oz
2 – Steve Parker (Ilton) – 4lb 14oz
3 – Jamie Rich (Against Men and Fish) – 3lb
The league is still really tight although Heardy now has one hand on the title and will need a disaster in the last match not to win it, the race for second and third is still on though as after Martin on eight points, there are then three of us on ten (me, Justin and Rob) and Pete just behind on eleven.
Next week it's back to the Tacklebox/Royal Oak league and I don't think Martin can fish so it would be good if I could capitalise on his absence, tune in to see if I do.
Note to Ilminster AA members, the AGM is on Friday 2nd March at the Oak and starts at 7:30.
Also I can't go without saying a huge congratulations to Roger Russell who won the Brue Championships with a fantastic net of perch weighing 17lb 2oz – well done Rog.