I popped to the 'Big One' at Farnborough airfield today (I say popped but had to use my passport to get out of Somerset!). My main purpose was to pay my deposit for this years holiday to the fantastic Gillhams Resort in Thailand but it would also be good to catch up with Stuart and have a look around.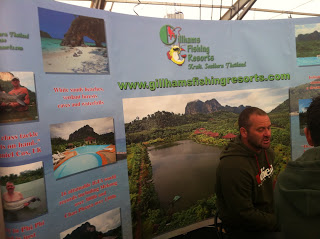 The Gillhams stand (with Jason Ingley pictured)
I caught up with Stuart and paid my deposit, unfortunately Benz wasn't there (she was off shopping apparently!) and also met Jason Ingley who I'd met briefly when we fished the Ebro in Spain, he'll be there when I go over so hopefully he'll help me get a mekong catfish and that elusive pacu. I also bought a fivers worth of raffle tickets (and got a free t-shirt!), to see if I can win another holiday over there but I don't think I'm that lucky!
I had a wander round and bought some Marukyu Krill but at £8 a bag it might be the only bag I ever buy unless it catches me loads of fish! I also caught up with Dave Harrell and it was great to finally meet him in the flesh, his floats look the business too. The lovely Beverley Clifford was there looking stunning and I also checked out the stand with John Wilson and my old mate Jeremy Wade (see pic).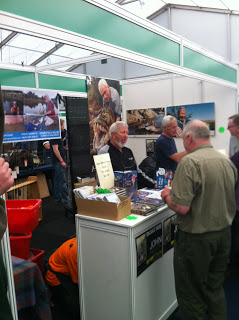 John Wilson and Jeremy Wade
So holiday booked, only 29 weeks to go although I'm not counting obviously!
Tomorrow I'm fishing Summerhayes and Janders is coming with me so lets hope the silvers are in an obliging mood!