With nothing else on, I phoned and booked in for the match at Summerhayes, Janders also phoned me in the week and asked if he could come along. I picked him up at 8:00 and off we went, there was a decent turnout of 19 anglers including Martin Heard, Bruce Hunt and Adie Bishop. I had no idea what a good draw would be but quite fancied being down one of the straights near where I won the silvers the last time I was here. I pulled out 28 which was close and I knew it must be a decent area because Bruce was on 26! Janders was on 24 so I would be able to keep an eye on my pound.
In the last match 18lb won the silvers and I fancied a similar weight would be there or thereabouts today. After sorting out Janders with some micros and expanders, I started setting up. As usual I was going all out for silvers and set up a Malman 0.4 gram pencil float with a spread bulk, 0.12mm bottom and size 16 808 hook. I also set up a similar duplicate rig in case of tangles/breakages and a little Trabucco dibber for fishing the inside by some inviting reeds to my right but hoped I wouldn't have to go over this line. For bait I had some micro pellets which I dampened down, some 4mm Bait Tech expanders and some corn.
Pete shouted the all in and I cupped in half a pot of micros at 10 metres before potting in some corn and pellets by the reeds. Bruce was fishing across and would be targeting the carp as was the chap on my left so hopefully I'd have the silvers to myself. First put in I bumped a fish, not the start I'd hoped for but next chuck I had a small carp followed by two 2lb+ skimmers, this was more like it. I had a blinding first hour and added several more skimmers and a couple of carp for probably 10lb (of which 6lb was silvers). The second hour was slower but I still added a couple more skimmers and carp plus a little tench and gorgeous little crucian. I was up to around 8lb of silvers but needed to up my catch rate if I was to stand any chance.
Bruce was still catching carp well although Janders and the bloke on my left seemed to be struggling. Hour three was really hard for me and I couldn't get a bite over my feed and the only place I could catch fish was a metre past my feed or to the left of it. I added a couple more skimmers, some roach and a couple more carp and was now on about 10lb of silvers with half the match gone. Bruce had slowed up as well so I decided to rest my 10 metre line, I cupped in some more micros and came on my inside line with corn on the hook. There were fish there as I was getting bites but I kept getting snagged up and after the third time and a bleeding knuckle, that was enough of that.
Back on my long line and I lost a couple of small fish on the way in before catching a skimmer, a couple of roach and another carp, I was just thinking this was going to be my worst hour yet when I had a 1.5lb tench to put me on about 12.5lbs of silvers with two hours to go. I carried on getting the odd small skimmer in hour five and even added a lovely little golden tench but I was now getting quite a few carp which wasn't helping my cause. Bruce was still getting carp and would be challenging for a frame place. By the end of the penultimate hour I probably had 15lb of silvers and was hoping for a grandstand finish.
I had plenty of bites in the last hour but mostly from carp and I had about five plus three skimmers, the last one I landed on the whistle to end with 49 fish and I reckoned I had about 16.5lb of silvers and probably the same in carp. I packed up and took some of my gear back to the car, Janders had quite a nice day although he can't get on with my expanders. Mark Leahy was first to weigh and had 35lb 4oz but as most of that was carp I wasn't too concerned. Then the owner Pete had 16lb 9oz of silvers and I started to think it could be close, then a chap called Roy on peg 32 had 14lb 2oz of silvers and I was hoping I'd pipped him. Mike Bendle on my left didn't weigh and then it was my turn. My carp went 17lb 5oz and when I pulled my silvers out I wasn't sure I'd done Pete but he called out 18lb 5oz and my total of 35lb 10oz put me in the lead overall. This lasted until we got to Bruce who put 44lb 15oz of mainly carp on the scales.
Janders had over 11lb and was pretty pleased as he finally managed to break double figures but he still had to pay me a £1 – cheers mate. I missed the rest of the weigh in as I took the rest of my kit back and loaded up the car. When the scales got back round I was actually fourth but won the silvers as it was worth a fiver more and I picked up £35. A really enjoyable day and the weather was glorious, I think that's my biggest weight on Longs yet.
1 – Bruce Hunt (Tiverton) – 44lb 15oz
2 – Jim Jenner (Summerhayes) – 40lb 10oz
3 – Jason King (Summerhayes) – 37lb 13oz
4 – Adie Bishop (Summerhayes) – 35lb 4oz
4 – Mark Leahy (Street) – 35lb 4oz
Silvers
1 – Jamie Rich (Against Men and Fish) – 18lb 5oz
2 – Pete Wakeling (Summerhayes) – 16lb 9oz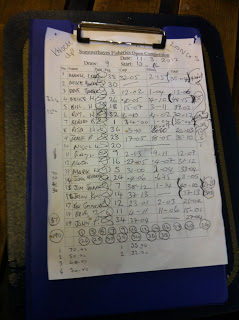 The weights were really close, what a cracking venue
Next week I'm standing in for someone in the Chard winter league down the resi, I quite fancy a draw on the dam as I can't handle the long walks. Would be nice to see the tip pulled round a few times, come back next week to see how I get on.
I've just added the Ilminster AA Summer and Evening league dates on the News, reviews and match results page, don't forget to check out all my new pages, they're updated daily.