I was standing in for someone on the winter league today and was looking forward to seeing the tip get pulled round a few times (famous last words!). It was good to see all the Chard crew for the first time for ages. After paying my pools and sorting out some bait it was time to draw. Les said that Bushy was going to have a close draw on the dam wall as he had a bad chest infection and asked if anybody else wanted to go on the dam, I said I would as I can't handle the long walks (this turned out to be the biggest mistake of the day!). I knew the winner was unlikely to come from the dam but there was still the section win to go for and I wouldn't be knackered from the walk.
I had Picky on my left (who I had a £1 sidebet with) with Dunner next to him and Bushy on my right then Butch and Andy Winters on the end peg. I mixed up some Sensas Bream groundbait and added a little fishmeal groundbait as the skimmers seem to like it. For bait I had red maggots, pinkies and squatts. I only set a feeder rod and was ready with plenty of time. I had a quick chat with Picky who reckoned around 12lb would win our section. Les blew for the start and I baited with two red maggots before filling the feeder with squatts and groundbait and casting out to about 40 turns. I made sure I kept re-casting about every ten minutes to get some feed down but after an hour I hadn't had a bite and nor had anybody else. I wasn't too concerned as the first hour can be slow before the fish find the bait.
Andy on the end was the first angler to get off the mark with a small roach but after two hours I was still biteless and starting to get worried. After three hours I was extremely worried! Andy had added a decent bream and was winning the section comfortably. Then Picky missed a bite before losing a skimmer ten minutes later, surely it was only a matter of time before my tip went round? Bushy had missed a couple of indications but our section was rock hard and Picky's 12lb prediction looked to be well off the mark. By now I was pinning my hopes on maybe catching in the last 'golden' hour.
Then Picky latched into a skimmer and safely netted this one, then he had another and another before catching a proper one and I still couldn't buy a bite! We were now four hours in and I was still fishless as was Dunner and Bushy. Butch had landed a couple of small roach but only Picky was getting regular bites. I tried double pinkie but this resulted in no interest either. With an hour to go I was losing the will to live! I heard Picky say to Dunner he was fishing out at 45 turns so with nothing to lose, I unclipped and went out a bit further, still no bites. Dunner caught a decent bream and a roach which just left me and Bushy blanking.
With half an hour to go, Picky said he'd been catching on double squatt so I tried that as well but all to no avail. Bushy who was in third place in the league before today did land a skimmer right on the whistle to save a bit of face. So I blanked and just checking through my records, that's the first blank I've suffered since Feb 2010! I just couldn't believe I never had a solitary indication. Our section didn't take long to weigh in, Andy had 5lb 2oz, Butch 1lb 4oz, Bushy 2lb 4oz, I had a big fat blank, then Picky had an excellent 20lb and gave me a right dicking and took a pound off me and finally Dunner had 5lb 5oz.
Back at the results the 40's had fished really well with Dave Mockridge on peg 46 weighing 78lb, Bish had 63lb 6oz (peg 47), Les 62lb 8oz (peg 44) and Hoff 58lb 2oz (peg 48). To finish off my day Janders had 25lb off peg 49 and took a squid off me. The other section in the 30's wasn't so good with Hainsey (who was leading the league before today) blanking along with Dave Ball and Dave Lawrence.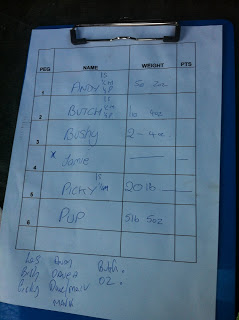 My section was a bit grim!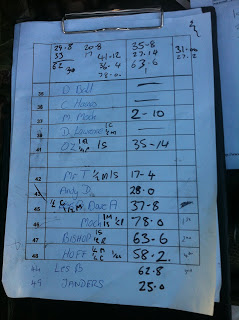 The 40's were the place to be
1 – Dave Mockridge (Chard) – 78lb
2 – Steve Bishop (Chard) – 63lb 6oz
3 – Les Braunton (Haines Angling) – 62lb 8oz
4 – Mark Hollister (Chard) – 58lb 2oz
Sections
A – Alan Gage (Chard) – 20lb
B – Steve Osborne (Chard) – 35lb 14oz
C – Dave Abrams (Weymouth) – 37lb 8oz
League Standings (with one match to go)
1 – Mark Hollister – 39 pts
2 – Chris Haines – 48 pts
3 – Dave Mockridge – 49 pts
Les said he was organising a knock up on the dam wall next Sunday but I don't think I could face another six hours of that. I love tip fishing when you're getting bites but it's torture when you're not. So I think I'll book into Summerhayes next week, tune in to see if my luck improves!