I was really looking forward to getting back on Longs as I haven't fished it for a while, after picking up Janders we arrived quite early and already there were loads of anglers there (in fact 31 had booked in for today!). All the usual faces were there plus quite a few I hadn't seen before. We paid our pools and had a coffee and the weather was actually quite nice (although tomorrow is going to be horrendous by all accounts). Brendon and Glynn wanted our side bet to be £1 apiece with the top silvers net taking all £3, I also had side bets with Janders on overall weight and Alvin on silvers. The score between me and Brendon stood at 4-3 to me and I desperately needed to beat him today to avoid him bloody texting all week!
I pulled out peg 17 which was on the bottom end of the pond, Janders drew 29 and Brendon had peg 5. I had Bruce Hunt on my right and a mate of Brendon's called Dan on my left. I set up the usual two Malman 0.4 gram pencils with 0.12mm bottoms and size 16 808's and also a token dibber rig but as I never picked it up all day I won't mention it again. For bait I just had some micros and Bait Tech 4mm expanders. The whistle blew and I cupped in half a pot of micros at 10 metres before going over it with the strung out rig with a 4mm expander as hook bait. I had to wait a while for my first bite and then had a small roach to get me off the mark, next put in I had an 8oz tench and was off to a good start.
I was toss potting in micros every chuck and had another roach and a small skimmer before losing a good skimmer that leapt out of the water and shed the hook. Losing that fish seemed to spook the fish and I only added one more roach in the first hour. I wasn't too worried though, as nobody was really bagging yet, in fact Bruce hadn't caught a fish yet! Alvin was the early leader with a couple of carp but I wasn't too concerned with 5 hours to go. The second hour was really slow and I only added 5 more small fish and was starting to get worried! It looked like it was fishing really hard and Bruce still hadn't caught and received a call from Heardy who'd only caught a roach.
At the start of the third hour I had two 1.5lb skimmers one after the other and both leapt, salmon like, out of the water. I thought this might signal the start of a good spell but despite the swim fizzing like crazy I only added one more skimmer to put me on about 4lb of silvers with half the match gone. Brendon turned up and said he'd only had one skimmer and a few roach but I can never tell if he's telling the truth or not! I never added anymore fish while he was there (I knew he was a bloody jinx!). Bruce started getting odd carp on bread fished a few inches deep but I reckoned Alvin was still ahead as he was getting odd skimmers amongst his carp and he probably had around eight carp already.
Bites were very few and far between and Dan next door only had a couple of skimmers, hour four saw me add a couple 'fliers' plus a couple of blades and although I wasn't bagging I seemed to be doing better on silvers than anyone I could see, Ray Wickham was getting odd skimmers but like me he was having to wait ages for bites. I tried a piece of worm but but never had a bite on it. At the start of hour five I lost a carp at the net before catching four in four chucks and hoped this wouldn't set the scene for the rest of the match. Then I had three skimmers quite quickly to put me on about 6.5lb of silvers and I was hoping a good last hour might see me get close to double figures.
The last hour was pretty similar and I added two more carp and a couple more skimmers and I thought I might have 7.5lb of skimmers but would it be enough to sneak in as he was paying the top six plus the top three in silvers but more importantly had I beaten Brendon? As I packed up quite a few people had chucked back including Dan and the two anglers along from him. Glynn reckoned he'd only had a few pound of silvers and when I met Janders by the car, he said he'd struggled too! When we caught up with the scales we'd missed the first few pegs weighing in and glancing at the weigh board I could see the top silvers weight was John Green on peg 34 with 15lb 3oz and I knew I didn't have that, he was also the top weight so far with 22lb 7oz. Janders had 7lb 1oz and handed over a pound although he did try to say we should do it on the number of species as he'd had roach, skimmers, chublets and perch – nice try John!
Glynn on peg 22 had 9lb 2oz which included 3lb 2oz of silvers which just goes to show how hard it had fished. The next three didn't weigh and then it was my turn, my six carp weighed 10lb 6oz and I still thought my silvers would weigh 7-8lb and was very embarrassed when 13lb 2oz was called out to give me a 23lb 8oz total and I'd actually gone into the lead! I knew it wouldn't last though, Bruce had 18lb 12oz before Alvin pushed me into second place with 34lb 3oz although as he weighed 4lb 4oz of silvers I was another £1 better off! Ray Wickham had 7lb 12oz of silvers before his son Nigel had a level 8lb of silvers off the next peg. Adie Bishop then pushed me down to third when he weighed 24lb 5oz off peg 10. Brendon was actually telling the truth for once and had 4lb 6oz of carp and 3lb 6oz of silvers so I'd won that side bet as well – happy days! Martin Heard was last to weigh and I thought he'd beaten me as well but his final weight was 23lb 5oz and I'd done him by 3oz – even happier days!
Back at the results and I was called out in third place and picked up £60, so with the side bets I'd had a profitable day although I haven't had Glynn's yet but he'll probably win it back tomorrow.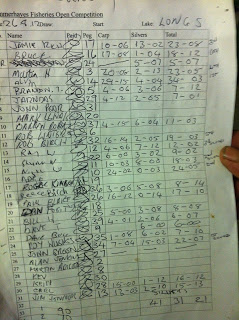 A rather full weigh board ths week!
So quite a struggle for most and I've not known Long's to fish that hard before but lots of places are fishing rather oddly at the moment.
1 – Alvin Jones (Alvin Jones Car Care) – 34lb 3oz
2 – Adie Bishop (Summerhayes) – 24lb 5oz
3 – Jamie Rich (Against Men and Fish) – 23lb 8oz
4 – Martin Heard (Tiverton) – 23lb 5oz
5 – Rob Birch (Summerhayes) – 19lb 3oz
6 – Bruce Hunt (Summerhayes) – 18lb 12oz
Silvers
1 – John Green (Summerhayes) – 15lb 3oz
2 – Nigel Wickham (Summerhayes) – 8lb
3 – Ray Wickham (Summerhayes) – 7lb 12oz
I'm back here tommorrow but on Sellicks so come back to see if Brendon and Glynn get their revenge!