After yesterday where Long's fished pretty hard, it would be interesting to see how Sellicks fished today. There were only 12 of us today which would probably help as both ponds don't seem to fish so well with nearly every peg in. Brendon and Glynn were both there and out for revenge after yesterday and we had another silvers winner takes all bet with quite a few other anglers getting in on it as well. Heardy was also there and as his seat box gave up the ghost yesterday he didn't know what he was going to sit on today but Brendon came up with a cracking idea (I think it rather suits him!).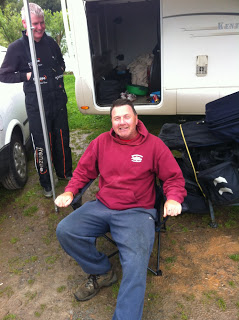 Martin with his new seat!!
In the end Pete took pity on him and said he could borrow his seatbox as he wasn't fishing today. Time for the draw and I pulled out peg 15 which put me at the more sheltered end of the pond. Brendon drew peg 11 and Bobby Gullick was on 13, Bob won a match on Saturday and was looking to do the double. I had Bill 'The Paste' Hopping on 14 and Glynn was on peg 17 on my left. Bob let me have his caster as he was going all out for carp although I wasn't sure what I was going to do with it! My peg looked really carpy with lily beds to both sides but I would be going for silvers per usual. I set up a 0.6 gram Malman pencil to fish at 10 metres where I would be able to control the pole in the gusty wind and also a Carpa 2 for fishing to my left towards the empty peg and between the lilies and the bank.
Pete blew for the start and I cupped in half a pot of micros at 10 metres and a full pot of casters on my other line (well I had to get rid of them somehow!). I started on my skimmer line with a 4mm expander and had a blade first chuck followed by a slightly better one of 6oz or so and I was on my way (or so I thought!). But then I could only catch small skimmers and lost three carp with the hook pulling out each time and on the last one I came back with a scale. Things weren't going to plan and Glynn had already had three good skimmers and a crucian. Pasteman Bill was getting odd carp and I could see Bobby catching as well. I did manage a fan tail/ brown goldfish thing of around a pound before the first hour was up.
The second hour was similar and I was just getting small skimmers and the odd carp to around 4lb although I did manage a little 8oz tench to put me on around 2lb of silvers and I was already a long way behind Glynn. I decided to stick with it as with Bill and Bob catching carp, I thought I was too far behind them to do any good overall and Pete was paying two in the silvers today. The trouble was my catch rate needed to improve radically and I didn't know what to do to try and improve it! I decided to cup in some micros to try and feed the blades off and have a go over my caster line.
I went out with a piece of worm on but never had an indication so tried the worm over my skimmer line, I had another blade and then yet another decent carp so went back out with sort pellet on. More blades and carp followed and I realised I was actually putting quite a few carp in the net and there probably wasn't much between me and Pasteman Bill. Glynn reckoned he had around double figures of silvers and I was way down on about 2-3lb. Glynn was getting a fair few carp as well and I started to think my best bet of a pick up would be if he framed and I sneaked into second in the silvers but I couldn't see that happening unless I could catch some better skimmers. Around half way through the match, young Reece came round and took coffee orders which was most appreciated in the wet and windy weather.
I just couldn't work out why I wasn't catching decent skims and Glynn was, I tried laying a few inches of line on the bottom and this just resulted in more blades and another carp so it was back to dead depth. Ray Wickham turned up for a wander and asked if I wanted to borrow some of Glynn's skimmers, cheeky git! Just as he left I hooked a fish and it didn't feel like a carp and I gratefully netted a crucian of about a pound. Then I had a decent skimmer and then another and had around five quite quickly and all of a sudden I probably had 6-7lb of silvers and thought I might stand a chance of sneaking in.
Bill had gone a bit quiet and even Bobby came for a walk and said he'd caught well early but had slowed up, he reckoned on having about 15 carp for 40lb-ish, I probably had 12 or 13 carp by this stage including some lumps so wasn't too far behind him. I was now catching really well and had another couple of carp and four more decent skimmers to finish with a flourish. I ended with 57 fish and was quite pleased with my match as, although I'd had a few carp come off (mostly foulhooked I think), I hadn't lost any in the lilies. It had rained quite hard for the second half of the match and the wind had been a pain at times but we had been quite sheltered at our end. I packed up and took my kit back to the car, Heardy who was in peg 23 said he'd had 21 carp so I thought he'd frame.
I loaded my car and caught up with the scales after the first few pegs had been weighed, Roy Hughes was leading from peg 2 with 48lb 3oz, which included a brilliant 26lb 6oz of silvers, Adie Bishop wasn't far behind with 48lb 1oz and all of a sudden I didn't think I'd be picking up today. Brendon had struggled and had 10lb 2oz of carp and loads of blades for 8lb 8oz to give him a total of 18lb 10oz and I knew I'd beaten him again today (6-3 now matey!!!!!). Bobby had finished up with 24 carp plus a few pounds of silvers and his total of 64lb 15oz put him at the top of the leaderboard.
Bill 'The Paste' Hopping weighed 33lb 6oz but had lost a fair few in the lilies and then it was my turn, I weighed my carp first which went 37lb 13oz but I didn't think I'd have enough silvers to trouble the 48lb weights, I pulled my other net out and Pete called out 12lb 9oz to give me a 50lb 6oz total, once again I didn't think I had anywhere near that weight and I think those blades must add up as I don't count them as I go along. So I'd broken my best Summerhayes weight and gone into second place but would it be enough for a pick up? Glynn's carp were on the small side and weighed 15lb odd but he had another fantastic silvers weight of 20lb 14oz to give him a 36lb 12oz total and I was still in second place.
Mark Leahy had 31lb 6oz before Heardy's 21 carp plus silvers went 64lb 1oz to push me down into third place. I picked up £30 to finish off a nice couple days fishing and it was really nice to give Brendon a spanking even though I didn't pick up any side bet money.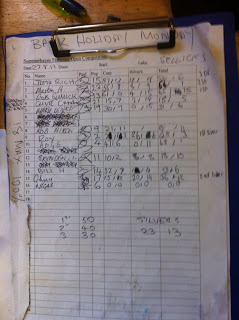 Todays weighboard
1 – Bob Gullick (Garbolino Blackmore Vale) – 64lb 15oz
2 – Martin Heard (Tiverton) – 64lb 1oz
3 – Jamie Rich (Against Men and Fish) – 50lb 6oz
Silvers
1 – Roy Hughes (Summerhayes) – 26lb 6oz
2 – Glynn Wickham (Summerhayes) – 20lb 14oz
Next week it's back on Sellicks so come back Sunday to see how I get on.