After a good two days at Summerhayes over the Bank Holiday I was looking forward to going back again today. I picked Janders up and off we went, there was a big turnout again with 25 fishing which meant the match would be split over Lily and Sellicks lakes. There was a fair bit of grumbling because, although Lily can compete on the carp front, you haven't got a hope against Sellicks on silvers. Pete announced the draw and I hung right back hoping all the pegs on Lily would go, Brendon delved into the bucket and pulled out peg 8 on Lily (tee-hee), Janders drew Sellicks 13 and I opened my hand to reveal Sellicks 9 (phew), my peg was also the golden peg which was worth an extra £25 but I was never going to trouble that fishing for silvers. With people spread over two ponds, the various side bets would be decided on overall weight today.
As always I set my stall out to fish for silvers at 10 metres with a 0.6 gram Malman pencil with a duplicate rig set up and a dibber rig which I never used all day. On the whistle I cupped in half a pot of micros and went straight over the top with a 4mm expander. I had to wait a while for my first bite which I promptly missed, in fact I missed the next one as well before dropping off a small skimmer, not an ideal start! I then had a couple of blades before catching a decent pound skimmer and had another of 8oz next chuck and thought 'Here we go' but then only had two more small fish and two carp and finished the first hour with 11 fish of which around 1.5lb was silvers. I was quite pleased with the first hour as nobody around had caught much yet.
I had Bill 'The Paste' Hopping on the next peg for the second match on the trot and he'd only had a few small fish and his neighbour on peg 11 and Mark Leahy on 12 hadn't caught carp yet. My second hour was pretty good with two more small skims and four carp so although I wasn't bagging on silvers I was catching quite well. Then hour three arrived and I could only catch the odd small blade and the fizzing over my feed had stopped as well. I stuck at it hoping the better skimmers would move in like they did last Monday. It was obvious that it was fishing quite hard and I think it was probably down to the number of anglers and also the fact the pond was flat calm, I think the skimmers respond better when there's ripple on it.
Bill said Janders was catching quite well and when Brendon wandered round to collect another keepnet, I started to get worried especially as he said several people on Lily were bagging on carp. That made my mind up to stick at the silvers and see if I could sneak in the lower places but I'd need some better skimmers from somewhere. My fourth hour was poor with a few more blades and a lost carp the only action. I cupped in another pot of micros to try and make something happen. The Pasteman only had a couple of carp and still nobody on our side was bagging. Ray Wickham came up and said he'd only had a few small skims but he also said Brendon was winding me up and the extra keepnet was for Bruce Hunt, so the pound was still up for grabs!
With two hours to go I needed those better skims to show up fast, I had a slightly better one before hooking what felt like a good one, I shipped back and as I broke down to the top two, the 'skimmer' woke up and tore off and I was hanging on before the inevitable and the hooklength gave way – bugger! A few more blades and another carp followed before I hooked another good skimmer which I was very careful with but the bloody hook pulled out and I knew it wasn't going to be my day. Pasteman was getting odd carp now and Paul next to him had a big eel and was catching carp quite well and Mark Leahy was getting in on the action too.
Into the last hour I was still getting odd blades but no better skimmers and then Brendon turned up behind me and said he'd packed up and chucked 20lb back as it was no good on Lily, the good news was that I'd have a pound to come from him yet again (7-3 now, whoop whoop!). While he was behind me I had a couple more blades and two more carp to finish with 37 fish (including 9 carp). For most of the match we'd had a fine misty rain and I was pretty moist and quite glad to hear the final whistle. I packed up and went to see how Janders had got on, he said he'd had 8 or 9 carp plus some silvers so that £1 could be tight. Glynn had fished for carp and had over 20 carp so that squid was definitely down the pan.
When the scales reached me, the top weight was 19lb 3oz and the top silvers was 4lb 3oz!, my carp went 19lb and my silvers weighed 4lb 14oz to give me a 23lb 14oz total and I'd gone into the lead on both fronts! Pasteman Bill had 10lb 14oz before Paul on peg 11 had 34lb and my lead hadn't lasted long. I didn't watch Lily weigh in but Bruce had a fantastic 98lb, Jamie Parkhouse had 54lb 8oz and Jim Jenner had 47lb 12oz. The top silvers weight on Lily was 6lb and I was cursing that lost skimmer and the bites I'd missed. I knew Alvin had double figures of silvers but with half the field left to weigh I didn't think I'd hang on to third in the silvers for long.
Mark Leahy didn't weigh and then Janders had 2lb 8oz of silvers and 19lb 8oz of carp to give him 22lb and I was another pound better off but it was very close, hard luck mate. Then Glynn had 56lb 6oz of carp to go second overall and I handed over one of my pounds. Then the next peg had 6lb 10oz of silvers and I was out the money, Alvin had 12lb 3oz of skimmers to go into the silvers lead but his 35lb 3oz total made me think if he framed, I could still sneak in. This lasted until we got to peg 23 and he had 6lb 14oz of silvers and I knew that was that.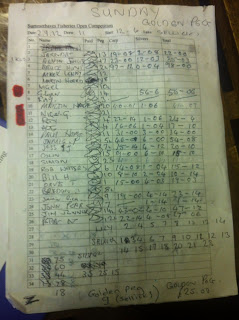 Some excellent weights but a few didn't weigh in today
A disappointing day really and I should have done enough for second in the silvers but had missed too many bites again.
1 – Bruce Hunt (Summerhayes) – 98lb
2 – Glynn Wickham (Summerhayes) – 56lb 6oz
3 – Jamie Parkhouse (Summerhayes) – 54lb 8oz
4 – Jim Jenner (Summerhayes) – 47lb 12oz
5 – Martin N – (Summerhayes) – 41lb 7oz
Silvers
1 – Alvin Jones (Alvin Jones Car Care) – 12lb 3oz
2 – Simon (Summerhayes) – 6lb 14oz
3 – Colin (Summerhayes) – 6lb 10oz
Well next week is the Pairs Open which me and Andy are fishing so wish us luck and come back next Sunday to see how we got on.