With no match last week, I was really looking forward to getting back on the Isle and despite a frost overnight, the air temperature wasn't too bad and it was a bright sunny day. Rob put some cracking pegs in and I fancied 14, 15 or 27 and the only pegs I didn't want were 17 or 23. Heardy drew 23 and screwed his nose up and said it would be no good (we've heard that one before!). I pulled out 27 and was well chuffed as it's probably one of my favourite pegs and I felt I'd get a few today. I needed a good result today as I'd had two section seconds in the first two matches and with Heardy having a perfect two point score already, I wanted to keep him in my sights.
The river looked nice with a decent pace although it was pretty low and clear, my peg looked good with a nice eddy on the far side and ivy lining the far bank. It tends to be a small fish peg these days, so with this in mind I set up a 0.75 gram Carbo with 0.10mm bottom and a light elastic along with a beefier 1.5 gram version with 0.12mm bottom. I walked down to see Rob in 28 and his peg looked good as well, I had a quick natter before heading back and starting.
I got off to a great start with a dace first put in on caster on the lighter rig and was getting regular bites inching the float down through just off the eddy. I had 12 fish in the first hour, mainly dace with a couple of small chublets and was really enjoying it. Hour two saw things slow up a bit and I had a few more small fish before reaching for the heavier rig, I had a chublet and a spottie before I couldn't buy a bite! I had also been feeding an inside line as well as feeding above me but couldn't get a fish off either line. Going into the third hour I was on 19 fish (plus a few minnows), when Rob walked up and said all he'd caught was minnows, he also said he hadn't had a call from Heardy which usually means he's catching well.
With the lack of activity in my swim, Rob didn't stay long and was soon going back to his peg for another go. I couldn't believe after a good start that I now couldn't buy a bite. I was now back on the lighter rig and normally you can catch in this peg by holding back by the far bank ivy but apart from a couple of digs this was a waste of time. I did manage two more fish by holding back in the eddy but I was really struggling and didn't know what to do next. I stuck at it though because if it was fishing hard I could still get a decent section placing.
Time was running out though and I only managed one more fish, a tiny trout, before it was time to finish. I ended with 22 fish plus a few minnows and I wasn't sure I had 2lb – not good! I packed up and got the scales (yes I had them again) before walking down to weigh Rob in. He looked quite happy and said he'd found the fish late and had caught well in the latter part of the match. He was admitting to 5lb but when he pulled his net out I knew he had more than that, I called his weight out at 7lb 8oz and said I thought he'd frame with that today. My fish weighed 2lb 15oz which was a tad more than I thought but I knew it would do no good today.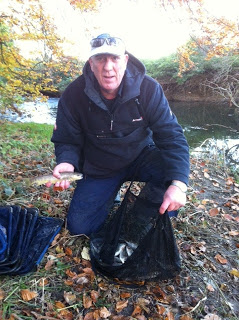 Rob with his second placed 7lb 8oz
We drove up to Upper Coxes where the others were finishing the weigh in and Martin came back with a fantastic 19lb 3oz of mainly dace from his unfancied peg! He said he'd bumped/missed loads and he'd spent the first hour fishing for chub! Pete Lonton was the next best weight with 4lb 11oz from peg 14 so Rob had finished second. I ended up with three points and will need to drop this result and I now need four good results from the remaining matches.
1 – Martin Heard (Tiverton) – 19lb 3oz
2 – Robin Cox (Ilminster) – 7lb 8oz
3 – Pete Lonton (Ilminster) – 4lb 11oz
So Heardy has now won all three V.E.S. matches and looks unstoppable. I've got a day off tomorrow so I'm going to pop down the river and see if I can actually catch some fish!
Also Pete asked me to remind club members that the Xmas Fayre is on 9th December so can you please let him know if you want to fish.