Justin Charles has been enjoying some great fishing on the Wye with barbel to nearly 10lb and pike to 18lb+ so with no match this weekend I jumped at the chance to head to Wales today. With the weather turning colder he thought we might stand a chance of a barbel or two but didn't think we'd be catching as many as he had been earlier in the year when he's had as many as ten! One would do me as it would be enough for another 'Mission Impossible' badge and there was a real chance I could beat my pb of 6lb 11oz.
I set my alarm for the ungodly time of 05:45 and met Justin just after 6:00 and off we went. We made good time although it was raining quite hard which was a tad worrying and several people messaged me to say they'd had snow in Chard after I'd left – welcome to winter! We got to the river and it looked really nice although a couple of feet up and pretty coloured. Justin kindly supplied all the kit and bait and we were soon chucking feeders across the river, fishing hair rigged pellets on the hook. The flow was really strong and our 3oz feeders weren't really holding bottom.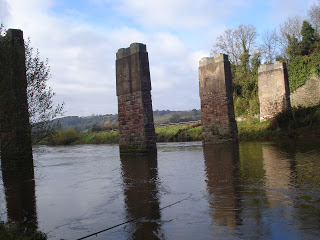 Some impressive fish holding features!
Justin put on a 5oz beast which seemed to cope better and not long after was playing his first 'bertie', it was a nice fish of perhaps 6-7lb and I really thought we'd catch a few more. We also had a sleeper rod out for the pike but never had a touch on it which doesn't surprise me with the colour of the river. I did have a good bite and hooked a fish only for it to come off nearly straight away! Our cause wasn't helped when we lost the only big feeder we had and had to revert to the smaller versions. We stayed until the light started to fail with the only other action being a lost fish (possibly a chub) for Justin.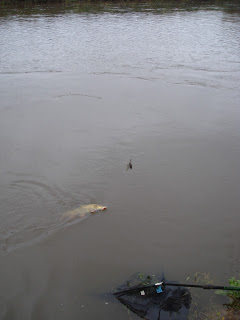 First 'Bertie' to Justin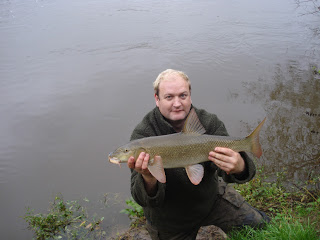 So thats what they look like!
Despite blanking I actually really enjoyed fishing somewhere new and trying a different method and I'll definitely be back next year when it's warmer. So my two attempts of adding to my badge collection have failed miserably. Russell Hilton text me to say him and a friend had fished the canal again and had enjoyed frantic sport, catching 20 pike between them, so maybe I'll have another crack at that pike badge soon!
Next week it's back on the Isle (rain permitting) so come back on Sunday evening to see if I can actually catch something for a change!