Well the rain finally stopped, only to replaced by colder weather and several frosts, winter is well and truly here! It would interesting to see how the river fished today after it fished hard in the last match two weeks ago where only 5lb 6oz was needed to win. We had a frost in the morning but the temperature wasn't actually too bad. I'd bought some Drennan bread punches yesterday and liquidised some bread as the punch can work well on the river when it's cold and clear. On arriving at the pub for the draw it was lovely to Steve Bishop there, Steve hadn't fished the Isle for years and I was hoping he'd get a few today and we might see him again!
Rob had pegged Upper Coxes and Isle Brewers again and put some good pegs in but I was a little surprised he hadn't tried somewhere different today as there are several areas we hadn't fished yet. I quite fancied 14 or 15 and my drawing hand did the business again when I pulled 15 out of the bag, Steve drew 126 at Isle Brewers and should be on some fish as it's been a consistent peg. Justin had peg 20 and Heardy had 23 where he'd caught 19lb of dace a few matches back.
My peg still looked good and I was glad to see the branch on the inside hadn't been washed away in the floods. I set up a 1.5 gram Drennan Trio and also a 1 gram bodied float to give me another option. I was ready with 10 minutes to go so walked up to see who was in the Tank Traps (peg 14), Tony Newman was in the peg but had decided to fish it from the concrete and it would be interesting to see how he got on, although I would have fished it from the normal place. I had a quick natter before heading back.
I was going to fish two lines today, the inside towards the branch at 8.5 metres and across at 10 metres, I put a small ball of bread on the inside and fed some maggots and casters across. I started with double red maggot on the shorter line and had a small chublet first chuck – good start! I then put bread punch on but the flow on the inside kept pushing towards the bank and although I had some indications I never had a proper bite. At this early stage I decided to stop feeding bread as the flow was all over the place on the inside. I went across with punch on the hook and had three of four chublets quite quickly before losing one as I brought it back across the flow.
I was now feeding both lines with maggot and caster, bites across on bread punch tailed off so I came back on the inside with double maggot and had another chublet quite quickly before bumping a fish and then I could only catch minnows on maggot so a change to caster was my next ploy. No more bites on the inside so back across I went with punch on the hook which resulted in a couple more chublets to put me on 8 fish (plus minnows) after the first hour. I probably had a pound and a half and if I could keep catching like this I would do 8 or 9lb and I felt that wouldn't be too far off today.
The second hour was pretty similar and saw me pinching a fish or two off each line before switching to the other and I was up to 15 fish including a small spottie but I'd had a few small chublets so was probably up to about two and a half pound, still on target for a good weight though. The third hour was nearly a carbon copy and I added another 6 fish although I did bump a fish as well. Going into the fourth hour bites on both lines started to slow up and it was noticeable that the temperature had dropped and it had started raining. Tony appeared behind me and said he'd had enough and was heading home, he'd missed a bite and was wishing he'd fished by the traps.
I was still feeding both lines and getting odd fish from each but with about an hour to go I was only up to 30 fish and was now struggling a bit. I had another chublet from the longer line but it was hard going over there now so decided to spend the last half an hour or so on the inside. I took a couple of sections off and held the float back where the flow was coming back towards me and missed a couple of bites before catching another small chublet. The light was starting to fade fast and I started catching quite well with another three chublets and a spottie to finish with a flourish. I ended with 36 fish (4 trout and the rest all chublets along with a few minnows) and thought I had 6-7lb. I'd had a really enjoyable day once again and had only lost one and bumped three fish all day. I wasn't sure it would be enough for a brown envelope though.
I packed up and as I was loading the car, Justin came back from weighing Martin in, he'd had 2lb 2oz and those dace seemed to have disappeared again, we walked up to my peg and my fish went 6lb 8oz and again I felt I needed a few more fish to frame today. We walked down to Justin's peg and he was admitting to 4lb and weighed 4lb 15oz so he wasn't too far off with his estimate. All three of us had mainly chublets and trout although Justin did have a cracking roach. Then it was a case of waiting for the others to get back from Isle Brewers. Rob and Steve arrived after ten minutes and Steve had weighed 8lb 2oz of mainly roach to win on his first visit for years – well done mate. Rob had found a couple of chub in 123 for 6lb 3oz which meant I was second and picked up £34 to keep my winnings ticking over.
1 – Steve Bishop (Chard) – 8lb 2oz
2 – Jamie Rich (Against Men and Fish) – 6lb 8oz
3 – Robin Cox (Ilminster) – 6lb 3oz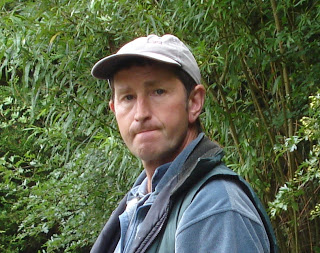 Chard invader Steve Bishop!
In the league I'm still leading with a perfect 40 point score followed by Rob on 36 and Graham Field on 33, long way to go yet though.
Given the conditions it's great to see lots of small fish still showing and like I said earlier there are still loads of good areas we haven't pegged yet. Next week is the Xmas Fayre and I think Steve is going to come and have another go, come back next Sunday to see how I get on, hopefully I can pull out another good peg!