After several frosts, the temperature wasn't too bad this morning, I got to the pub and it was great to see a decent turnout. Steve Bishop was back for another visit, Martin had brought the Old Fossil (Malcolm Levy) for a day out and Andy Welch, Ned and Dave Gudgeon were all fishing their one annual match. Rob had spread the pegs about and put in several areas we hadn't fished yet this year, he had walked the river on Saturday and cut pegs out and as always had done an excellent job.
I really fancied pegs 28 or 126 which are probably the most consistent pegs on the river but also fancied a crack at 120 which is the weirpool at Isle Brewers and in for the first time today. There were a couple of pegs in at Redbridge but Heardy said he didn't think they would be much good today. I pulled out peg 79 at Ashford and it's a peg that I've had some cracking nets of chub from and as it was the first time it's been in this year, I really fancied it. Heardy drew 109 at Redbridge and didn't look very happy (yes I know, we've seen it all before!).
I got to the river and showed Steve Parker where his peg was, he was on 82, another really good peg which looked spot on today, Ned was on peg 80 which isn't used very often but again had loads of cover and I thought he'd catch a few. My swim had changed a bit since the last time I was there in 2006! but still had loads of cover with overhanging branches opposite at 8.5 metres and a small tree in the water downstream at 13 metres. I plumbed up and the depth was pretty similar from the inside to the far bank and downstream.
I set up two rigs, the usual 1.5 gram Drennan Trio and another similar rig that took a gram, for bait I had casters, maggots, punch and some lobbies. I poured a cup of coffee from my £20 Stanley flask and I must just say that this is the worst flask I've ever owned, the first coffee is okay but after a couple of hours it's luke warm and by the end of the match it's stone cold – utter crap! Anyway, the start time arrived and baited up and started across with single caster on the hook. With all the small fish that have been showing in the other sections, I fully expected to catch straight away. This didn't happen and the river was pushing through harder than I expected.
I tried maggot across and then downstream at 11.5 metres and then 13 metres by the bush/tree, still no bites, not even a minnow! With chub in mind, I tried half a lobbie but still no indications, out of desperation I pushed the pole in between the overhanging branches opposite and just held it there. Striking was going to be awkward but I'd cross that bridge when I came to it. After five minutes I had a definite knock, it didn't develop and when I shipped back the end was nipped off the caster which made me think a minnow was the culprit. I then tried lobbie in the same place but the float just sat there. I even tried breadpunch but then was all out of ideas.
I had also been feeding the inside regularly and dropped the rig in while I had a nearly cold cup of coffee and I couldn't even catch a minnow! Right, time for a walk to see how Ned and Steve were getting on. Ned's swim was also pretty pacy but he had managed a small trout, next up was Steve who lost a fish as I was walking down to him. I asked how he was doing and he said he'd had a roach, a dace and a chub so he was doing okay. He did say he thought he'd lost that fish because he was using a worm on a size 20 hook, I suggested an 18 with a microbarb might help and I also noticed he seemed to be fishing very deep and recommended that he shallow up a couple of foot.
What a helpful chap I am, I didn't even charge Steve for my coaching tips, he baited up with another small worm and shipped out, I said I thought he ought to try going a little further across, which he did and then got his rig caught up a tree! Still in helpful mode I said if he tried shaking the rig it might fall out of the tree, this just resulted in his elastic getting wrapped round the branch as well! Steve had to pull for a break and lost his rig, elastic and everything. I felt I'd been helpful enough and said I'd leave him to it, I think he said thanks but it sounded like something else!
Back at my peg and I still felt like I could catch a chub or two but just couldn't buy a bite anywhere. I finally started to get the odd indication on double maggot on the inside and then caught my first fish which was a gudgeon, phew! – blank avoided. I had a couple more gobies but wasn't catching them fast enough to do any good so went back to trying to catch a chub without much success. I started upping the feed to try and make something happen but it looked like this was going to be my worse day on the river in eight matches. I was fishing across at 8.5 metres with double maggot when half an hour before the end, the float buried but the strike resulted in a tiny minnow and that was it for the day – oh dear!
Ned had started packing up before the end and was straight up with the scales, my catch of mainly small fish weighed a staggering 3oz! Ned's tiny trout weighed 2oz and Steve hadn't caught anymore and weighed 1lb 3oz despite me trying my best to help him!!!! A really disappointing day and I do wonder if those chub are still in 79. Anyway back to the pub for the results and as people started filtering back it seemed the top end had fished quite poorly, Bob Hammond was the top weight from pegs 27-29 with 1lb 9oz, Steve was top in our section but then the Redbridge section came back and Heardy had weighed a fantastic 16lb 8oz of mainly roach and Dave Gudgeon had done really well to weigh 5lb 9oz of roach on the waggler. God knows what Heardy would weigh if he ever drew a decent peg!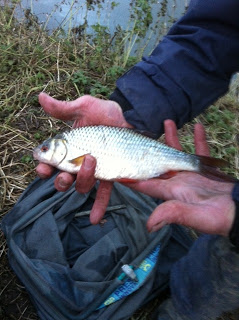 Some cracking roach were caught at Isle Brewers and Redbridge, Steve Bishop had this one from peg 123
Isle Brewers had fished okay with everybody getting lots of bites and Rob Cox was top weight there with 8lb 6oz of roach and small chub. We then all enjoyed a lovely buffet before the prize giving. Everybody won a prize and I got a crate of Stella for finishing fourth from bottom. The club would like to thank Rob Cox and Pete Lonton for organising another great Xmas Fayre and Steve and Cindy at the Oak for the fantastic spread.
1 – Martin Heard (Tiverton) – 16lb 8oz
2 – Robin Cox (Ilminster) – 8lb 6oz
3 – Dave Gudgeon (Ilminster) – 5lb 9oz
Well next week it's back to the Royal Oak league so I hope this isn't the start of a bad run for me. If anybody would like some of my famous one to one coaching, feel free to contact me!