We had quite a bit of rain on Friday and some heavy showers on Saturday which left me fearing we'd be on the pond again but Rob messaged me and said the river looked good and we'd all be at Redbridge for this match. I was really looking forward to it as the forecast was good for today and it was a few degrees warmer than it had been. I got to the pub just before the draw and saw Rob had pegged two above the bridge with the rest below and the last peg was the weirpool (120). I didn't really mind where I drew as lots of roach had been showing but I did quite fancy another crack at 120 as I'd only ever fished it once.
I hung back at the drawbag and nobody was admitting to 120 so I stuck my hand in and pulled out, yep you guessed it, peg 120 – that'll do me. Fieldy had peg 110 where Heardy had 16lb 8oz last week but Rob had put another peg in between this week and Martin had drawn it. Rob was on 108 which had done 5lb+ last match and Steve and Bob were both above the bridge which hasn't been pegged yet this year.
We got to the river and it was a lot higher than I was expecting and going through at quite a pace as well, I unloaded the car and started the long yomp to my peg, which took several trips and I was knackered and running late by the time I got there. I took one look at my peg and didn't think I'd be able to fish it, it was a big mess of boils, there was a small slack on the far side but where you normally sit at the tail of the swim was virtually all underwater. After much faffing about I got my box down to the swim and left as much kit as I could on the high bank in case I needed to move if the river rose anymore!
My next worry was what to do with my keepnet as the water was racing through, I just plopped it in the side and thought I'd wait and see if I actually caught anything before worrying any further. I only just had time to set up a 1.5 gram rig before it was time to start. I baited up with double red maggot and shipped across to the slack at 11.5 metres, the float was holding nicely and I felt sure I would catch. I was feeding maggots and casters and was surprised when I had no indications after ten minutes. I was also keeping an eye on the river level and picked a marker so I could see if it dropped at all or if it started to rise I could make a quick exit!
With no bites I went to move the rig and there was a fish on!, it was only a small roach but I was off the mark. I had a couple more but wasn't getting any indications, I tried altering the depth and moving shot about but it didn't make a difference. I had six fish after the first hour and hour two was slightly better when I tried fishing on the edge of the flow and had a couple of chublets plus more roach. I did hook a clonking roach but as I was bringing it across the flow, it got swept out of the tail of the swim in the really strong flow and the bloody hook pinged out! I then lost another in the flow and had one drop off as I tried to swing it in – things weren't going well.
I also noticed that all my fish were pushed up against the bottom of the keepnet because of the flow so I pulled it out and staked the net out on my right, the flow was still really fast but they seemed happier. I got back to fishing and was still catching roach, dace, chublets and I even had a prehistoric looking bullhead. Judging by my marker the level had actually dropped a little and the flow coming over the gravel I was sat on didn't seem quite so fierce.
I was having to chase the fish around a bit, probably because my bait was going all over the place, but was still getting roach and the odd better dace and chublet and started getting some gudgeon as well. I tried going over further to my right but got snagged and lost a hooklength so that was the last time I tried that. I was still not seeing quite a few bites so plumbed up again to make sure I wasn't too far overdepth but nope the rig was still fine.
By now we were half way through the match and I had 30 fish and thought I had about 3lb, but as nobody was walking about I reckoned they must be catching above me. Then it started raining and I kept an even closer watch on my marker but luckily it didn't last long and the river continued to drop slowly. I was still catching quite well and felt that if the fish averaged 2oz apiece, fifty fish would give me 6lb or so. I reached 50 fish with just under half an hour to go and managed another three, including a 8oz chublet that a pike had a go at!
I really felt my 53 fish (plus bullhead!) would go 6-7lb and was hoping it might be enough to sneak into second place. My peg was worth more today and with the fish I'd lost/bumped and dropped off I should have had a couple of pounds more than I'd had. Fieldy came down to weigh me in and when I said I had about 5lb (under estimating again!), he said I'd win easily as they'd all struggled above me. My fish actually weighed 5lb 9oz which I was disappointed with but I did have quite a few gudgeon and small roach.
Fieldy weighed 2lb 1oz and when we got to Heardy, he'd had 2lb 3oz and Rob 1lb 9oz, by the time I walked back to the car I was knackered but happy thinking I'd won again but then Fieldy said Steve Parker had three chub for 8lb 8oz above the bridge so I had to settle for second. Well done Steve, I reckon my coaching last week helped after all!!!! I picked up £30 and I'm now just £15 short of the elusive £1500 but there are several matches over the Xmas period which I'll have to fish to see if I can reach it! I'm still leading the league with 50 pts followed by Rob on 44 and Fieldy on 40.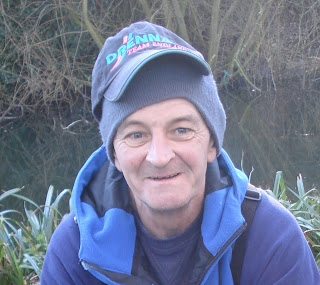 Steve Parker won with three chub for 8lb 8oz
I was a little surprised it didn't fish better but the river was pretty high and will probably be perfect tomorrow! Also the fish were freezing cold to the touch so the water temperature was still well down.
1 – Steve Parker (Ilton) – 8lb 8oz
2 – Jamie Rich (Against Men and Fish) – 5lb 9oz
I'm at Summerhayes for their Xmas Match next week, so come back to see how I get on (I don't think I'll be fishing micros and soft pellet somehow!).