With no match scheduled on the river this weekend I booked into the Xmas match at Summerhayes and driving over the river this morning, it was unfishable anyway. I got to the venue with half an hour to spare and sorted out my keepnets before paying my pools and saying hello to all the usual suspects. There was a really good turnout of thirty six anglers including Mark Hanham, Steve Jackson, the Wickhams, Alvin Jones and Roy Hughes amongst others. The match was going to be spread out over Longs, Sellicks and the dreaded Lily. Although to be fair, Lily can produce the overall winner but I never seem to do very well on it.
Pete announced the draw and I hung back hoping the seven pegs on Lily would go before I got there, finally I got to the bucket and delved in and pulled out peg 2 on Lily – bugger! The fancied peg on Lily was peg 10 where Ashley Tomkins won with nearly 90lb last weekend and Ian D from Taunton was the lucky angler to draw it. My peg was in a corner with a nice bed of lilies and I was just hoping I could get a few bites. I made myself comfy and set up three rigs, a 0.6 gram Malman Pencil for open water where I would cup in a little groundbait and fish dead maggot over the top although I won't mention this rig again as I never picked it up all day! Rig two was exactly the same but for fishing bread punch by the lilies at 10 metres and the final rig was a little Trabucco float taking 4 x 10 which I spread out down the line. Both these rigs were set a few inches off bottom and all rigs had 0.10mm bottoms and size 18 Tubertini 808's at the business end.
For bait I just had dead red maggots and punch although I intended to fish punch all day if I could get bites on it. The all in was shouted and I cupped in a single ball of groundbait at 11.5 metres in open water before starting by the lilies with 5mm punched bread. I was expecting it to be hard and just kept lifting and dropping the rig and after ten minutes I had my first indication, next chuck I had a small roach and was off the mark. Then I had a small carp and was getting regular bites and after the first hour I had three small carp plus some bits. The weather was actually quite mild and I could see Jacko on peg 14 on Sellicks catching so it was looking at this early stage like it would fish well.
I was still getting the odd small fish but I could see Ian on peg 10 and a chap called Ziggy on 12 catching carp and John Dursley along on peg 4 was getting a few as well, it was time to change tact. I picked up the light rig, baited up with punch and went in the edge on my left. The rig settled, dibbed and went away and carp number four was on. I safely netted it and it was a better size than the ones I'd been catching by the lilies. Next chuck I had another and was getting regular bites, by the end of the second hour I had eight carp and had bumped one as well.
Hour three started well and I had another four carp to put me on twelve before the left hand swim slowed up. I was doing okay and Ian and Ziggy had slowed up and I thought I was a couple of fish ahead of John, nobody else seemed to be doing much on our pond. I switched to fishing in the corner on my right and was a little worried that if I hooked a carp I only had a thin channel between the lilies and the bank to guide the fish through. I didn't have long to wait to try this out and my next carp didn't give me too many problems and I was up to thirteen carp at the half way point.
Number fourteen soon followed before I switched back to the left hand margin and the rest must of done this swim some good as I had my fifteenth carp straight away. No more bites saw me try the shallow rig out toward the lilies but no action saw me back in the corner again. Three more carp from the corner and I was pulling away from the others with two hours to go. I was just thinking how I'd only bumped one carp and not lost any when the next one went right in the lilies and after much faffing about I had to pull for a break. Now I thought the relatively light 0.10mm bottom would snap quite easily but no I lost the whole rig!
More faffing followed while I sorted another rig out and you know what it's like when you're catching and then lose a rig, the replacement is never quite the same despite it being the same pattern, hook etc. I did successfully land the next one to put me on nineteen with over an hour and a half left. The chap opposite me on peg 14 packed up and from what I could see everybody on our pond had slowed up. I then hooked another and thought I'd done all the hard work when it wrapped me round some lilies and the hooklength parted and I was left to do some more faffing about.
I kept trying the left hand margin and the corner but all I could catch was the odd roach and my last fish was a decent roach of 6oz or so. I was left wishing I'd spent the last part of the match out by the lilies with the deeper rig and also if I'd kept feeding the open water line I would have had somewhere else to go when the other lines slowed up, still I was quite pleased with how I'd fished, I'd only lost two and bumped one and apart from the open water line at the start, I hadn't fed anything!
As I was packing up, John walked up from the next peg and said he'd had sixteen carp and as he'd had some better ones, it could be close. Jacko came over and he reckoned he had 35lb+ and said that Dave B on Sellicks peg 6 had also caught well. I finished packing up and loaded my car up before catching up with the scales on Longs. Jess Jordan was top on Longs with 31lb 3oz followed by Adie Bishop with 29lb 9oz. The scales reached Sellicks and Martin Addicot was the early leader with 36lb 12oz from peg 2, this only lasted until we got to Dave on peg 6 and he went into top spot with 40lb 2oz. The weigh in then got to my peg and my silvers went 1lb 5oz and my carp 24lb 14oz to give me a 26lb 3oz total, which was more than I thought. John came close with 24lb 9oz and Matt T in peg 6 had 17lb 8oz. The young lad called Jake in peg 8 gave me a fright when he weighed 23lb and I hadn't seen him catch anything! Ziggy had chucked back which just left Ian on peg 10, he was admitting to 20lb but when his carp weighed 24lb 14oz I was hoping he didn't have any silvers. He did and weighed 1lb 10oz of them to give him a 26lb 8oz total and he pipped me for first on the pond by 5oz – bugger!
I kept thinking about those lost fish but when he told me he lost five, I felt a little better. The scales then went to finish weighing Sellicks and Jacko took top spot with 44lb 8oz. Then it was back to the porta cabin where Pete and his lovely wife had laid on a lovely spread of sandwiches, roast potatoes and mince pies. Pete then did the draw for the blind pairs and as this was my last chance of any coin I was hoping I'd get paired with Jacko but no such luck. Then it was time for the prize giving and there were some lovely hampers amongst lots of other goodies and when I got called out in seventh place I picked a lovely selection of champagne and chocolates.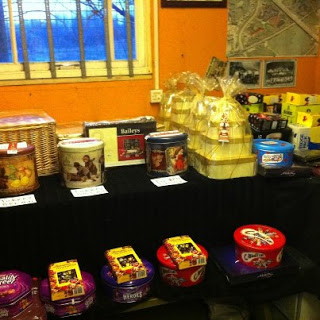 Just some of the lovely prizes
1 – Steve Jackson (Bridgwater) – 44lb 8oz
2 – Dave B (Summerhayes) – 40lb 2oz
3 – Martin Addicot (Taunton) – 36lb 12oz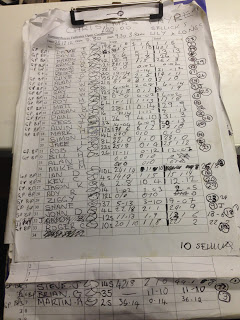 Todays weighboard
A really enjoyable day with lots of bites and I do enjoy fishing here and as Pete is running several matches over the Xmas period I'll have to try and get back and fish a couple over the holidays.
Also I would like to take this opportunity to wish everybody who reads this a Merry Xmas, thanks for any comments you've made and I hope you catch loads of fish in 2013 (as long as you're not pegged next to me!).