When I started fishing back when I was ten years old (where did all the years go!), I was keen to learn as much as I could about angling and started buying all the fishing magazines. One of these was David Hall's Coarse Fisherman and I still have a few editions from 1980, I've bought most of the mags over the years but the one I have always bought and subscribe to is now called Match Fishing. My favorite features were always the diary style ones by anglers like Richard Wade, Dave Pearson, Kim Milson and in the current mag, Lee Kerry.
I've always enjoyed writing and even tried submitting a few articles at a very young age, they were never accepted and I even spoke to Dave Hall and Roger Mortimer about them, they were very nice and even offered some tips on how I could improve my articles. I suppose the problem was the readership wouldn't want to read about an angler nobody knew, fishing waters they had never heard of! This was all before the internet came along and when the revolution arrived, everyone could publish articles regardless of whether anybody was reading them!
I started my blog in 2006 for my own enjoyment really and it developed a bit of a local following when both the clubs I fished for, Ilminster and Chard used my blog as a vehicle to publish the match results and put links to my site on theirs. Things moved on a bit when the now defunct Southern Angling magazine asked if I would like to send them venue reports each month for their 'Where to fish' section. I really enjoyed doing this although it took up quite a bit of time and even got paid a small monthly sum and the highlight was when the editor asked me to submit a feature covering one of our club matches. It was published along with the photos taken on the day and I was chuffed to bits that I'd finally got an article into print.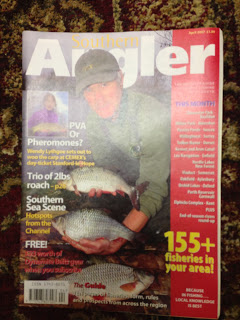 The now defunct Southern Angler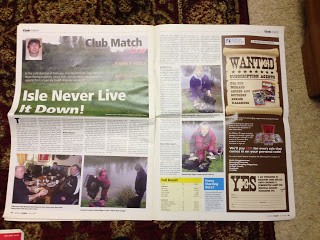 My first ever published article
My blog was chugging along nicely and the next bit of media exposure was when I submitted one of my weekly posts to the Pole Fishing mag website which they used in their guest bloggers section. Recently I have joined a few angling forums and it was a chance conversation with Steve Lockett on one of these where he mentioned he'd be interested in doing a feature with me on the Isle, well of course I jumped at the chance but he said he'd need to speak to Alex Bones at Match Fishing first. He text me later to say the feature was on and we set a date, Monday 12th October, I booked a days leave and the day soon arrived.
I met Steve at the services in Ilminster and we went down to peg 28 at Lower Coxes, he was a really nice bloke and we talked about all things fishy while he snapped away with his camera and tapped away with his laptop. Conditions weren't ideal but I managed to catch for most of the day, ending with probably just shy of double figures of dace, chublets, roach and trout. I didn't mention it on here at the time in case it wasn't actually used in the mag. Its not in the shops until tomorrow but as a subscriber I received my copy today and my ugly mug can be found in the article starting on page 24.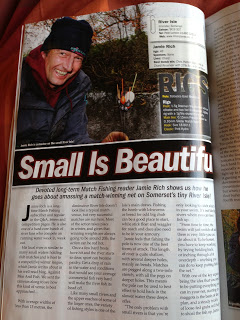 My first feature with me as the 'Star'
It's something I've always wanted to do and it feels quite surreal that 32 years after buying my first fishing magazine, I'm now actually in one! I realise I'm no Steve Ringer but I wonder if he felt the same the first time he was featured in one of the mags? I guess it's no big deal really as loads of anglers I know have featured in many of the mags but it has always been an ambition of mine and now I can tick that off my list.
I'd love to be able to write full time or somehow make a living from my blog as I do enjoy writing but for now I'll keep plodding along. Thanks to the people who have followed me so far, I have now reached over 46,600 hits and have gone from getting around 1000 a month to approaching 4000, thank you all very much. There are some fantastic blogs out there that get many more hits than I do and I'll continue to aspire to reach their figures. Some of the top ones can be found on the right hand side of my blog and include blogs that are very well written and blogs by some top local matchmen, have a look at Idler's Quest Tales From The Towpath Silver Fox Angling and Tony Rixon's Days Out
I hope you'll continue to follow my exploits and enjoy them as much as I do – tight lines.