This match was a rescheduled V.E.S. winter league fixture from 25th November, that day we fished a knock up out the pond and it had fished rock hard and I won with fourteen roach for a lowly 1lb 5oz. After loads more rain in the week, I was sure we'd be back out the pond today for another grueller. I really fancied a crack at the canal but apparently the path down there was flooded so that was out of the equation. We were two men down today with Pete and Rob both poorly and there seems to be a lot of that going around – get well soon chaps.
We decided to wait until we got to the pond before making our minds up which pegs to use, so we could keep out of the worst of the wind which was forecast. The pond was fairly sheltered from the wind and very coloured (much like last time). There were a few fish topping but I still felt it would be hard going. We put all the pegs along the bank on the side where you drive in and I fancied peg 17 in the trees or failing that, peg 18. I just missed out on those pegs when I pulled out 19 which was just the other side of the fence. Bish drew 17 and I had Justin on my right and Heardy on my left. We always split the match into two sections for league points and as I had Martin in my section I would have my work cut out.
We didn't have long to set up so I nicked some pinkies off Bish and started setting my kit up, I mixed up some Supercup and then set up the same rig I used last time, a 0.5 gram Drennan Roach with 0.06mm bottom and size 22 B511 at the business end. We were only fishing five and a half hours today starting at 10:00 and that time soon arrived. I cupped out a single ball of groundbait with a few casters, maggots and pinkies at ten metres before going out with double pinkie on the hook. Justin boshed it in again, which I thought was a little optimistic. I asked Martin what he thought would win today and he replied that 4lb would be a good weight.
I was expecting a bit of a wait but Heardy had a tiny roach first chuck and then I had one too, so at least we should get a few bites today. I then had another tiny roach and my next fish was a 4oz rudd and things were looking up! Martin was catching the odd better rudd amongst the tiny roach and we were neck and neck after the first hour with 12 fish apiece. I probably had a pound already and felt if I could keep this catch rate up, 5.5lb would be a decent weight. I had the bristle dotted down to a pimple but was struggling to see it in the 'white' water reflection. I put a black Drennan sight sleeve over the bristle and this improved things a lot!
The second hour was even better and I added another 16 fish and some of them were decent roach which I slipped the net under, I kept asking Martin how he was getting on and he always seemed to be a couple of fish ahead but then he is very good at this style of fishing. I tried single red maggot and had a couple of fish, then caster but bumped a fish and missed a couple of bites so went back to double pinkie. Justin seemed to be struggling and kept trying his inside line so I felt I was ahead of him but still behind Heardy.
The third hour was even better and fishing red maggot I had another 22 fish and the peg seemed to be getting better and better and the stamp of the fish was improving as well. The fourth hour saw Martin start to slow down but I was still catching really well and added another 28 fish to put me on 78 with an hour and a half to go. Most of my fish had been roach and rudd, I only had three perch and two of those had been tiny but the third one was a better stripy of 4oz or so. Justin had started catching quite well and it looked like the fish had finally found his mountain of groundbait!
Martin was now struggling for bites and was saying most of his fish were tiny although I kept noticing him slipping his landing net out! I was still getting some quality roach and even had a rudd that had to be 12oz and by the end of the fifth hour I was up to 104 fish. The bites just kept coming and in the last half an hour I had another 13 fish to give me a total of 117 fish. I'd really enjoyed it today and we'd only had a couple of showers and the wind hadn't been too bad. Martin finished with over 100 fish but was adamant I'd beaten him but I've been caught like that before and would wait for the tale of the scales. Also Justin had caught really well towards the end and it looked like Bish had fished the whip as I didn't see him ship the pole out all day.
As I took my kit back to the car I met Bish who said he'd had over 150 fish but hadn't caught any quality. Justin said he'd caught really well on caster but I'd only tried it a couple of times, but then I was catching really well. Heardy was convinced he'd have done better with the whip but for me it was like the old days out here, fishing the pole for quality roach and I'd thoroughly enjoyed it. Steve soon arrived with the scales and Heardy was first to weigh, his fish pulled the needle round to an impressive 11lb 9oz and I was hoping I had a little more.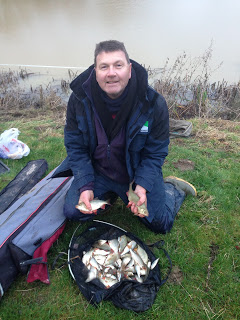 Martin with a cracking net of quality fish and he only came third!
Then it was my turn and pulling my net out there was a fair bit of splashing and it looked like a lovely bag of fish, into the weigh sling they went and Steve called out 15lb 6oz but would it be enough to beat Bish? Justin surprised everyone when he weighed 11lb 10oz and pipped Martin by an ounce! Bish had loads of fish but true to his word he didn't have much quality and weighed 7lb 9oz, loads of bites though. Steve had struggled in 16 and weighed 2lb 12oz but the peg was now really shallow and had silted up quite badly after all the heavy rain.
1 – Jamie Rich (Against Men and Fish) – 15lb 6oz
2 – Justin Charles (Ilminster) – 11lb 10oz
3 – Martin Heard (Ilminster) – 11lb 9oz
So I finished the year on a high with another win and managed to get past the magical £1500 mark (£1530 to be precise) and wonder of wonders, I'd actually enjoyed fishing the pond again. Although I have heard the club are going to put F1's in and I think this will just ruin it as a fishery. It's not carp that are needed, it's skimmers but I don't think that'll ever happen now. Also apparently some F1's are earmarked for the canal and that's an even bigger shame as it's currently a really well balanced little fishery full of quality fish.
I must say I was a little gob smacked at how well the pond fished today and the number of quality roach that fed, it just goes to show that they are in there and I think the fact it was quite mild and all the rain has kept the pond coloured for a sustained period has helped too.
In the league, Heardy still leads with a perfect three point score (dropping today's result), Justin is second with four and I now have five and I'm back in the hunt with three matches to go!
Well that's it from me for 2012, I hope you enjoyed following me as I continue to compete 'Against Men and Fish' and will come back for more in 2013. Also look out for my yearly review which will be online tomorrow. Next match for me will hopefully be a trip to Summerhayes on Wednesday.
Lastly have a great New Year's Eve and don't drink too much!