This year I thought I'd do a yearly review which is something new for my blog and what a year it's been!
January
I started the year off down at Chard Reservoir and despite it being pretty hard going, I managed to win my section with three roach and a skimmer for 2lb 14oz. My next outing was to my favourite venue, Ilminster Canal, and despite it being a bit too early for it to fish it's best, most people had a few bites and I finished third with some nice perch and some small roach for 2lb 11oz. Heardy won with a nice net of skimmers, roach and perch weighing 6lb 10oz.
The remaining three Sundays saw us down the river and although hard going after several frosts, I managed two third places with Neil Dring winning two and Heardy winning the other.
Highlights – Five matches on three different venues, four pick-ups.
February
The first match of February was terrible after some awful weather and I only managed a small trout and two minnows for 7oz! Steve Parker won with four trout for 2lb.
My next day out was something of a departure from the norm for me as I was off to the River Tone after grayling with Scotty Russell, I'd never caught one before and wanted to try some new things this year. The trouble was, more torrential rain and the river was up and coloured and Scott didn't give much for our chances. We decided to give it a go and after finding a swim with a nice slack we started getting bites and Scott had a dace before I had a small grayling and it was mission accomplished!
My first grayling
Next up was the Ilminster Open on the Isle and I had a lovely day, landing four chub plus some bits for 12lb 5oz and my first win of the year. The next two matches saw the climax of both the V.E.S. Precision and Tacklebox/Royal Oak winter leagues, I ended up finishing as runner up in both leagues and a victory in the last V.E.S. match with 13lb odd of chub saw February come to a close with a flourish.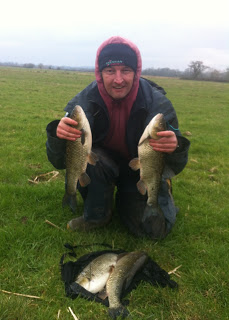 My winning Open weight
Highlights – First grayling and win in the Open.
March
This month turned out to be a really busy month which started with another grayling trip to the Tone with Scotty and his dad Roger but this time in much better conditions. We caught loads of fish and we had nine grayling up to about 12oz, a lovely day.
Then we had Barney's Pairs Open which I have a really good record in over the years, this year it was split between Dillington and the river. My partner Graham Field did the business on the pond by winning his section but my fate was sealed when I drew peg 128 on the river and struggled for one gudgeon and a few minnows for 2oz.
The following Saturday I drove up to the 'Big One' at Farnborough to book my holiday to the wonderful Gillhams Resort in Thailand. It was lovely to see Stuart and gave me something to look forward to in September.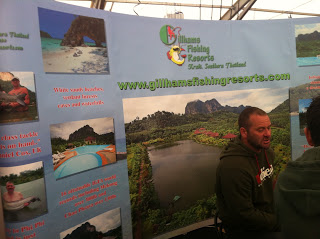 The Gillhams stand at the Big One
The next day I fished Summerhayes and won the silvers with 18lb 5oz and I really enjoy this kind of fishing. I was back down to earth with a bump on Chard resi in my next match when I never had a bite! Back at Summerhayes the following week saw another silvers win, this time with 17lb 12oz but the highlight was meeting fellow blogger Ivan of Ivans Angle fame, what a top bloke and always nice to meet fellow bloggers.
Following on from the grayling trips I'd decided to start my own 'Mission Impossible' and get as many species badges from TCF magazine as I could. First port of call was the resi and Janders came down as it was nice day and acted as my ghillie, cheers mate. The fishing was an anti climax although I did manage some skimmers to 2lb 13oz which was enough for my first badge.
Next up, me and my mate Andy headed to Seaton to try and catch a mullet which would be challenge as neither of us had a clue what we were doing! Despite this, I did manage a small one of 1lb 13oz and another new species was added to my list.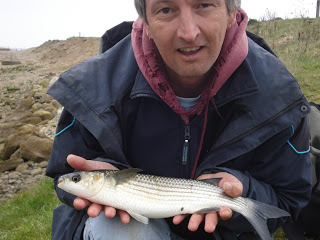 My first (and hopefully not my last!) mullet
See I told you it was a busy month!
Highlights – Silvers wins, first mullet and meeting Ivan.
April
This month was spent fishing Summerhayes and Perry St Pond with varying degrees of success, my first match in the Spring league at Perry St saw me finish third from last with 6lb 4oz. I did manage a fourth at Summerhayes and a section win in round two at Perry St but overall not a great month for me.
Lowlight – A disasterous opening round of the Spring League
May
Another busy month with seven matches fished this month! I had a third place and a silvers win at Summerhayes with a new pb silvers weight of 23lb 12oz. I fished a knock up on my birthday but missed out on a pick up by 1oz! At Perry St I had two section wins and then won the third match with 80lb 6oz which was also a new pb match weight although I didn't play my joker which would have doubled my points! Me and Mike Thomas lost in the pairs knockout final to Steve Bishop and Steve Bush. Five pick ups saw my yearly total rising steadily. I also started using my nearly new pole (mainly at Summerhayes).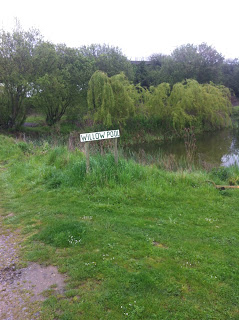 Willow Pool, scene of my birthday match
Highlights – First win at Perry St for ages and two new pb match weights.
Lowlights – Losing the pairs final and getting ounced out on my birthday!
June
The first match of the month saw me win my section again at Perry St and after a disasterous first match I was creeping up the league. Match's two and three were at Summerhayes and resulted in a silvers win and second with 19lb 14oz and 20lb 4oz, I love this venue!
Then I was at Dillington for the first time in ages and managed a second place with 8lb 2oz, followed by rounds seven and eight at Perry St. Round seven saw me draw corner peg 1 and once again I didn't play play my joker and once again I won (will I ever learn?) with 36lb 12oz. Round eight and another section win also saw me in the semi finals of the individual knockout.
Highlights – My second win at Perry St this year and six pick ups in six matches.
Lowlight – Not playing my joker again!
July
Back at Summerhayes and another silvers win with 22lb 9oz before it was back to the league at Perry St and a decent result saw me into the knockout final and still in contention of a league placing. The final match arrived and another good day saw me win the knockout final and I also came second on the day with 46lb 14oz and sneaked fifth in the league.
I then managed another second in silvers at Summerhayes before the next weekend saw me at Summerhayes for a two day silver fish festival and I couldn't wait! I drew a tough section on day one which included Nigel Garrett, Adie Bishop and Ray and Glynn Wickham. I struggled for most of the match but a good last hour saw me do enough for a section win with 15lb 2oz and I was still in the hunt for day two.
We fished Long's on the first day and day two was to be split between Sellicks and Lily, nobody wanted the latter as there weren't as many silvers in there and 10lb would be a decent weight. Of course I drew it and my festival was over, it was a real struggle and I finished with 5lb 5oz of bits for fourth in the section. My total of five points over the two days was enough to sneak into fifth place and last in the money.
Highlight – Winning the individual knockout at Perry St.
Lowlight – Drawing Lily!
August
Another hectic month with lots of matches, the month started with a silvers second at Summerhayes and a third place at Dillington where I also had a perch of 1lb 7oz for another 'Mission Impossible' badge! I then fished my first match at Coking Farm and smashed my pb match weight with 121lb 4oz of carp and skimmers for third place but also managed to snap my number four section of my pole!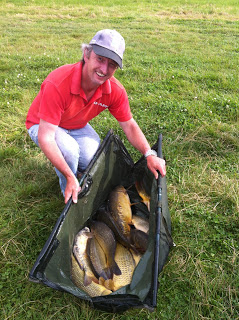 Part of my biggest ever match weight
Another silvers pick up at Summerhayes followed before I visited Dillington again, the whip boys dominated and I couldn't see me fishing it again as I just don't enjoy that style of fishing.
The last two matches of the month at Summerhayes saw me finish third on both occasions, with 23lb 8oz and 50lb 6oz which was a new pb weight for me there.
Highlight – Breaking the ton for the first time
Lowlight – Breaking my pole!
September
I had two matches at Summerhayes before I flew out to Thailand, I struggled in both with the second being most disappointing as it was the pairs open which me and Andy won last year.
I was a little apprehensive about travelling halfway across the world on my own but it all went fine and I was soon walking out of Krabi airport where I was met by Sean Gillham and the holiday fun could begin!
It really was an awesome trip and it was great to meet up with Terry 'Poppa' Eustace again and I met loads of other really nice people including Mark Hoye, Mike Ward and Alan Boon and we had some great nights out. The fishing was out of this world and I had my biggest ever fish in the shape of a 260lb arapaima plus another of 200lb and a new species and pb with a 180lb mekong catfish that took me over three hours to land! I also had my first ever fish on a lure but possibly the highlight of the trip was my biggest ever Amazon redtail catfish of 90lb.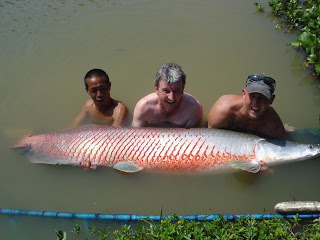 260lb arapaima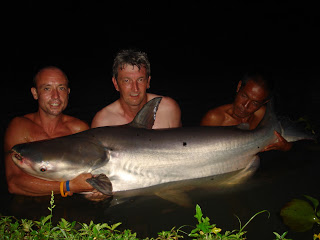 180lb mekong catfish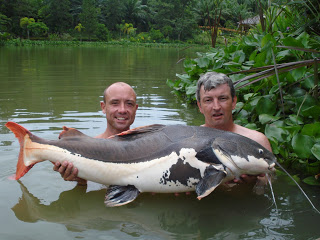 Me and Chris Pache with my 90lb amazon redtail
I really can't recommend the place highly enough and you are looked after really well by Stuart, Benz, Sean, Noi and Becca plus the guides, Gollock, Joel, Lee and Chris.
After my return to the UK, there was just time for one more match before September came to a close, I was back at Summerhayes and managed another second in silvers with 17lb 15oz.
Highlights – Thailand and Gillhams of course!
October
First match of the month was also the first back on my beloved River Isle and what a start! I drew peg 15 and caught all day to win with 17lb 5oz of dace, roach, chublets and trout. I followed that up with 8lb 14oz and third place the week after and in the third match I was victorious again, this time with 12lb 2oz (which also included a new pb chub of 3lb 9oz).
I then met up with Russell Hilton (another fellow blogger) for a days piking on the Tone, we blanked but that didn't really matter as it was a really nice day talking all things fishing. Check out his blog Tales From The Towpath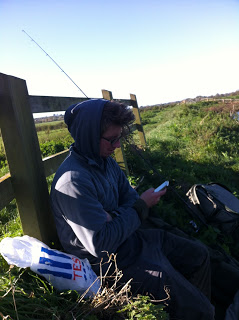 Russell Hilton
I struggled in the final match of the month on the Isle but still caught a few fish for 4lb 3oz.
Lowlight – Not catching a pike
Highlights – Two wins on the Isle and meeting Russell
November
First trip of the month was to the Wye with Justin Charles after barbel in search of another 'Mission Impossible' badge. I blanked but did lose a fish and Justin just had the one barbel, the weather had gotten a lot colder but I'll be back!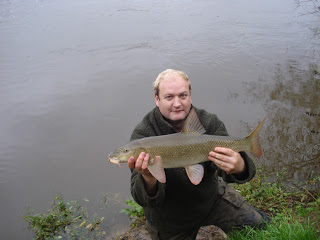 Justin with a nice barbel

Next match was back on the Isle and I struggled again, this time I had 2lb 15oz from peg 27 and it was looking like I might be on the start of a bad run. The following week I drew peg 28 and didn't think I'd done very well when I weighed 5lb 6oz but it turned out to be enough to win on the day.
Then the rain started and with the river badly flooded we were out Dillington for the next match and another struggle saw me win again with a hard fought for 1lb 5oz!
Highlights – Two match wins and fishing the Wye
Lowlight – Blanking on the Wye!
December
The countdown to Xmas started and so did the cold weather! We got back on the river for the first match of December and Steve Bishop came over from Chard and fished his first match on the river for years. He showed he hadn't forgotten how to do it by winning with 8lb 2oz, I had another enjoyable day and finished as the runner up with 6lb 8oz.
Next up was the Xmas Fayre where I drew a peg I had fond memories of but struggled for three gudgeon and a minnow for 3oz, I still won a crate of Stella though!
More rain and the next match was touch or go whether it was on the river, we fished the river which was actually a little too high but again I had bites all day and finished second with 5lb 9oz behind Steve Parker who won with 8lb 8oz.
I then fished the Xmas match at Summerhayes and despite drawing Lily I had a very enjoyable day just missing out on winning the pond by 5oz with 26lb 3oz. Pete did a great job, laying on a nice spread and everybody received a great prize.
I realised another ambition when I appeared in an article in Match Fishing magazine!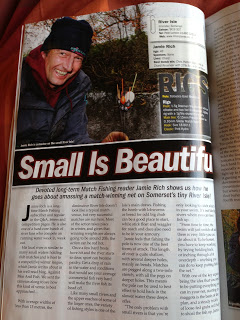 Me in Match Fishing Magazine
My last match of the year saw me back at Dillington with the river still unfishable and I didn't have high hopes after the last time we fished it. How wrong I was, loads of quality roach and rudd fed and it was just like the good old days, my 15lb 6oz was enough to win and finish the year on a real high.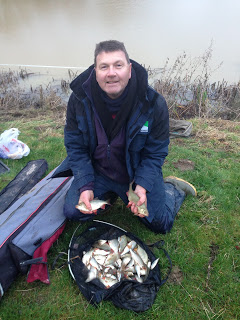 Martin Heard with a cracking net of quality roach and rudd weighing 11lb 9oz
Highlights – Appearing in Match Fishing for the first time and a cracking day at Dillington.
Summary
This has to be one of my best years yet, I caught new species, beat pb's and picked up more brown envelopes than ever before.
Matches won – 9
Silvers wins – 5
Winnings – £1530
New pb match weight
Coking Farm – 121lb 4oz
New venue pb match weights
Perry St – 80lb 6oz
Summerhayes – 50lb 6oz
New species
Grayling
Mullet
Mekong Catfish
Horsefish?
New pb's
Chub – 3lb 9oz – River Isle
Siamese Carp – 75lb – Gillhams
Arapaima – 260lb – Gillhams
Amazon Redtail Catfish – 90lb – Gillhams
Asian Redtail Catfish – 15lb – Gillhams
Mekong Catfish – 180lb – Gillhams
Phew! – not sure how I'll top that next year but I hope you follow my adventures while I give it my best shot