I'm still on my Xmas hols so I booked into a match at Summerhayes today, it was on Sellicks and I was determined to try and fish the punch all day for carp. There was a decent turnout including Roger Russell, Jamie Parkhouse, Heardy, Bruce Hunt and Scotty who is on a roll here at the moment. I wanted a peg where I wouldn't have to fish 16 metres to the island and got my wish when I drew peg 12 at the top end. I had empty pegs either side with Jamie Parkhouse the next angler on my right on peg 10 and Roger on peg 14.
I set up a little Trabucco float taking just 4 x 10 for fishing the punch a few inches off bottom across to the island and on the insides and another rig for my skimmer line at 10 metres just past the middle. Both rigs had 0.10mm bottoms and size 18 Tubertini 808's. I was going to keep it simple on the bait front with just bread punch for my carp lines and a little Bag 'Em Baits green groundbait and dead maggots for the skimmers. Pete blew for the all in and I cupped in a ball of groundbait at 10 metres before starting across at 13 metres with 5mm punch on the hook. I had a couple of tentative indications first put in and next chuck I had a decent skimmer and was off the mark.
Roger was fishing to the island as well and Jamie P was down the middle after silvers and getting a few small fish. Lifting and dropping the punch I was soon into my first carp and shortly after netted number two and three (both were foulhooked!) and finished the first hour with three carp and that skimmer. I felt if I could carry on like this I would be in with a shout, Roger shouted up that he had four and from what I could see nobody else around us had much in the way of carp. I hooked my fourth carp at the start of hour two and it was under control when the hook pulled out at the net – bugger!
I felt like there were a few about but then I could only get little knocks which I was sure were small roach or skimmers and sure enough I dropped off a small roach. I tried different spots along the far bank but the fish had gone. I decided to cup in another ball of groundbait on my skimmer line and try the inside to my right where there was quite a bit of reed cover. Two carp in two chucks was a great start and I think me and Roger were still neck and neck. Jamie P was now getting odd better skimmers and was putting together a nice net of silvers. Then in a carbon copy of my island swim, all I could catch on the inside were tiny rudd and a roach.
Back over to the island and I lost a foulhooker before landing my sixth carp but went back to struggling and the only other action in hour three was another foulhooked carp which I lost. I cupped in another ball on my skimmer line and started to think about trying it shortly. I tried going right into the corner at 13 metres on the inside but never had a bite there. When the carp are there you tend to get bites soon after the rig has settled and I'd gone from doing well to really struggling and Roger started to pull away from me and was now a couple of carp ahead.
Scotty phoned Roger to say he was on 13 carp already and apparently Bruce was also catching well in peg 23. I didn't know what to do next, I couldn't get a bite anywhere on punch so it was time for my skimmer line. I slipped on two dead red maggots and went over my 10 metre line, I started catching small skimmers but it was a waste of time because I was never going to catch Jamie P who was still getting decent skims. I had five before giving that up as a bad job and cupped in another ball of groundbait before going back over on punch.
Pete was paying the top three overall and the top two in silvers and with Bruce and Scott catching carp well and Jamie P doing well with silvers I needed to beat Roger to stand any chance of sneaking into third place. I had carp number seven but Roger had another and was now three ahead of me, I tried all my carp lines but couldn't get a bite and time was running out. I finally hooked another on the inside but lost that one as well. With about three quarters of an hour left I had number eight from the island and was hoping a good last spell might see me catch Roger. No more bites across and I decided to spend the remaining time on the inside, I had a couple more roach and then out of the blue I had ghostie to put me on nine carp and there was still twenty minutes left. Could I pull another one back on Roger before the all out? No was the answer and the final score was Roger 11 – Jamie 9.
I packed up wishing I'd just fished my normal micros and expanders approach down the middle for silvers as Jamie P had caught consistently and had done a decent weight. As I took my holdall back to the car, the weigh in had already started and Paul Homewood in peg 2 had 33lb odd and I knew I didn't have that. Scotty had carried on catching and had to fetch another keepnet and weighed a brilliant 101lb 8oz off peg 4. He has really got this punch fishing sorted and in the last six matches he's fished I think he's framed in all six, winning four of them.
Jamie P had a lovely net of skimmers and an unseasonal tench for a level 14lb before my nine carp plus a few silvers went 27lb 7oz. Roger had some big carp and weighed 39lb 4oz and even if I'd landed the four carp I'd lost I don't think I'd have beaten him. Heardy had fished for silvers and weighed 8lb 11oz to give him second behind Jamie P and Bruce came second overall from peg 23 with 53lb 8oz. So my first match of 2013 didn't go to plan and I just should have fished for silvers like I normally do as it's been quite mild and they seem to be having the expander.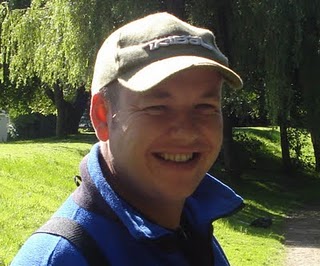 Punch King Scotty!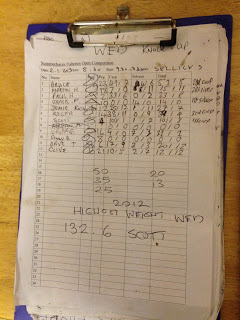 Todays weighboard
1 – Scott Russell (Tackleuk) – 101lb 8oz
2 – Bruce Hunt (Tiverton) – 53lb 8oz
3 – Roger Russell (Street) – 39lb 4oz
Silvers
1 – Jamie Parkhouse (Summerhayes) – 14lb
2 – Martin Heard (Summerhayes) – 8lb 11oz
Oh well, it was nice day and I had a few fish, hopefully we'll get on the river on Sunday so come back then to see if I can kick start my year with a brown envelope.