After a relatively dry spell we were actually able to get back on the river for this one, Rob messaged me on Saturday and asked where I fancied and I said the top end but on arriving at the pub for the draw it looked like he had put us down Isle Brewers. I fancied 120 (despite the walk) or 126 but my drawing hand seems to have deserted me and I pulled out peg 122. This peg hasn't been used for years and only ever seems to produce a couple of chub and I really didn't fancy it (and it's also a fair old walk!).
By the time I got to my peg and got my box comfortable I was already running well late, I hurriedly set up a Drennan 1.5 gram Trio and plumbed up. There is a discharge pipe just upstream of the peg (which is on a bend) which always has a large flow coming from it, the river itself had a tinge of colour and was pretty pacy. The peg had a fairly decent depth but it wasn't as deep as I was expecting. I baited up with double red maggot and shipped out and the float didn't have time to settle before it shot under and a good fish was on, it shot downstream and the hook pulled out! Not the best of starts but at least there were a few fish around.
Well famous last words and all that because then I couldn't buy a bite, I tried double maggot, caster and lobbie but nothing. I tried going upstream and tight into the bank on the bend but got snagged both times and that was enough of that. After an hour, Rob came up from peg 125 and said he couldn't get a bite either and Steve Parker was in the same boat although Tony Newman had caught a minnow in peg 123. A perfect looking river and it was fishing rock hard, was it the after Xmas curse yet again?
I couldn't believe I wasn't even getting knocks from minnows on maggot, I tried tight across towards some stick ups but kept getting snagged and I was pretty fed up already. My next visitor was Bob Hammond who had drawn the weirpool (peg 120) and had only caught one roach, he said he had walked down to let me know he was going to pack up but when I told him how hard it was fishing he said he'd go back and stick it out. To be honest I was just going through the motions and only stuck at it because one fish would get you in the money today.
I was getting through my coffee and sandwiches when Tony Newman walked up and said he had to stretch his legs, he still only had a minnow but that currently put him in third place if Fieldy was catching in 126 which I suspect he was. Time was running out and I was now pinning my hopes on maybe getting a fish as the light started to fade. Rob came back and he'd still had no joy and said even Fieldy had only caught four small roach in 126, the fish just weren't playing and that lost chub first chuck could prove to be very costly. The river level had dropped quite a bit and a few stick ups that hadn't been visible when I started could now be seen waving at me!
I stuck at it to the bitter end and you would have thought the fish Gods would have taken pity on me, but no and I blanked. I quickly packed up and went to weigh Bob in, he'd ended up with five roach for 6oz and I said he'd frame with that. By the time I walked back, the weigh in had finished and Fieldy had started to catch well when the level dropped and had over 130 fish for 9lb 13oz, a great weight on the day. Then the weights dropped like a stone and Bob was second and Tony Newman was third with five minnows and a stickleback for 1oz!
1 – Graham Field (Taunton) – 9lb 13oz
2 – Bob Hammond (Ilminster) – 6oz
3 – Tony Newman (Ilminster) – 1oz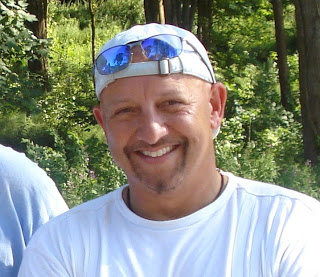 Fieldy won by a mile today
Well the league has tightened up and although I'm still leading with 59 points, I can't afford another bad match, Rob and Fieldy are joint second on 50. Well 2013 has got off to an awful start for me, lets hope for better things next week.