With loads of rain on Saturday I knew we wouldn't be on the river so spent ages making up rigs and tying hooklengths ready for the pond on Sunday. In the morning, the rain had finally stopped but the temperature had dropped a few degrees and it was a tad chilly! I got to the pub for the draw and Rob said we'd being going down the canal today! I wasn't too upset as I love the canal but my only worry was that it would be too cold for it to fish really well.
I drew peg 2 which put me near the top end, the canal had a nice colour and there were quite a few fish topping and I couldn't wait to get started. I had Rob next to me on the end peg and Tony Newman on peg 3 on my right. Heardy had drawn the other end peg and had loads of room between him and Steve Bishop on peg 6 because of a big weedbed and had to be favourite to win before we even started.
I got to my peg and it looked nice with some cover on the far bank, I set up a light Drennan Squatt float with 0.08mm bottom and size 20 B511 for fishing down the middle and a rig for fishing across to the cover at 11.5 metres. I chopped up some worms and casters into mush for the far bank and was ready for the off with just enough time to warm my hands with a coffee before Rob blew to signal the start. I cupped in half a pot of my choppie mix before starting down the middle at 8.5 metres with a single red maggot on the hook. Hopefully I would be able to put a few small fish in the net while the long line settled.
After ten minutes I hadn't had a bite and neither had Rob or Tony!, I was starting to fear the worst when Steve Parker on peg 4 said he'd bumped a fish. Realising it was going to be hard I fitted a little toss pot so I could feed small amounts of pinkies very accurately and switched to double disco pinkie on the hook. Next put in I was just talking to Tony Newman who had missed a bite and when I looked back, my float dipped before sliding away and I hooked my first fish. It was a small 2oz skimmer which I netted to be on the safe side, but at least I was off the mark. Next chuck I hooked a small roach on the drop but it came off on the way in!
Steve Parker seemed to be catching well and already had three of four fish and had used his net twice, I then lost a tiny fish which didn't even register a bite when I moved the rig, I did catch another roach as the first hour was coming to a close. I'd been feeding a few casters over my worm line and couldn't wait to go over it, so with the first hour finishing, I picked up the heavier rig, slipped a caster on and shipped across. Normally bites are fairly instant but my float just sat there! Not wanting to waste too much time I went back to the lighter rig down the middle but this time with single pinkie. I started catching small roach quite well and even had a couple of better 4oz ones I slipped the net under.
Steve seemed to have slowed up, Rob only had a couple and I think Tony was still waiting for his first fish so I was doing okay at this early stage. I could see Martin catching regularly but he was in the other section for the league points so I wasn't too worried. I got to ten fish after two hours but would get a couple of fish before they disappeared. I decided to start feeding another line down the middle at 8.5 metres but towards the right and swap between the two. This worked to a degree and I had a few small fish from this new line as well. I did try across with the light rig but never had a bite on it.
Pete Lonton walked up when I was on fifteen fish and said him and Bish only had one fish apiece and were struggling but he confirmed Heardy was catching well. I was still getting odd roach and added a little perch as well. It was very cold and Rob decided to go for a wander to warm up, on his return he said Heardy was catching some half decent skimmers and Bish had just landed a decent perch to put him right back in it. Rob's day then got much better when his missus brought him an egg and bacon sarnie and a fresh flask of coffee (she could have brought me one!).
I was still getting odd fish from both my middle lines but I couldn't resist trying my long line again but despite trying caster and then single maggot, I never had a bite over there. I fed a little more choppie before going back down the middle with pinkie. I could see Martin still catching but more worrying was that both Bish and Pete were landing the odd fish. I kept at it hoping that a better perch or skimmer might show up. I just couldn't string more than a couple of bites together and even tried not feeding but I would still just get the odd indication out of the blue.
Then there was an almighty commotion as a dog jumped in Rob's swim which I reckon was karma for not sharing his bacon and egg sarnie! Eventually the dog got out and the women never even apologised, some people are so rude! I added another couple of small fish and amazingly Rob even caught a couple more after his canine visitor. I wasn't too upset when he blew for the all out as it was bloody cold, I ended with 24 roach, 1 perch and 1 skimmer. We packed up and made our way down to Heardy to start the weigh in, Bish said he'd caught a little tench to go with his perch and he had some roach as well so I knew I hadn't beaten him or Heardy but third place was still up for grabs.
Martin had a nice net of skimmers plus a bonus 1.5lb carp to weigh 9lb 2oz which was a brilliant weight on the day (mind you, with the amount of room he had, it was almost like a pleasure session!). Bish then weighed 3lb 11oz before Pete weighed 13oz, Steve just pipped him with 14oz and then Tony chucked his few small fish back. My fish weighed 2lb 4oz and I had quite enjoyed scratching around, Rob had 4oz so I'd sneaked into third place and picked up £14 to get my yearly winnings off the mark. Also my section win meant that with Justin not fishing, I'd moved into second place behind Martin with two matches to go. I don't there's a chance of winning it though unless I manage two more section wins and he blows right out – not likely!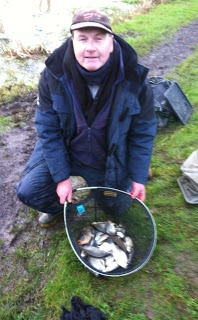 Martin wins again!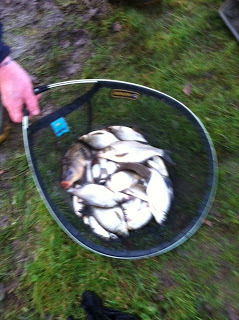 Martin had a nice net of skimmers and a bonus carp
1 – Martin Heard (Tiverton) – 9lb 2oz
2 – Steve Bishop (Chard) – 3lb 11oz
3 – Jamie Rich (Against Men and Fish) – 2lb 4oz
Next week it's back to the Royal Oak league and I need a good result after last weeks blank, come back to see how I get on. Hopefully we'll be on the river but if the weather warms up I wouldn't mind another go down here either.