Well the rain finally stopped only to be replaced by snow on Friday, I was sure I wouldn't be fishing this week but no more snow on Saturday and the roads were pretty clear for me to drive to Yeovil to pick up bait. Fieldy messaged Rob on Facebook to ask if there was still a match on to which he replied yes there would be, so a few hardy lunatics were at the pub this morning for the draw. We decided to go out the pond as hopefully we'd still get a few bites although I was sure it wouldn't fish as well as the last match. I drew peg 18 which was where Justin was last match and was pretty pleased with that.
It was very cold and I couldn't see the temperature getting above freezing all day and on arriving at the pond, much of the colour had gone out of it and there was only the odd tiny fish topping. Still at least I would be able to use the rigs I made up last week. I set up a 0.5 gram Drennan Roach but instead of my usual B511 I had decided to try a Gamakatsu Black fine wire size 20 hook as they look spot on for this kind of fishing. I mixed up a little groundbait and was just about ready when Rob blew for the start. I cupped in a single ball at 10 metres before starting with single pinkie on the hook and feeding tiny amounts of caster and maggot over the top.
Although I didn't expect a bagging session I still felt you would need 4lb+ to win today so I was a little perturbed when I hadn't had a bite after ten minutes. I was just asking Steve Parker on the next peg if he'd any bites yet when I looked back and the float had gone! A swift lift of the pole saw some elastic come out and I was soon netting a 4oz roach and I was off the mark. I had a small roach next chuck before losing a tiny one on the way in. I was soon switching to maggot to try and up the stamp but it wasn't really working. After the first hour I had 13 fish and from what I could see Steve and Fieldy were getting a few although when I asked Steve I was a few fish ahead.
Going into the second hour there were obviously a few fish prepared to have a go as I was getting a fish or bite most chucks although nothing like the quality we were getting last time. I then noticed problem number one when my pole elastic was freezing inside the pole! Problem number two arrived soon after when I tried netting a slightly better roach and my landing net was frozen to my keepnet! I was still catching quite well and added another 17 fish in hour two but I was bumping too many for my liking and I wasn't sure whether it was my frozen elastic or my new hooks. Rob on my right was struggling and had chucked the tip up by the reeds hoping for a bonus fish.
I kept trying caster to see if I could get quality fish but I had to wait longer for the bites and the fish were no bigger, I was still having problems with my elastic and settled on having a few inches hanging out the end, it didn't look pretty but at least I was still catching. It kept trying to snow and it was bloody cold and I was already wishing we weren't going to fish the full five and a half hours. I was getting more small perch than last time which I put down to the water being much clearer and after three hours was up to 53 fish. Last time I had 117 fish for over 15lb but today the average size was much smaller and I doubted I had 3lb yet.
I was still bumping/missing/losing loads and I really don't think the hook was helping and I really should have changed it but my hands were so cold I wasn't sure I'd be able to do it! My catch rate slowed in the fourth hour, mainly due to me trying caster more and more often to try and catch those quality roach I had last time. I could see Fieldy catching quite well and was sure he'd just be getting his head down with maggot and pinkie and really that was what I should be doing. I was getting the odd fish on caster and at the start of hour five, had a decent one of 8oz or so but I was missing too many bites for my liking.
For the last half an hour I just fished single red maggot and caught quite a few tiny roach and a couple of 3oz perch to finish on 90 fish. Rob had caught a few small fish late and I'd seen Steve swinging in a few fish but it was Fieldy I was most worried about. I was hoping I'd done enough but thought Fieldy might pip me when I'd bumped and lost enough to win easily and I was kicking myself for not changing that hook, pure laziness.
We packed up with freezing hands and as we were loading the cars, Fieldy said he'd had 102 fish but he said they were tiny and I was hoping my caster fish might be enough to cancel out the 12 fish deficit. The weigh in started with Fieldy and his catch went a level 5lb, Steve had 1lb 5oz and then it was my turn, when I pulled my net out I thought it might be close and was relieved when Rob called out 5lb 14oz. Rob had 2lb 2oz and it was confirmed I'd won my first match of the year. I picked up £35 and was left feeling I'd got away with that one somewhat! I really should have had nearer to 8lb today and next time I'll be back to using my normal hooks!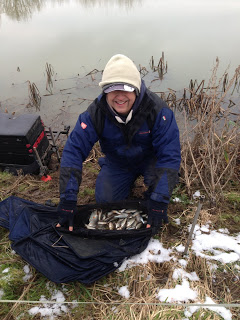 A very cold Fieldy had a level 5lb for second place
Rob had brought two flasks today and poured everyone a coffee which was most welcome and that's certainly the coldest I've been yet. Quite an enjoyable day and there's obviously loads of fish in the pond and I'm not sure we'd have all caught on the river today.
1 – Jamie Rich (Against Men and Fish) – 5lb 14oz
2 – Graham Field (Taunton) – 5lb
In the league, I'm still leading with 69 points followed by Fieldy on 59 and Rob on 58. Well that's three wins on the bounce on the pond and I quite enjoy it when it's not all whip dominated, I just wish I could sort the quality fish out. Hopefully the weather will warm up a bit for next week and we can get back on the river.