Lots of rain on Saturday meant that most of the snow had finally gone, the trouble was it had gone straight in the river meaning it was unfishable yet again. So it was back out the pond again, I spent quite a while on Saturday putting new elastic in my pole and tying up size 20 B511's to 0.08mm hooklengths as I didn't want a repeat of last week. We decided to put a section on either side of the pond and I quite fancied the road bank although the other side would probably be more sheltered from the strong winds that were forecast. I got my wish when I drew peg 18 (the same peg I had last match) but the pond was very coloured and with all the snow melt that had gone in, I said to Rob that it would either fish really well or rock hard.
I made up two rigs, a 0.5 gram Drennan Roach and a heavier 0.75 gram rig, both with 0.08mm bottoms and size 20 B511's. I mixed up a little groundbait and was just about ready for the start when Dave Hurford turned up to have a chat and it was nice to meet him for the first time. Rob blew for the all in and I cupped in a single ball of groundbait at 10 metres before starting with a single disco pinkie on the hook. I half expected to catch straight away but this didn't happen and it looked like being hard but then it took ten minutes to get a bite last week.
I was feeding a few maggots over the top and after 15 mins I was expecting the float to disappear at any moment. After an hour I was still waiting for that bloody float to do anything fishy and nobody on the pond had managed a bite yet! Justin over on peg 3 disappeared off in his car somewhere and the rest of us were left scratching our heads, there were odd fish topping but they just didn't seem interested in feeding. Dave soon got bored watching nothing happen and left me to it. After another 15 mins I moved the rig and there was a fish on and I let out a little whoop as I swung in a 3oz roach.
Next put in the float actually went under and I had roach number two and this was quickly followed by a tiny roach after a little lift bite. They'd arrived I thought but then I couldn't buy a bite again and at this stage I think I was the only person who had caught. Justin eventually re-appeared after popping home for something to eat and he hadn't really missed much. Then much to Heardy's disgust he went and caught a roach! I saw Rob on my right swing in a fish and he said he now had two fish so it looked like odd fish were now having a go. I still couldn't get anymore bites at 10 metres but the wind was making holding the pole difficult. I noticed Rob was fishing shorter than me so came back a section and fished at 8.5 metres where I could control the pole.
I started getting odd fish from here but I'd get a couple before going back to waiting for bites, some of them were a decent 2-3oz size though and I was netting them to be sure. Me and Rob were neck and neck halfway through the match. I shouted up to Fieldy on peg 20 and he said he'd had five fish so everybody seemed to be getting a few now. Heardy and Justin were catching quite quickly but their fish did look tiny as they swung them in. I tried double pinkie and had a couple of fish and then maggot but never had a bite on that. I kept trying 10 metres when the wind allowed but only added one more fish from that line.
I hadn't lost a fish with my new elastic and a B511 on but I did have one blonde moment when I tried to swing a 2-3oz roach and it dropped off (remember that fish!). I kept getting odd fish up to the end of the match without catching really well and was sure I'd be a long way behind Heardy and Justin, but third place was still up for grabs. I ended up with 21 roach and shouted up to ask Rob how many he'd finished on, when he replied 29 I thought I was going to finish out of the money. It didn't take long for us to pack up (and it started raining which hurried us along) and I met Fieldy by the cars and when he said he'd had 17 fish, I hoped I'd done enough to beat him.
Rob's fish weighed 1lb 8oz and I thought I might have a little more than that, my fish went 2lb 12oz which I hoped would be enough for third place, Fieldy's fish were tiny and weighed 8oz and then Rob set off to weigh the other side. I packed the rest of my kit away before sitting in the car out of the rain. Rob returned and although Heardy and Justin had been catching, a lot of them were very small fish and Martin had 1lb 5oz and Justin weighed 2lb 14oz pipping me by 2oz (remember that dropped roach!). Steve finished up with 1lb 2oz so the pond had fished hard, still I picked up £23 for second and pulled another point on Martin in the league. He still leads with 6 points followed by me on 7 and Justin on 8 with one match to go and the only way I can beat him is if I win my section and he finishes third as if we tied his total weight is far superior to mine. With Justin a point behind me I need to finish at least second in my section to secure second place, it's going down to the wire.
1 – Justin Charles (Ilminster) – 2lb 14oz
2 – Jamie Rich (Against Men and Fish) – 2lb 12oz
3 – Robin Cox (Ilminster) – 1lb 8oz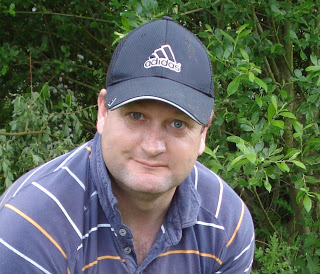 Justin had time to go and get breakfast and still win!
I did expect the pond to fish better than that today although the conditions were definitely against us, it's a funny place, you know there are loads of quality roach in there and when they feed there are several double figure bags (like before Xmas). It would be nice to fish it after a settled mild spell but the weather is just crazy at the moment. Hopefully we'll actually get back on the river next week, come back then to see where we end up.