This weeks Fishery Focus is on Ilminster Canal and it's a venue that's very dear to my heart. Although my first ever fishing trip was to the Isle, I spent most of my younger years down the canal as it was only a short walk from where I lived. I've seen it go from a stagnant pond to a cracking little wild fishery where you could be and nobody would know you were there to it's current incarnation. It now has a path and the bankside vegetation on both sides is managed now. It can get quite busy with dog walkers and youngsters playing in the recreation ground but it's a place I still love and don't fish nearly enough.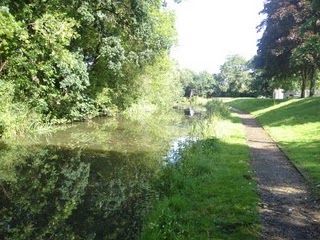 Ilminster Canal
The canal is an Ilminster AA water and club licences can be purchased from Mark Nicholas at Ilminster Warehouse, Ditton Street, Ilminster, Somerset and the fees are as follows
Adult Licence – £30
Juniors – £10
Concessions – £20
Ilminster AA website – http://www.ilminsteraa.co.uk/
There is some off road parking at the bottom end of the canal.
Club rules
The taking of fish by any other means than by rod and line is strictly prohibited and proceedings shall be taken against any person taking fish by any other means. No member shall use more than one rod, one line and one hook. Spinners & Lures used when fishing for trout or pike count as one hook.
Barbless hooks only to be used on any of our still waters.
Any member selling fish, lending or refusing to show his ticket, or who shall, at any time infringe any rule of the Association shall be liable to forfeit his membership.
Any member or any other person fishing the waters of the Association shall show their ticket and the contents of their bag, basket or other container, when requested to do so by any bona fide club member or Environment Agency bailiff.
Any member or visitor who, whilst fishing or going to and from the river, leaves gates open, leaves litter or wilfully damages growing crops or wood, shall pay for any damage thereby incurred and be liable to a fine to be decided by the Committee. Also no dogs are allowed to accompany anglers when fishing.
No member of the Association shall enter any field adjoining the river which is laid up for hay from the 15th May until the grass is cut.
Fishing for trout on the river is allowed during the course close season with artificial lure and fly only.
Any member fishing in a manner contravening the Environment Agency bye laws or any governement authority shall be warned for the first offence and expelled for a repetition. This applies to any waters or occasion. (Members have the right of appeal at the Annual General Meeting.)
No fish of any type to be taken from club waters.
The minimum length of keepnet for use on Association waters is 8 feet.
If necessary, the Committee may close the waters at any time.
Anglers fish the water at their own risk.
No carp to be retained in keepnets.
No groundbait to be used on the Ilminster canal.
Any angler fishing a club match or club open may not fish the match venue on the Thursday, Friday or Saturday prior to the match on the Sunday.
All swims must be left clear of litter, whether your own or not. Failure to comply may lead to the member being banned from using club waters.
All matches are at the discretion of the Committee. Organised sweepstake matches are not allowed without Committee approval.
No night fishing is allowed and no tins are to be taken to the bank. No fires or barbeque's are allowed on the banks.
The Association is affiliated to the Somerset Levels Amalgamation of angling clubs and members are entitled to fish Amalgamation waters on the Rivers Isle, Parrett and Brue. Also designated stretches of Thorneymoor Main Drain and Longload Main Drain.
The Annual General Meeting will be advertised in the local paper. Any item, a paid up member, wishes to bring up at the AGM must be with the Secretary in writing 14 days prior to the meeting.
When I started fishing any catch was notable and my ancient photo albums are full of photos of me with a catch of seven small rudd or a single roach and a eel! Over the years I've had many firsts on the canal from my first carp and golden orfe (which I won a rod from the Anglers Mail for) to my first stillwater chub and numerous match wins as a junior and senior. It's held allsorts of species over the years from gudgeon to crucian carp but the main species are carp, roach, rudd, perch, tench, eels and skimmers. Most of the carp are around 2-4lb but there are supposed to bigger fish in there, for me the quality roach, perch and skimmers are the real attraction. Some cracking roach and perch to over a 1lb are common and tench and skimmers to 2lb plus feature regularly along with odd carp.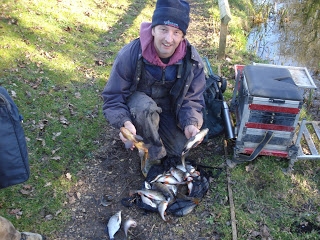 Me with a match winning catch of 12lb 13oz caught in March (includes tench, skimmers, roach, rudd and perch)
The canal can suffer from excessive weed growth during the summer but there are normally a few swims that are fishable. Most of the swims have a feature in the form of trees and reeds across or weedbeds although you can catch a lot of fish by just fishing down the middle. The pole is a top method although on warmer days floating crust can really score for carp. All the normal baits will catch you fish although chopped worm and caster does really well for the roach and perch and with groundbait banned, an expander pellet fished over micros will attract the skimmers which can go to over 2lb.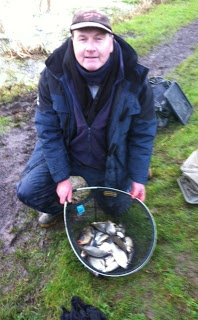 Martin Heard with a winning catch of mainly skimmers and a bonus carp, caught in January
Maggots and casters will get you plenty of bites although in the winter scaling down your tackle and using pinkies on the hook should see you get plenty of action. Match weights can go over 20lb in the summer with double figure bags common, during the colder months matches are won with 7-8lb nets which still include plenty of quality fish. The carp can show up at any time and regularly feature in winning nets.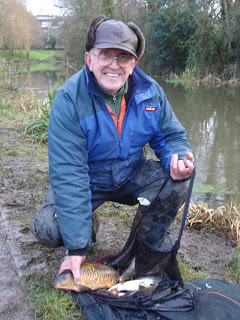 Malcolm Levy included this nice carp in a winning weight, also caught in January
Well that's this weeks Fishery Focus, check out some of my blog posts from when I've fished the canal below
http://www.againstmenandfish.com/2013/01/ilminster-canal-ves-precision-league-5.html/
http://www.againstmenandfish.com/2011/03/ilminster-canal-13th-march-2011.html/
http://www.againstmenandfish.com/2009/01/ilminster-canal-25th-january-2009.html/
http://www.againstmenandfish.com/2008/07/ilminster-canal-5th-july-2008.html/