Well summer has finally arrived and the last few days have been scorchers, I headed to the pond knowing I had either peg 11 or 19 to come. I got there and said hello to everyone and it was nice to see Bish's face had gone back to normal size and he was wearing a rather fetching t-shirt today. As I went to get my bait I was confronted by Les changing into his shorts, not a pretty sight! He opened the envelope for this weeks draw and it put me on peg 11 so hopefully I should catch a few although Picky was on peg 10 opposite and it's normally the better peg so I could be saying goodbye to another squid.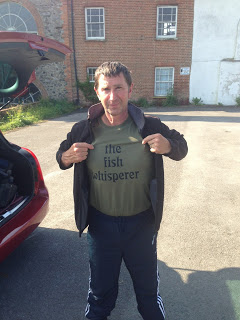 The Fish Whisperer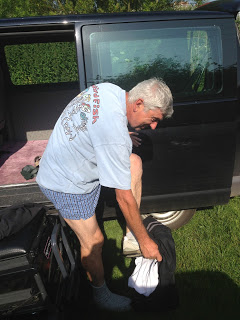 Not a pretty sight!
Peg 11 is also a right sun trap with no trees to provide any shade and I knew I'd be in for a hot one, as I got to my peg there were carp up in the water everywhere. I set up two shallow rigs with 0.14mm bottoms and size 16 Kamasan B911's and also a Carpa 2 float for fishing under the tree at 11.5 metres where Les had caught a couple of matches back. After opening a tin of corn and chopping up a load or worms I was ready and made sure I plastered on the sun cream before the match started. I did ask a few people if they would rub the sun tan lotion in but surprisingly I had no takers!
On the whistle I cupped in some chopped worm and caster plus corn and dead maggots under the tree before starting shallow out in open water with a worm head on the hook while feeding casters over the top. I didn't have to wait long for my first fish and I had two carp in the first half an hour. Picky hadn't caught yet and when I hooked my third carp it was all going to plan, it was only a smallish fish of 2lb or so and I was bullying it and pulling grey hydro out of the pulla bung when it went for the lilies on the inside and the hooklength parted – bugger! I wasn't too worried but that fish would come back to haunt me.
Mike C on peg 12 had a carp on the feeder first chuck but had now gone quiet, Picky then landed a fish and I was only one ahead. I couldn't see anybody catching much so was fairly pleased at this early stage. I landed carp number three just before the first hour was up and felt if I could catch three an hour I would be in with a chance. I only had a pint of casters and I was feeding five or six on a regular basis but I knew they wouldn't last me the full six hours.
Going into hour two I had three carp quite quickly to put me on six but then I lost one that did me in the lilies over in Picky's peg! I put another cup of choppie under the tree and I hoped they'd be lined up when I ran out of casters. I had two more carp in the third hour and with Picky struggling I was pulling away and from what I could see nobody was really bagging. Rocking in peg 9 had lost a few and Dangerous and Oz were getting odd carp.
I was now starting to run out of casters and the swim under the tree was beckoning, I hooked my ninth carp and it felt pretty lumpy and after ten minutes I netted a nice mirror that had to be 7-8lb. Just as I landed it, the Torquay Tart turned up and the abuse started (it's always lovely to see him!), he didn't stay long (thank God) as it was really hot in my peg but he did say Mike T was catching well in peg 2. Just after he left I had carp number ten and there were still two and half hours to go, the trouble was I'd run out of casters, it was time to try under the tree.
Picky had a tench so it was nice to see somebody taking the silvers league seriously! My first fish on worm under the tree was a 3oz roach which didn't help me much but then I've had a small carp to put me on eleven. I then had another roach and a small perch and I just knew the fish wanted to be up in the water. I tried my shallow rig under the tree but never had a bite on it, Picky was getting odd carp now and I could see Bushy down in peg 6 catching regularly and I'd gone from doing really well to struggling.
I tried going back shallow in open water feeding maggots but it just wasn't right, I did hook two carp but they came off straight away and I reckon they were foul hooked. Time was now ticking away and I hadn't added any more carp, I tried corn under the tree and then on the inside but never had a bite on it and then Les blew for the all out and I knew I hadn't done enough today and should have done better. Another pint of casters would have seen me catch more fish shallow I'm sure but then I was convinced I'd get a few under the tree but that's fishing for you! I finished off the last of my water and was still gagging for a drink so as I walked past the anglers on my way to the car I stopped and asked if anyone had any drink left. Several obliged including Les's Dad, Mark M, Janders and Dino, thanks chaps I was so thirsty!
Most people I asked seemed to think Mike T had done well and so had Bushy yet again and as we waited by Dave M in peg 1, the scales arrived, Dave had struggled for 8lb 14oz before Mike T had 19 carp in peg 2 but they were on the small size and he weighed 41lb 8oz, then Chilly had 37lb of carp and 5lb 9oz of silvers which put him in the lead. Bish's fish whispering hadn't worked today as he weighed 23lb 2oz but he had lost quite a few. Pup had 4lb 1oz of silvers but had been pestered by vermin (carp) today. Bushy had ten carp but had some lumps and weighed 41lb 12oz to push Mike into second by 4oz, Dangerous had 22lb of carp in peg 7 and Oz had 11lb of carp and a few bits in peg 8. Rocking had a similar catch, weighing 12lb 6oz of carp and a pound of silvers.
Then we got to Picky and as he'd already paid me his pound (4-4 now), I was hoping he hadn't been telling porkies. He had 32lb 8oz of carp but his 4lb 8oz of silvers put him second although he did have an eel get out through a hole in his net. My silvers weighed a fantastic 8oz and then my first net of six carp went 18lb 12oz, my second net (including the lump) weighed 21lb 14oz to give me a 40lb 10oz total and I was just 1lb 2oz off first place (remember that early carp?) and I was in third place. To be fair, I'm sure Mike and Bushy had lost fish as well and what really cost me was that poor last two hours.
Mike C had only added a few bits to his early carp and then Blaker had a level 28lb in peg 13. Exeter Mike had 18lb of carp but his 1lb 2oz of silvers hadn't done his league chances any good. Les had over 27lb of carp and he had 4lb of silvers but would it be enough for him to regain the silvers lead again? Janders had 18lb of carp and paid me his pound but he did beat me on silvers with 1lb 8oz. Dino had struggled for 5lb 2oz of carp and Mark M had 14lb of carp and 2lb 10oz of silvers. Then we got to Hoff in my peg for next week (19) and he'd done well with 31lb of carp and his 6lb 8oz of skimmers saw him go into the silvers lead with just Butch to weigh. Butch had 30lb 4oz of carp and 2lb 9oz of silvers and that was that.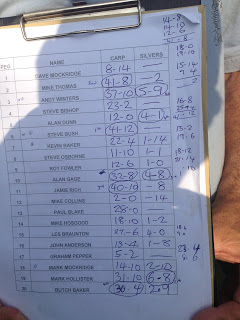 Today's board
Carp
1 – Steve Bush (Chard) – 41lb 12oz
2 – Mike Thomas (Chard) – 41lb 8oz
3 – Jamie Rich (Against Men and Fish) – 40lb 10oz
4 – Butch Baker (Chard Minnows) – 30lb 4oz
Silvers
1 – Mark Hollister (Chard) – 6lb 8oz
2 – Andy Winters (Chard) – 5lb 9oz
3 – Alan Gage (Chard) – 4lb 8oz
4 – Alan Dunn (Chard) – 4lb 1oz
After nine matches, the silvers league is still incredibly tight although Chilly will need to do a huge weight next week to overhaul Bushy, this is how the leagues look now,
Carp
1 – Steve Bush – 371lb 10oz
2 – Andy Winters – 298lb 4oz
3 – Paul Blake – 285lb
4 – Alan Gage – 279lb 7oz
Silvers
1 – Les Braunton – 52lb 2oz
2 – Mike Hosgood – 50lb 9oz
3 – Alan Dunn – 49lb 3oz
4 – Butch Baker – 42lb 8oz
It was also the semi finals in the knockout, results below (points scores in brackets)
Andy Winters (20) beat Mark Mockridge (8)
Steve Bush (19) beat Kev Baker (11)
So next week sees the two most consistent anglers this year battle it out for the title, who will be Andy Murray and who will be the other bloke?
So not a bad day, I picked up £40 and £2 in side bets but I can't help feeling it was a chance missed today.
Next up – Perry St Pond
What's new – Latest Ilminster AA match results on the news page
Check Out – New Fishery Focus (below)