This weeks focus is on Dillington pond, a lovely lake on the Dillington Estate, it's an irrigation pond with 24 pegs and I've been fishing it since it opened in 2006. It's an Ilminster AA water and you can find the details on the website address listed below. It's absolutely stuffed with fish and the main species are roach, rudd, perch, chub, eels and bream. Tench and crucian carp have also been stocked although they are seldom caught (I've only had one small tench in 7 years!), some carp have also found their way into the pond and they can often be seen basking on hot days.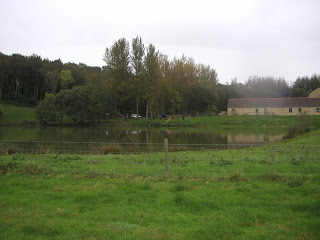 Dillington Pond from the field side
Club licences can be purchased from Mark Nicholas at Ilminster Warehouse, Ditton Street, Ilminster, Somerset and the fees are as follows
Adult Licence – £22
Juniors – £8
Concessions – £15
Ilminster AA website – http://www.ilminsteraa.co.uk/
As you drive in from the main road, if you turn left there is parking right by the pond and over on the field side you can drive up and park inside the gate (as long as the ground isn't too wet!).
The main methods are the pole and fishing the whip, with large numbers of roach, rudd and perch, the whip often scores well in matches with weights ranging from 10-20lb being needed to win in the summer. Sorting out the bigger fish is the key to doing well as there are lots of roach and rudd to a 1lb+ and feeding small nuggets of groundbait with caster (or even corn) on the hook should see you get some quality. Chopped worm and caster also does well for the pole anglers with some good sized eels and perch. There have been reports of perch to over 4lb and even 5lb but I can only vouch for ones I've seen and caught, personally I have had them to over three and seen numerous fish of that size caught, Roger Russell had three in a match for over 10lb.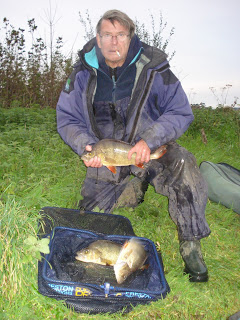 Roger Russell with three stunning perch
The bream are a good size and again there have been reports of fish to over 8lb which I can't verify but fish over five are regularly caught and one was weighed at 6lb 3oz in a recent match by Robin Cox. I've seen a few carp caught around the 10-15lb mark and the chub have packed on weight with the average size between 3-4lb.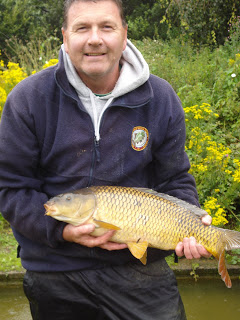 Martin Heard with a carp of 8lb 10oz caught during a match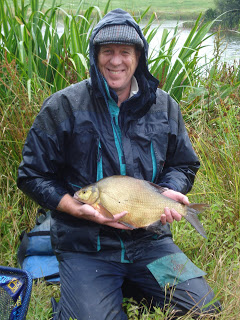 Robin Cox with a Dillington bream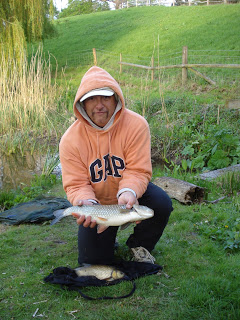 Graham Field with a couple of nice chub
The waggler can also work well, fished up in the water with maggots or casters sprayed around the float. The feeder doesn't seem to work that well, possibly due to the depth in the middle of the lake. Carp anglers fishing boilies with PVA bags of feed have been enjoying success and also catching the odd bream. Perch and chub have been caught on small spinners by anglers pleasure fishing.
During the winter the match weights can vary depending on the temperature but bites can normally be found by scaling down and cutting back on the feed and matches can be won with anything from ounces to 15lb. The pond has several feeder streams and can fish very well after heavy rain as it colours up although too much and the fish shut up shop.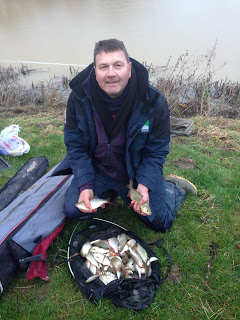 Martin Heard with a typical double figure net of quality winter roach
Pegs all round the pond fish well although the noted pegs are probably 1 and 24 by the pumphouse and 17 and 18 under the trees. Most of the pegs have reeds on the inside and some pegs have lilies and fish can be caught very close in.
I used to fish the pond a lot and it was one of my favourite venues, I once won seven matches on the trot with weights from 8lb to 20lb caught on the waggler and the pole and the weights were all made up of quality fish, roach, chub, perch and odd bream. But as the pond has matured there has been an explosion of small fish and the matches tend to be dominated by whip anglers catching over 200 fish in some cases and that's not really my cup of tea. Lots of quality fish still feature in catches but very often it's just a case of fishing for bites and hoping some bigger fish show among the smaller fish.
Pleasure anglers enjoy some fantastic fishing with 20lb bags commonplace. I do quite enjoy the fishing during the winter where it's more what I call 'proper' fishing, that is feeding some groundbait and fishing the pole at 10-11.5 metres for quality roach on maggot and caster with double figures needed to frame. Have a look at the link below when I enjoyed a cracking day last December
http://www.againstmenandfish.com/2012/12/dillington-pond-ves-precision-league-4-3.html/
It's a great place for youngsters to go and they will get bites all day long so if you're after plenty of bites or fancy a go for a specimen perch this is the place for you. There are also plenty of matches which are well attended by a good bunch of friendly lads, if you fancy trying your luck give Steve Parker a ring for all the details.
Also check out these links from matches below,
a win for me and a cracking perch for Leighton Cox
http://www.againstmenandfish.com/2011/05/dillington-pond-royal-oak-summer-league-5.html/
a very tight affair
http://www.againstmenandfish.com/2010/08/dillington-pond-summer-league-8.html/