The last match of the series arrived and everybody knew which peg they'd be on, my home for the next six hours would be peg 19. My peg is nice and shaded which I was really glad about as another scorching hot day was forecast. The Hoff won the silvers off my peg last week with 6lb 8oz so my plan today was to fish for the silvers but also feed the inside line for carp. The lovely Chanter was here again, standing in for Mike T this match and he had peg 10 to look forward to. As we were sorting out bait it was already really hot and there were loads of legs on display.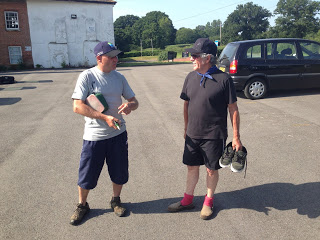 The Hoff and Dino were just two of the anglers showing off their legs today
There were loads of carp up in the water but with only a pint of casters I would try and avoid the temptation today. I set up a Drennan 0.75 gram G-tip with 0.10mm bottom and size 16 Tubertini 808 and also a margin rig plus a shallow rig but as I never picked up either of these I won't mention them again. I decided to feed just chopped worm and caster today and leave out the groundbait.
Opposite me I had the two gladiators fighting it out for the silvers title, Mike 'Wolverine' Hosgood and Les 'The Terminator' Braunton on pegs 2 and 3. I could also see Janders up on peg 4 so would have a good idea how the side bet was looking. I chopped up a load of worms and casters and was ready for the off with half an hour to go. Mike C was in peg 20 but had a wasp's nest in his peg and he had to sit slightly off the peg to avoid the little buggers.
I was hoping Les would shout "Gladiators ready?" before he blew the whistle but he let me down, I cupped in chopped worm and caster at 11.5 metres straight out in front of me and then some choppie, dead maggots and casters down the edge. I started out with a worm head on the hook and toss potted in some worm and caster. I had bites quite quickly but missed the first few and then connected with a carp which gave me the run around on blue hydro and then just when I had it under control it snagged me five metres out and I came back with no fish and a branch!
Next put in I foul hooked a carp which came off and my silvers plan wasn't really working out too well. Most people at our end seemed to have a slow start with not much caught, Exeter Mike (or should that be Wolverine?) had a couple of small fish and then netted a decent skimmer to put him in the driving seat for the title. By the end of the first hour I'd only had one small skimmer, a tiny perch and an eel and was hoping hour two would be better.
My next fish was a carp which I safely netted and then I had two decent skimmers in two chucks and then added a smaller skimmer as well, this was more like it. Les was really struggling and had only had one eel but there was a long way to go yet. Janders had landed a couple of carp but there wasn't much between us. Mike suffered a funny five minutes when he had a fish come off which resulted in his rig going up the tree and then when he'd sorted that out he shipped out and hooked the anti cormorant rope going across the pond and there was only ever going to be one winner there.
Blaker on peg one started getting odd carp but was losing a few as well and from the splashing coming from my right, Picky was catching as well. I was still getting bites but missing quite a few and I think a lot of it was small fish nipping the worm as I bounced a couple of tiny fish off. I did lose a carp that as I was thinking about netting it, decided to go under my keepnets and break the hooklength. The third hour saw my bites start to slow up and I still hadn't put much in my silvers net, I was just thinking about putting some more feed in and trying the inside when the float went and I hooked a decent fish. It wasn't a skimmer and I thought it might be a carp that hadn't woken up yet so I played it at 11.5 metres only for a nice tench to surface, I shipped back very carefully and netted a lovely fish around 2.5lb. I now had about 5lb of silvers with half the match to go.
Janders was now catching quite well and Dino on the next peg was hooking loads but from all the swearing I think he was losing most of them. He also had a family of ducks diving down on his feed which wasn't helping his mood much! I was still feeding casters down the edge but felt I had to stick it out for the silvers now. Mike had turned his attentions to his margin swim and was getting a few carp, Les still just had one eel and the title was heading to somewhere near Exeter at this stage.
Hour four saw me add another eel and a good sized carp and it was still quite close between me and Janders. Blaker started catching really well in peg 1 but then suffered a pole breakage and was having a bit of a nightmare. He'd also been up the tree and had lost quite a few foul hookers, at one stage he'd thrown his pole up the bank, turned away from the water and had a drink while muttering and grumbling to himself! Going into the last period of the match I had another eel and thought I must have about 6lb now, I also lost another carp. With half an hour to go I've hooked what felt like a good eel only for it to come off straight away and the whole hooklength had gone! I didn't add any more fish and ended with 1 tench, 2 decent skimmers, 3 smaller skims, 3 eels, 1 tiny perch plus four carp.
Picky shouted up that he'd only had six carp and I was left cussing the six carp I'd lost during the day as I was sure he'd beaten me and with Janders having nine or ten carp I could be losing both side bets today. I packed up and took my gear back to the car before waiting at peg 1 for the weigh in to start. While waiting, Chilly said he'd had a tench plus some big skimmers and Kev Baker had quite a few big skimmers too so the silvers could be tight. Blaker had 45lb 10oz in peg 1 and had done well considering his nightmare match. Exeter Mike had 4lb 4oz of silvers and as Les only had the one eel for 10oz, the Wolverine had defeated The Terminator although Dunner was still to weigh and could trump them both for the title if he'd done well.
Janders had done well and weighed 32lb 4oz of carp and I handed him my first pound of the series, there were then several 20lb weights of carp until we reached Chanter in peg 10, he'd caught 15 carp and when he pulled his nets out, it was going to be tight, he weighed 44lb 10oz to go into second place. Carp weren't the only thing Steve caught, he also caught the sun quite badly but I can't decide from the photo below whether he'd been wearing a bra or if it looks like a smiley face, what do you reckon?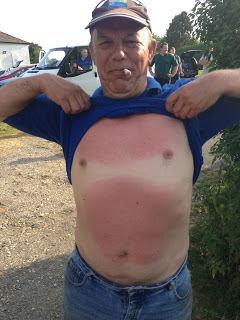 The lovely Chanter with his impressive! suntan
Then we got to Chilly and his silvers weighed 5lb 15oz and I hoped I might have a little more than that, he also just under 24lb of carp but would it be enough to beat Bushy in the knockout final? Dunner had 3lb 12oz of silvers in peg 13 which meant Mike Hosgood was crowned the silvers champion – well done Mike, a very close fought league. Bushy had 33lb of carp in peg 14, meaning he'd won the knockout and the carp league as well, another great performance from the venue expert.
Then the scales reached Kev Baker and if I could beat him I thought I'd win the silvers, when he pulled his net out I knew there was no chance, he had a lovely net of quality skimmers for 15lb 8oz, he'd kept them quiet! Well done Kev and for that performance you get my 'Man Of The Match' award. Picky had a 21lb 9oz total and I paid him my pound making the final score 5-4 to him over the series. Then we reached my peg and my silvers went 6lb 8oz to put me second and when I pulled my carp out, Picky said it was going to be close, Butch called out 14lb 12oz which gave me a 21lb 4oz total and Picky got to keep the pound – just! Mike C had struggled but at least he'd avoided getting stung all day.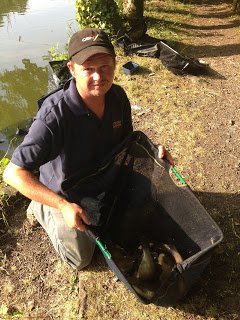 Kev Baker with the top silvers weight of 15lb 8oz
So that's the spring league over for another year, not as successful for me as other years but I still picked up in six of the nine matches I fished, so not too bad. My second today saw me collect £50 which was my best pick up of the series.
Carp
1 – Paul Blake (Chard) – 45lb 10oz
2 – Steve Chant (Chard) – 44lb 10oz
3 – Steve Bush (Chard) – 33lb
4 – John 'Janders' Anderson (Chard Minnows) – 32lb 4oz
Silvers
1 – Kev Baker (Tatworth Tigers) – 15lb 8oz
2 – Jamie Rich (Against Men and Fish) – 6lb 8oz
3 – Andy Winters (Chard) – 5lb 15oz
4 – Mike Hosgood (Near Exeter) – 4lb 4oz
I actually forgot to take a photo of the results sheet this week but the top three in each league were as follows
Carp
1 – Steve Bush – 404lb 10oz – Champion
2 – Paul Blake – 330lb 10oz
3 – Andy Winters – 322lb 2oz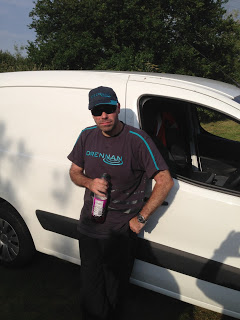 Steve Bush, carp league, pairs and individual knockout winner
Silvers
1 – Mike Hosgood – 54lb 13oz – Champion
2 – Alan Dunn – 52lb 15oz
3 – Les Braunton – 52lb 12oz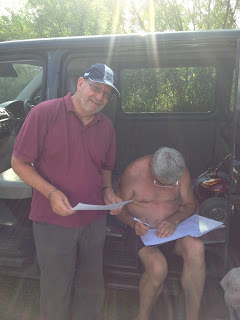 Silvers champion Mike Hosgood next to defeated gladiator Les
Pairs Knockout Winners – Steve Bush and Andy Winters
Individual Knockout Champion – Steve Bush
So a very profitable day for Bushy who really takes some beating at Perry St and special mention must also go to Chilly who picked up every match.
Next up – Summerhayes
What's new – Lots of page updates and don't forget my competition to win a hoodie and sweatshirt on my Facebook page https://www.facebook.com/pages/Against-Men-and-Fish/329159217119993
Check Out – New Fishery Focus (below)