I thought the match was on Longs this week but I phoned Pete to book me and Janders in and he said it would be on Sellicks and Lily again. I spent the rest of the week convinced I'd end up on Lily but on arriving, Pete said all twenty of us would be on Sellicks – phew. I pulled out peg 15 which is a really good carp peg but as always I would be going for silvers, in last weeks match only 11lb won the silvers with 3lb odd enough to get in the frame so it had been fishing hard for the skimmers. Janders drew peg 7 and we decided to have the side bet on silvers today.
My peg has lily pads on either side but I would fish two 10 metre lines, one angled towards the right and the other straight out in front, as I had some meat I would also feed a 5 metre line but as I never fished it all day I won't mention it again. Steve Jackson was on my left with Glenn Bailey on peg 14. I set up two Malman Pencils, a 0.4 gram and a 0.6 gram both with 0.10mm bottoms and size 16 Tubertini 808's. The whistle went and I fed half a cup of micros on both 10 metre lines before starting on the right hand line with a Bait Tech 4mm expander on the hook and toss potted in a pinch of micros.
I didn't have to wait long for the first bite and a pleasing amount of blue hydro came out of the pole tip, with the fish going round in circles I was convinced it would be a crucian or small tench and was disappointed when a 8oz carp popped up. I then missed a couple of bites before losing what felt like a good skimmer as I shipped back. Next chuck I lost a foul hooked carp and things got even worse when I hooked another carp and just as I was about to net it, the hook length gave way. I did land a 2lb carp but after an hour I hadn't had a skimmer yet!
Steve and Glenn were getting odd carp but I couldn't see a lot happening on our side. I had intended to catch a couple of fish off each line and keep swapping between the two but although I was getting a few bites I wasn't putting much in the net. I did get a small skimmer to open my silvers account and then a little tench followed by a 4oz hybrid and was at least catching silvers now. Things got better when I had a 1.5lb crucian and shortly after it's twin brother. After two hours I was already 4 or 5 carp behind Jacko and Glenn and although I kept feeding the meat line, I thought my best chance was to concentrate on the silvers.
The last time I had this peg I caught quite a few carp but caught skimmers well in the last couple of hours and was hoping the same would happen today. I continued swapping between my two lines but was getting the odd nuisance carp and lost 4 or 5 foul hooked fish throughout the day. I did add my third crucian and thought I had about 4lb of silvers at the halfway point and felt I was doing okay. Going into the fourth hour I've had my first decent skimmer and was also getting odd blades as well. When I had another good skimmer to put me on about 6lb, I thought they had arrived and felt if I could get four more I would be in with a chance.
Apart from a couple more blades and more bloody carp the last part of the match was an anti climax for me. Steve and Glenn had caught well all day and I didn't think there was much between their weights. I packed up a little disappointed I hadn't caught more skimmers and took my kit back to the car before catching up with the scales. Bill 'Redfin' Hopping had 30lb 1oz from peg 2 and then Mark Hanham set the bar high with 73lb odd from peg 3. Glynn Wickham had 9lb 6oz of silvers from peg 5 and I knew I didn't have that, Heardy had 53lb of carp from peg 6 to go into second place before Janders had 3lb 5oz of silvers and 5lb 8oz of carp and conceded the pound when I said I had 5lb.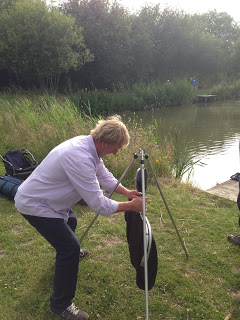 Pete looking very smart doing the weigh in
Nigel Garrett in peg 10 had 8lb 9oz of silvers and I thought that would be that, Blaker had over 47lb in peg 11 and then the next good weight was Glenn Bailey who had 62lb 13oz from next to me. My 12 or 13 carp were on the small side and went 21lb 6oz, when I pulled my silvers net out it looked more than I thought, Pete called out 8lb 9oz and I was joint second in the silvers. I was also cursing a 2oz skimmer that I dropped off. Jacko had 61lb to go into third place and then there were a string of weights around 30lb.
We got to Bruce Hunt and when he only had a silvers net in I thought he might have done well, he weighed 10lb 13oz to go into the silvers lead. Dave T had 6lb 2oz of silvers in 22 and peg 23 didn't weigh in so both me and Nigel just missed out.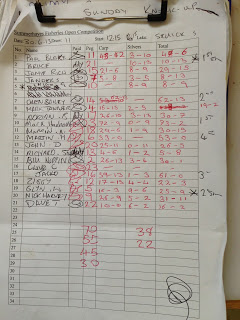 Todays weigh board
1 – Mark Hanham (Summerhayes) – 73lb 2oz
2 – Glenn Bailey (Maver Bathampton) – 62lb 13oz
3 – Steve Jackson (Summerhayes) – 61lb
4 – Martin Heard (Summerhayes) – 53lb
Silvers
1 – Bruce Hunt (Summerhayes) – 10lb 13oz
2 – Glynn Wickham (Summerhayes) – 9lb 6oz
So it had fished well with some good carp weights but it had been a bit of struggle for silvers, while waiting for the results we could see anglers bagging up on Longs and I can't wait to fish there again.
Next up – Spring League at Perry St
What's new – Lots of page updates
Check Out – New Hit Parade (see below)