Back in 2012, I realised a long term ambition when I did a feature for Match Fishing magazine (here's what I said about it then), with Steve Lockett on the Isle, fast forward to now and when the chance arose to do a feature on chub fishing with Brian Gay for the Angler's Mail, needless to say I jumped at the chance. We decided on a date and I booked two days leave from work (one for the feature itself and another so I could get bait and check out the river etc), well of course with the reliable British weather, we had loads of rain and the river was unfishable so we had to cancel. We arranged another date but the weather seemed determined to thwart us and it was getting to the stage where even if we got the feature done it might not make it into print before the end of the river season which would have been a shame, especially as the new blog was nearing it's launch.
Luckily there was a break in the weather and I met Brian before heading to Redbridge to do the feature, our paths have crossed a couple of times over the years, at Shearwater and Chard Resi, a really nice guy and easy to get on with. I was surprised at how pressurised I felt, I know the swim I'd chosen holds some good chub and I won off it the last time I drew it, with five chub for 14lb but that day all I had after three and a half hours was minnows before a chub rolled and I had five quite quickly. To be fair it went quite pretty well and after about 30 minutes, I missed a couple of bites before connecting with the next one and landing a good chub of 3lb 10oz, the pressure was off and when a second decent chub followed not long after, I thought a really good day was on the cards.
But then typically, they shut up shop and we both agreed they might have another go towards the end of the session, over the couple of hours I tried different hook baits and fishing tight to the cover but not a sniff and if I hadn't have known better, you'd have thought the swim was devoid of fish but it was still a lovely day talking about all things fishing. As the light started to fade, much like the last time I was here, a big chub rolled right where I'd been fishing and then I missed a bite. Next put in the float buried and another fish was on, it didn't put up much of a scrap and I was surprised to slip the net under a chub around 12oz as normally the chub average 3lb apiece, still, hopefully a good sign for the future, it's twin followed not long after and then we had to call it a day because of the light.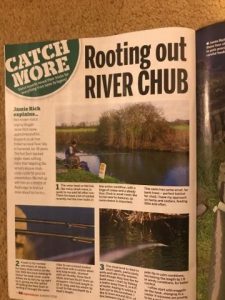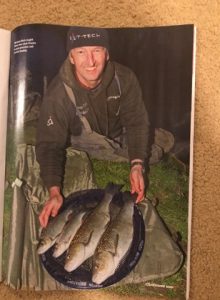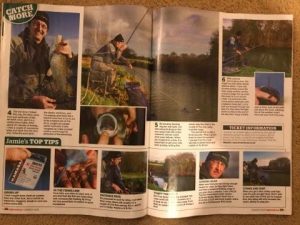 So the day had gone really well, the weather had been kind and I caught a few of the target fish for the camera and in excellent company, it doesn't really get any better than that. When the feature was published in the Angler's Mail, I was really pleased how it came out and I have received loads of amazing feedback as a result.
The same day the article was published, I got home and my recent win on the Isle was picked as a Clubman winner in the Angling Times to put the cherry on top of my cake!