With the amount of rain we had on Saturday and throughout the night I knew we wouldn't be on the river today, after my recent run of decent results I was hoping we'd be out the pond today. The first surprise of the day was when I got to the pub and Matt Pang from work was there, the second surprise was when Pete told me we were down the canal today. I felt a little sorry for Matt as he'd only brought river rigs with him but I said I'd lend him anything he needed. I drew peg 5 which would put roughly in the middle of the canal and Matt drew next door.
It was still raining and the third surprise of the day was when we got down the canal and it was gin clear! There are several feeder streams and they were starting to colour the canal a little on the far bank and as we were setting up that colour was starting to spread along the canal. I had Fieldy on my left with Heardy next to him and along from Matt was Andy Welch who always fishes the Xmas Fayre and the Open every year. I set up a light Drennan Squatt with size 20 B511 and 0.08mm bottom for down the middle and a Drennan Choppie with 0.10mm bottom and size 20 B611 for fishing across to the far bank.
I finely chopped some worm and caster and was just about ready when Pete blew for the all in, I cupped in some choppie at 11.5 metres before starting down the middle with double pinkie on the hook. I was feeding a pinch of maggots via a toss pot every put in and flicking a few casters across as well. I intended to leave the far bank as long as possible especially as I never had a bite across the last time we were down here. After 20 minutes the float hadn't even flickered and when I asked Matt he said he hadn't had a bite either. I shouted up to Fieldy who said he'd had a small roach so it looked like it was going to be fairly hard.
I had my first bite and fish (a small roach) after 25 minutes to get me off the mark, I thought a few more might follow but it was painfully slow. I did notice Heardy was getting a few and so was Andy Welch, why couldn't we catch? Pete came for a walk and said he'd had five fish, I was now on three roach and after an hour I was trying across with caster for the first time. Matt had got off the mark as well with a couple of perch. No bites across saw me back down the middle, it was still raining and a gusty wind was being a pain as well and I wasn't really enjoying myself very much.
Pete came back from his walk and said Andy had around a dozen fish and Steve Parker was getting a few although Tony Newman on the end peg was still dry netting. Martin seemed to be the only one catching consistently. Things were still slow down the middle so I went across with single red maggot and had a couple of quick roach before the bites stopped. Me and Matt were neck and neck, I looked up to see Fieldy netting a decent perch which I reckoned would put him up around the frame places and I was going nowhere fast.
Around half way through the match, the wind dropped and the rain eased off and I could actually present the rig a bit better. I was now feeding a pinch of chopped worm down the middle and started getting a few bites, I had a roach and next chuck hooked a decent fish which turned out to be a decent perch of 8-10oz and I felt I wasn't too far off the pace now. It seemed to be a case of chasing the fish around and getting a fish of two from each line. I had lost a couple of small roach on the way in and done a fair bit of swim clearing along the way with all the weed that was there.
Fieldy lost a carp fishing tight across between the two tree stumps he had in front of him and looked to be sitting out for big fish. With nobody apart from Heardy really catching I thought there was still a good chance of framing but then I looked round to see Matt netting a good skimmer of a pound or so to put a spanner in the works. I still thought I might sneak third until I looked the other way and Fieldy was playing another carp which looked to be around 3lb and I was now in real trouble.
I had another roach and missed a bite across before coming back down the middle for the last half an hour. I had two roach quite quickly from here before hooking a slightly better 3-4oz roach which came off at the net and my day was going from bad to worse. I just had time to ship back out when Pete blew to signal the end and I must admit I wasn't too upset to hear the whistle. We all packed up quickly as it had started to get cold again and went to watch the weigh in which started with Pete.
Pete weighed 13oz and had enjoyed it about as much as I had, Martin had a lovely net of skimmers weighing 7lb 12oz and had only fished at 7 metres all day. He must be doing something different because in the last match he was the only angler to catch skimmers in numbers as well. Fieldy weighed a carp assisted 4lb 8oz before I had slightly more than I thought with 2lb 6oz. Matt beat me on his first visit here with 2lb 11oz and I thought he might frame with that. But then both Andy and Steve weighed 3lb 3oz to tie for third place as poor Tony Newman never had a bite on the end peg.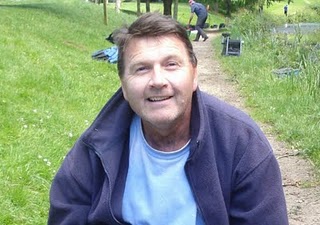 Martin 'The Skimmer King' won his second match on the canal this year
1 – Martin Heard (Tiverton) – 7lb 12oz
2 – Graham Field (Taunton) – 4lb 8oz
3 – Steve Parker (Ilton) – 3lb 3oz
3 – Andy Welch (Ilminster) – 3lb 3oz
A really disappointing day for me as I normally do well on the canal and had framed in my last eight matches here. Still it was nice to see Matt and I hope he fishes some more of our matches. Next week is the last Royal Oak match so come back next Sunday to see how I get on and if we manage to get back on the river.