For me, the next best thing to actually going fishing, is reading about fishing! I get all the monthly mags as well as the Angling Times but I also read a lot of books about angling (this might surprise some of my readers who thought I just liked looking at the pictures!). I ordered the Best Of Barlow recently and I must admit I wasn't too sure what to expect, I used to get the Angler's Mail years ago and can recall Frank's weekly column and I really thought this would just be a collection of the most memorable musings from that period. Well it arrived and to a certain extent I was right but what Greg Meenehan has done is go through all of Frank's columns and pull out all the funny anecdotes and compile them into sections, for example Frank Barlow On Bad Draws, On The Weather, On Lost Fish and so on. This works really well and I found myself laughing out loud and I finished the book in no time.
I found I could relate to lots of Frank's stories (if not his angling ability) and it really was a window into a time when match angling was very different to what it is today (and some would say a better time!). I didn't know Frank personally but I have sat behind his son, Dean, at the John Smith's festival at Evesham and many of the other greats mentioned in the book. I remember me and my mate Andy sitting behind Steve 'Rip Off' Toone (now also sadly gone) when he was on one of the famous boards pegs when he landed a match winning barbel and it was great to read more about him in this book. He had a nickname for everybody and many of the phrases coined by Frank are still in use today, who hasn't drawn a cess pit or parrot cage?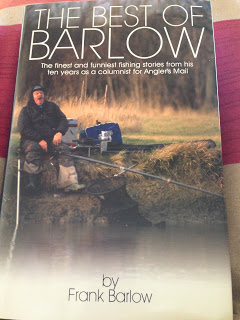 The Best Of Barlow
He writes about a time when big matches really were big and carp were a relative rarity, he talks about long walks, blanking and framing with weights of less than 100lb, all things that a newcomer today will probably never witness again in this commercial obsessed age. Undoubtedly match angling today is more professional and perhaps a little clinical, there don't seem to be as many characters around now, there are plenty of stars and some of them are really nice blokes but for many, angling is now their living and some of the fun seems to have gone out of it.
When I started fishing many years ago, commercials were virtually unheard of and all my fishing was done on natural venues and I've witnessed the face of match angling change completely. Most of Frank's fishing was done on large rivers and canals and in this book you get to witness his highs and lows. Frank and Dean travelled all over the country fishing big matches and they won more than their fair share which is all a far cry from the ten peg opens and venue experts of today. They used a variety of methods and I can't recall any mention of pellets at all! I'm not knocking today's sport because I still love it and can't wait to get my next fishing fix but this book reminds me of visiting new venues for the first time and the magic of waiting for a first bite. I can't remember the last time I used a rod and reel whereas Frank would have to use pole, lead, feeder, whip, waggler and stick when he fished everywhere from lakes in Cornwall to inner city canals.
It really is a look back at the 'Golden Age' of match fishing (and it's not that long ago!), there are some great black and white and colour photos and it's fantastic that Dean is carrying on in his Dad's footsteps as a really talented angler in his own right. The only criticism I would make is that the book was a little pricey at £20, I'm not sure if a softback version is planned but I think it would sell well. I heartily recommend this book to any anyone who likes fishing and smiling (which I found myself doing at numerous points all the way through).
I said at the start that I thought it would be just a collection of Frank's columns and after finishing the book I found myself wanting more, I would love to see all his columns published from start to finish so I can relive them in their entirety.