I should have known better than to post an update yesterday on how well the fishing was holding up on the Isle (but more of that later). I awoke this morning and was greeted with a frost but the outlook for the day was still quite bright and it looked like being a lovely day. I got to the pub and the first person I saw was Fred Brown who was fishing his first match of the campaign and it was lovely to see him for the first time in ages. With Rob not fishing today it was left to us to sort out the pegging, after Redbridge and Isle Brewers hadn't fished great last time out we decided to use the top end and Ashford.
We put in all good pegs and gave people choices on several as well, I didn't really mind where I drew and when I pulled out the choice of 82 or 84 at Ashford I was pretty happy. Bob Hammond pulled out the big bend (peg 85) and asked if he could follow me to the river. On arrival I walked up to look at 82 and it looked that good I didn't even bother going to look at 84, the river had a tinge of colour although it did look a tad pacy. I pointed Bob in the direction of his peg and off he went. I set up a 1.5 gram Drennan Carbo and plumbed up round the peg. You normally catch either in the deep hole in front of you or in the shallower water towards the tail of the swim. The deep hole was very boily and the flow was all over the place so I would start running the float through in the shallows (where I had caught the last time I fished the peg).
The start time arrived and first run through I snagged up and lost my hooklength – good start! Next put in and it was obvious the river had a lot more pace than I first thought and I suspected our friend the ranger at Chard resi was letting water out again and this would mean very cold water and it wouldn't help our chances much. After an hour of trying all over the shallows with double maggot, caster and lobbie I was still biteless and in trouble. Next I plumbed up again and tried the deeper water with the same result – nothing. With not even a minnow bite on maggot I just knew I was going to blank, the river had a strange 'dead' look to it, which is hard to describe. Malcolm 'The Old Fossil' Levy and one of his mates turned up, they were going to fish at the bottom end of the river but wanted to see how we were getting on. They didn't hang around watching me catch nothing for long and I hoped they would have a better day than I was having.
At the halfway point and no sign of a fish I was nearly out of coffee and very bored, I decided to have a walk upstream to a little peg that's never used in matches but has always looked very chubby and see if I could get a bite. There was a lovely depth and far bank cover but after 15 mins and no indications I was back on my box and scratching my head. Then my phone rang, I never normally take my phone with me but wanted to keep an eye on the footy which stood at Chelsea 0 Brentford 0 at half time, it was Justin and he called me all sorts of names for the pegging! He was in 15 which I really fancied but had only had a couple of minnows, Steve Parker had left for an early bath and Freddy in the tank traps was the only one who'd caught a proper fish with a couple of dace and a trout.
When Justin ran out of names to call me we finished our rather one sided conversation and I got back to my blanking. Bob hadn't been for a walk so I reckoned he must have caught and there was also Tony Newman in 27 and Fieldy in 28 that I didn't know about but one fish was looking like it could be a money fish today. The trouble was, I just couldn't see how I was going to catch one, out of boredom I walked down to peg 83 just to see if I could get a bite and convince myself something was feeding today. The peg used to be really good for small fish but after the floods the bank had washed away leaving a sheer drop and a barbed wire fence to fish over which is why it's not pegged any more. I had a go for 15 mins but not a touch and something was really wrong with the river today.
I went back and tried upping the feed to see if I could tempt a chub in the golden last hour but it was futile and I blanked for the second time this year, the only good news was that Chelsea beat Brentford 4-0. I packed up and walked down to weigh Bob in, I passed peg 84 and had a quick look and it looked awful and I don't think I'd have fished it even if I had looked at it this morning. Bob said he'd had two chub and normally the chub in this peg are 2-3lb apiece but his two weighed 1lb 1oz although he did say he missed a bite on the tip as well, I said he'd frame with that today.
Back at the results and the river had fished terribly, Freddy won with 1lb 2oz which meant Bob was second and Justin was third with eight minnows for 2oz and nobody else weighed in! Serves me right for praising it up yesterday, in all seriousness I don't think I can recall a match when over half the field have blanked, you can normally catch some minnows. Luckily today's disaster didn't affect the league as I couldn't be caught anyway (thank God!) and hopefully there will be some money to come next week when Rob is back.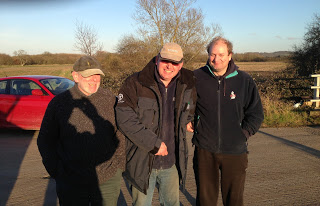 The top three on the day (from left to right), Bob, Freddy and Justin
1 – Fred Brown (Ilminster) – 1lb 2oz
2 – Bob Hammond (Ilminster) – 1lb 1oz
3 – Justin Charles (Ilminster) – 2oz
Final League Positions
1 – Jamie Rich – 80 pts
2 – Graham Field – 74 pts
3 – Robin Cox – 68 pts
Next week is the final V.E.S. league match and I'm currently lying in second place and I need a decent result to make sure Justin doesn't overtake me at the death. I know one thing for sure, I won't be doing an update on the Isle next Saturday!! Be sure to come back next Sunday to see how things pan out.