The weather had been bitterly cold all week and the final V.E.S. match was looking like another grueller. Rob had done the right thing by putting us all down the bottom end at Redbridge and Isle Brewers and hopefully we should get a few bites. Martin had already secured the league title once again and as Justin wasn't fishing today, my second place was safe too. I couldn't catch Martin as the worst points total he could finish with was eight and even if I won my section today I'd finish on the same points and he has a far superior total weight. There were still several anglers fighting it out for the third spot though. Also there were three golden pegs today so it was odds on somebody would be in for a bumper payday.
My day started nicely when Rob handed me £30 for winning the league last week and then got even better when I drew peg 126 (Barney's Bend) which has been one of the most consistent pegs on the river, a quick check of the weigh board revealed it was a golden peg too! The pressure was on and it's probably my best chance of a golden peg win for a long time (I've only ever won one). Heardy had drawn 124 which can be a very good chub peg and Steve Parker had the choice of 123 or 129, he elected to fish 129 and would be an unknown quantity as it hasn't been in so far this year. Bob Hammond had 108 at Redbridge and Rob had 109 where I won a few weeks back and Fieldy had the weirpool at Isle Brewers which has been pretty consistent.
I got to the river and it was painfully low and clear and you could see the bottom in a lot of my peg, I still fancied it for a few fish though. With it being cold and crisp I'd brought some liquidised bread and intended to start on punch. The main flow in my peg was down the middle and I set up a 1 gram Top bodied float to run through and a 1.5 gram Drennan Trio to inch through overdepth, both rigs had 0.12mm bottoms and size 18 B611's. It really was very cold and it kept trying to snow as well, us anglers must be mad! I had a coffee to warm my hands and then it was time to start, I cupped in a small ball of liquidised to my right just off the main flow at 11.5 metres and started on the lighter rig with punch on the hook.
Normally this pegs holds a good head of small fish so I was slightly perturbed when I'd only had one small dig (minnow?) after ten minutes. A switch to double red maggot saw me catch a tiny minnow and I was off the mark but I wouldn't be winning the match with them! I switched to caster and started running it through the peg to where it shallows up to my left but not a touch! Next I went 13 metres to my right to the head of the swim where there were some dead branches in the water and the float sort of dragged under and a half hearted strike saw a fair bit of my elastic come out of the pole tip and I saw a good roach flash in the shallow water. I slipped the net under a beautiful 8oz roach which was freezing cold to the touch when I unhooked it.
Next put in I've had a more positive bite and netted a 10-12oz chublet and I was on my way, or so I thought! Then I couldn't get a bite and I felt there were fish there but reckoned they were spooking in the clear, fairly shallow water. I tried poking the pole as far to the right as I could and ran the flloat through the swim in the main flow, another quality roach responded and I probably had getting on for 2lb and felt if I could keep putting the odd quality fish in the net I would do a respectable weight. But then I couldn't buy a bite again, a quick try with the heavier rig and maggot just resulted in another tiny minnow. Thinking my 0.12 hooklength might be too beefy for the finicky roach, I tied on another of 0.08mm with a size 20 B511 but this didn't seem to make any difference.
We were now two hours into the match and then Fieldy walked down from weirpool, he said I was easily winning the match as nobody else had managed a bite yet! After watching me for ten minutes he said he was going down to see Steve in 129, on his return he said I needed some more fish as Steve had landed a 2.5lb chub and as he was also on a golden peg he was now in the lead for a very nice pay day. Fieldy stayed for a bit during which time I only added another miniscule minnow before he headed off for an early bath. With half the match gone I still felt I'd get some more fish and I also thought Heardy would get a chub or two in 124.
I kept alternating between running the float through, holding it back by the branches to my right and also against the far bank opposite me but just couldn't get a bite, where had those fish gone? My next visitor was Rob and as he sat behind me I was fishing caster against the far bank and getting minnow knocks when all of a sudden I had a better bite and the strike saw a little bit of elastic come out, this wasn't a minnow but a tiny roach of less than an ounce and my interest was renewed somewhat. I had two more quite quickly and although I wasn't adding much weight to my net, I hoped some better roach might put in an appearance.
Rob went down to see if Steve had added to his chub and while he was gone all I could catch was a couple of tiny minnows and I could feel the match slipping away. I kept trying by the branches where I'd had those quality fish but apart from a minnow on maggot I never had another bite there. Rob came back and said Steve was still on one chub so if I could find a few more roach I would still be in with a shout. Rob also left for home and left me with the pools money to pay out as there was only me, Heardy and Steve left.
With around an hour left I was back across with caster and getting indications which I'm sure were minnows so I tried double maggot and hooked a small roach which came off on the way in – great! Then, with the light starting to fade a roach topped right where I had been fishing and I started getting proper bites again, I had a couple more tiny roach and lost another, then I had one of 2oz and right on the whistle another of a similar size which I netted to be safe. Why couldn't they have fed an hour earlier? I still felt it might be quite tight between me and Steve providing he hadn't caught anymore and I hoped the two small fish I lost wouldn't cost me.
Martin turned up with Steve to weigh me in and although Heardy hadn't had a bite, Steve had found another, slightly smaller chub and thought he had 4lb or so which I knew would be enough today. My fish weighed 2lb 3oz and I just needed a few more of those clonking roach. We got to Steve and out of interest I weighed his first chub which went 2lb 7oz so it would have been quite tight if I hadn't lost those two small fish so I was fairly relieved when he weighed 4lb 4oz in total to win on the day. Steve had a nice payout as he won £125 with the golden peg and also finished third in the league and should have some more money to come from Pete next week. I had £30 for second on the day and hopefully should pick up some more next week for finishing second in the league.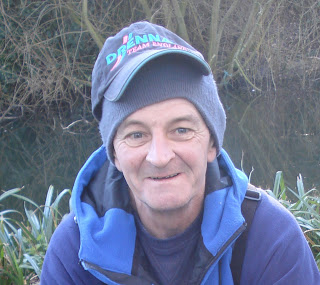 Steve went home a lot better off than when he turned up this morning!
1 – Steve Parker (Ilton Superstars) – 4lb 4oz
2 – Jamie Rich (Against Men and Fish) – 2lb 3oz
Final league positions
1 – Martin Heard – 8 pts
2 – Jamie Rich – 9 pts
3 – Steve Parker – 14 pts
So a pretty disappointing end to the league really and the V.E.S. title stills eludes me with along with a second golden peg win. Next week is Barney's Pairs Open and I think Rob has made the right decision to swap it from the river to the canal and the pond, unless the weather warms up it might still be hard going but everybody should get a few bites. After a great start, the fishing on the Isle went downhill after Xmas as it always seems to do, I don't think there's a lack of fish (as the early results show) but the extreme conditions were against us. If we'd had some mild weather and some colour in the river, it might have been a different story.
I can't finish without saying a massive thankyou to V.E.S. Precision for their very generous, continued support and also to Rob for organising the league, it's a thankless task and he does a great job walking the river and cutting out swims and I just want to say a huge thankyou from Ilminster AA and all the competitors who fished this year.
Right that's it from me this week, come back next week to see how me and Justin get on in the pairs.
Ilminster AA's AGM is this Friday 1st March at the Royal Oak, Ilminster